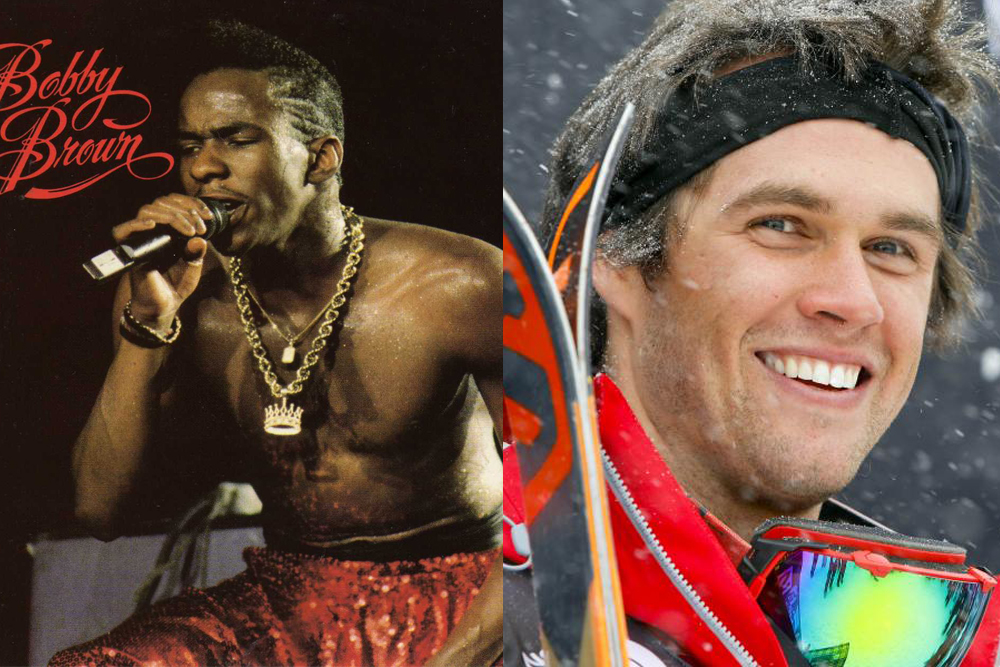 How well do you know your celebs?? Two Bobby Browns have stole America's heart before. One has written and sung beautiful R&B songs and had a long-lasting and much discussed relationship with Whitney Houston (RIP), while the other was the first skier to land a triple cork and is currently representing the U-S of A at these Sochi Olympics. But how well do you know America's two most famous Bobby Browns?
1) What are their hometowns?
2) What is their professional career
3) What was their career breakthrough
4) What was their standout career achievement?
5) Who have their famous lovers been
6) What are some notable things they've been addicted to?
7) What are their best physical features?
8) Who is their celebrity crush?
9) What has been the worst injury they've suffered?
10) What is a questionable claim each of them has made?
Got all those questions answered with your cute hand-drawn hearts decorating each answer about these two American hearthrobs? Check in with the correct answers below!
1) HOMETOWN:
Singer Bobby Brown: Boston
Skier Bobby Brown: Denver
2) PROFESSIONAL CAREER:
Singer Bobby Brown: Singer/songwriter
Skier Bobby Brown: Pro skier
3) CAREER BREAKTHROUGH:
Singer Bobby Brown: As the frontman of New Edition in the '80s
Skier Bobby Brown: Double X Games gold medals in 2010
4) STANDOUT CAREER ACHEIVEMENT:
Singer Bobby Brown: Don't Be Cruel solo album in 1988
Skier Bobby Brown: Landed skiing's first triple cork 1440 in 2011
5) FAMOUS LOVERS:
Singer Bobby Brown: Whitney Houston
Skier Bobby Brown: Red Bull
6) NOTABLE ADDICTIONS:
Singer Bobby Brown: Cocaine-laced blunts
Skier Bobby Brown: Contests
7) BEST PHYSICAL FEATURE:
Singer Bobby Brown: Flat top
Skier Bobby Brown: Quarterback's physique and smile
8) CELEBRITY CRUSH:
Singer Bobby Brown: Whitney Houston
Skier Bobby Brown: Miley Cirus/Taylor Swift
9) WORST INJURY:
Singer Bobby Brown: Shot in kneecap in gang fight at age 10
Skier Bobby Brown: Broke pelvis & three vertebrae during film shoot in 2010
10) QUESTIONABLE CLAIM:
Singer Bobby Brown: That he dated Janet Jackson
Skier Bobby Brown: That he wasn't bred in a Red Bull test tube
11) REALITY TV SERIES:
Singer Bobby Brown: Being Bobby Brown
Skier Bobby Brown: Bobby's Life
12) HOBBIES:
Singer Bobby Brown: Paying lawyers to clean up his messes
Skier Bobby Brown: Surfing
13) RANDOM TRIVIA:
Singer Bobby Brown: Celebrated his 45th birthday on February 5th
Skier Bobby Brown: Will be competing in Olympic ski slopestyle Wednesday.
For more Sochi Olympic-related content, check out:
-Jamie Anderson wins women's snowboard slopestyle
-Sage Kotsenburg wins men's snowboard slope style
-Shaun White's Guide to Milking the Oympic spotlight
-Watch VICE's documentary on Olympic park & half pipe skiing
-Sochi Olympic backcountry conditions advisory
-Shaun White pulls out of Olympic slopestyle due to wrist injury