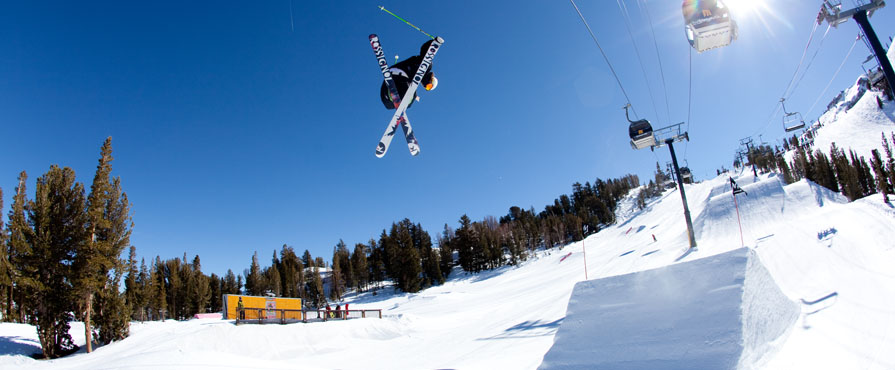 Parker in his second home, Mammoth's Unbound park. Mammoth Mountain photo.
TGR: How has your general program changed since your breakout segment with Level 1 this year?
Parker: I got a sled and a truck. So I have been shredding a lot more backcountry, but other than that nothing's really changed.
TGR: How did Josh Berman ever let you spend an entire season filming in an all black outfit?
Parker: Haha, good question. Berman likes really bright colors; I don't. He wasn't too into the idea of that, but I ride for Tomahawk and Tomahawk only makes black outerwear. It worked more times than not, though. It doesn't make you invisible - just darker.
TGR: What have you been filming and where with Level 1 this year? What has been the most successful trip and why?
Parker: Started out in Interior B.C., kind of around Revelstoke. Then went to Europe for three weeks. Then I went to Anchorage to hit rails ironically. Now I am back up in B.C., only in Pemberton this time. I am confused as to how to judge the success of a trip but I had a bad ass time in Europe. It's a different planet, we had some real crazy adventures over there.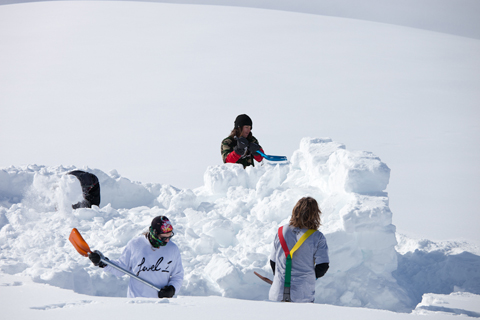 Chris Logan, Wiley Miller, and Parker White build a cheesewedge in Champery, Switzerland. Tim Lloyd/Level 1 photo.
TGR: Are you over competing at this stage in your career?
Parker: No, not really. You won't see me at X Games or a Dew Tour, but I got invited down to South America for Skiers Cup this fall, which I am real excited about. I was planning on going to Red Bull Linecatcher this year too, but it got canceled. And I don't know what day it is, but in a week or so I am going to Tahoe to Compete in Trains. It's a really cool park event held by our homie Roy Tuscany and his High Fives Foundation, with a barbeque, music, wings, and beer. If you're in Tahoe on April 14th, come hang out at Alpine Meadows, it's gonna be fun.
TGR: Jimbo Morgan, ski legend and your TM at Electric, Skullcandy, and Tomahawk, seems to have really taken you under his wing. Can you explain how you guys met and how your relationship evolved? How did he explain his interest in you at first?
Parker: Paddy Kaye introduced me and Dahrkness (Chris Logan) to Jimbo when we were 14 & 15 at the Vermont Open. I said what up to him and he watched me shred a couple runs and then before my second run he gave me a pair of Electric's to wear. Ever since then it's been gravy. He's always looked out for me and helped me out a ton over the years. He is one crazy mother funker and a good friend.
TGR: On a related note, what is the deal with Tomahawk outerwear? They seem to be the first ski company to have totally embraced the murdered-out black color scheme.
Parker: Tomahawk is a company who makes gear for anybody to wear. It's not a ski brand or a snowboard brand or anything specific. It's just rad clothes to wear in the streets or on the hill. And yeah, Tomahawk came out all black. It was a way for us to translate our mindset into the product and stand out from other companies who took on the whole "skittle" trend that's become so unfortunately popular.
TGR: Before your After Dark segment, you rued the fact that all anyone thought you did was huge front flip double tip grabs. But your Level 1 segment only had one, ironically as the ender. When was the last time you did one in front of the cameras, or at all?
Parker: Funny you ask, I did one today.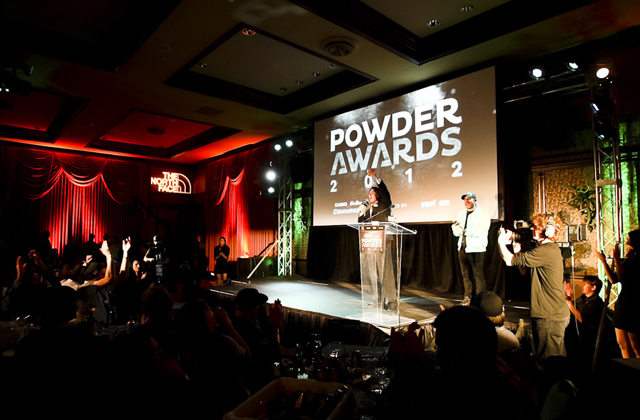 Parker White accepting his award for Male Breakthrough Performance at the 2012 Powder Awards for his opening segment in Level 1's "After Dark." GrindMedia Events photo.
TGR: Your After Dark segment was a mix between park, with that super-lazy, almost lethargically smooth style, and some big, fast, heavy lines that you skied at speed without hesitation. Where the hell did you learn to ski mountains like that growing up in Vermont?
Parker: Bromley, Vermont, with the Montage crew, and with my buddy Kooter Brown (RIP).
TGR: Who was your favorite skier to watch growing up?
Parker: Directly I liked watching Brian Knowles ski, he had a real gangster style. Still does. Indirectly, I always thought Candide was the best. Still do.
TGR: You seem to be among a growing cadre of Level 1 skiers who do a pretty even split between the park and the backcountry. What part of you gets motivated to shred park and which part of you gets pumped to ski powder?
Parker: I believe my brain is responsible for both decisions.