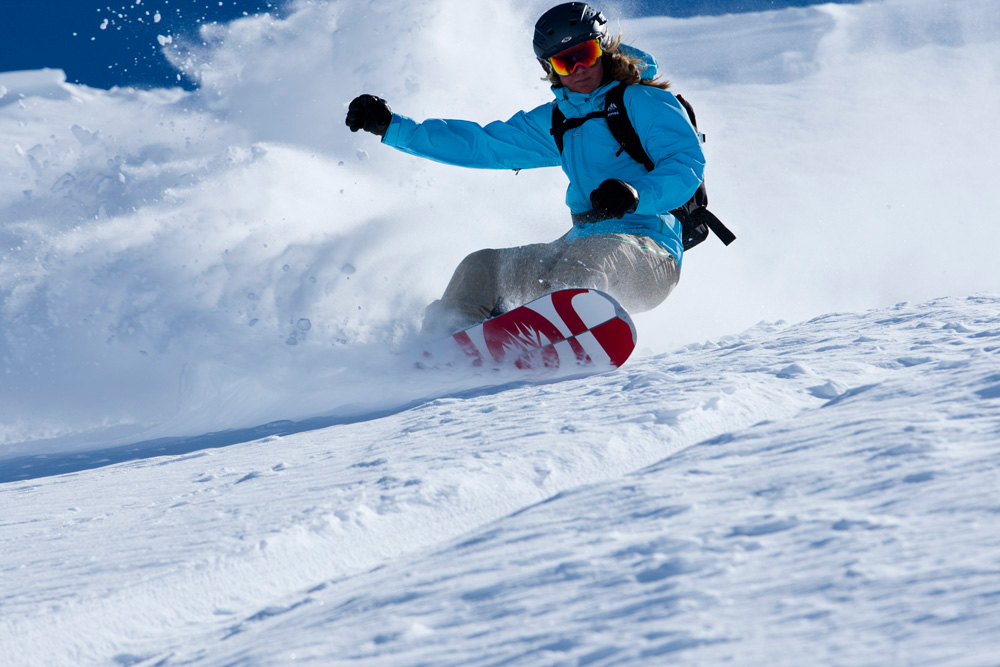 Liz Daley rips in La Parva, Chile, this past August. Photo by Adam Clark.
If you've lived in Washington's mountain communities, you've probably heard of Liz Daley. Born in Tacoma, Wash., the 27-year-old backcountry snowboarder, climber, and mountain guide has used the Cascade Mountains as training grounds her entire life. With multiple expeditions and first female descents on many of the cardinal peaks of the Pacific Northwest — Mt. Rainier, Mt. Baker, Mt. Shasta, and Mt. Adams — Daley has been preparing for a flourishing future in snowboard mountaineering. Throw a few seasons in Chamonix into the mix, new relationships with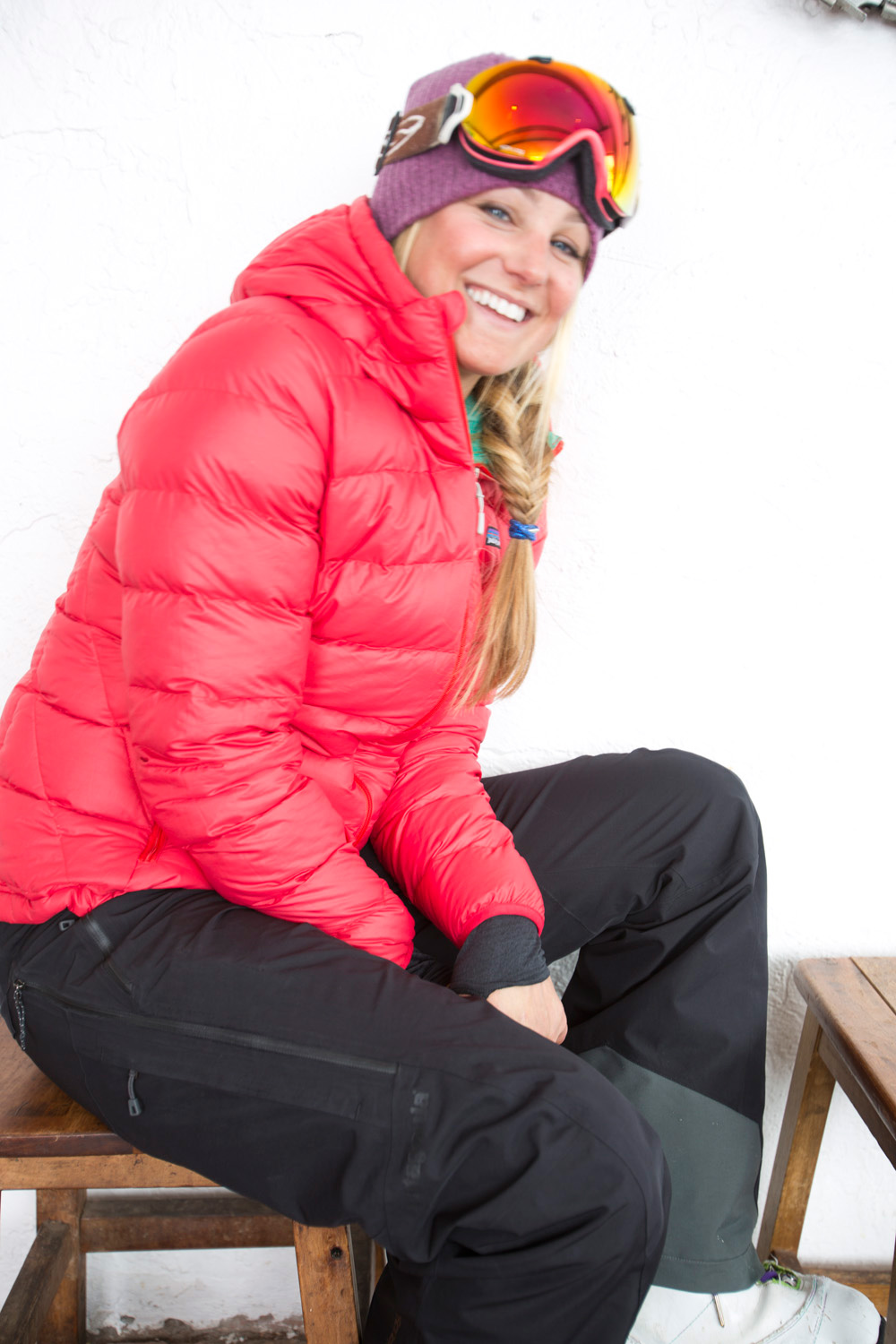 Liz Daley in Portillo, Chile. Photo by Adam Clark.

Brilliantly blonde and always outgoing, Liz is unassuming when it comes to a high-profile resume of big lines around the world. The first time we met, in Mt. Baker's only après bar, the Tap Room, her long blonde hair, pink pom-pom hat, and perfect, white-toothed smile glowed in a room full of grungy ski-bum dudes and mountain employees. She resembled a backcountry Barbie of sorts (minus the psychosis and other plastic-girl stereotypes), but with all the characteristics parents should want their daughters to emulate. She's obviously motivated, confident, and modest at the same time about her achievements, including missions like the first female snowboard descent of the Coleman Headwall of Mt. Baker. How hadn't I heard about her before? How had the narrative of Liz Daley, a competent and multi-faceted snowboarder chick, who splits her time between the Cascades and Chamonix, been kept silent?


Liz Daley and Drew Tabke climbing in Chamonix. Photo by Davide De Masi.

"Liz has come into her own as a competent mountain guide and snowboard mountaineer at a time when excitement around these sports is really growing," says professional skier Drew Tabke, who's been on many mountain adventures with Daley over the years. "I expect a lot of options to open for her as far as travel and expeditions to virtually anywhere — and Liz has the motivation and enthusiasm to tackle anything."

For an all-around athlete and mountain girl like Liz, representing companies like Patagonia and Jones isn't the only way she's going to find her way into the outdoors. With EMT and Outdoor Emergency Care certifications, a guide resume with the American Alpine Institute, and a recent stint on the Canyons Ski Patrol in Utah, her career options in the mountains are clearly diverse and easily attainable. She's even spearheaded her own splitboard programs with AAI, which start in December near Mt. Baker.


Liz Daley shredding the Coleman Headwall. Photo by Davide De Masi.

"Last spring I was teaching six-day Basic Alpinism courses on Mt. Baker, where I demonstrate crevasse rescue and ice climbing techniques. It's fun, but walking down any mountain sucks," says Liz. "I'm hoping all of my courses fill up so I won't have to walk down another mountain ever again."

This winter, even if Liz won't be walking down mountains, she'll still be climbing and riding them. That's inevitable. Her upcoming season involves a few early season objectives in Washington and BC, followed by her AAI clinics, and then she's off to Chamonix — a place where a long list of lines to ride has begun to accumulate.


Climbing the Cosmique Arete in Chamonix. Photo by Davide De Masi.

"There are a couple big lines I've had my eyes on for years, but they haven't been in," she explains. "In Cham, you don't ride something if it's not in, so I'm waiting until conditions are right. I've also yet to summit Mont Blanc."

Regardless of her job or whether you've heard of her or not, Liz will be out ripping around in the mountains of the world. Not a few times a week or a handful a month. This girl is out there all the time. And her skills are transcending those of other women in her discipline because of her intrinsic motivation to go out everyday.

For Liz, being in the mountains isn't a job or hobby; it's a daily affair.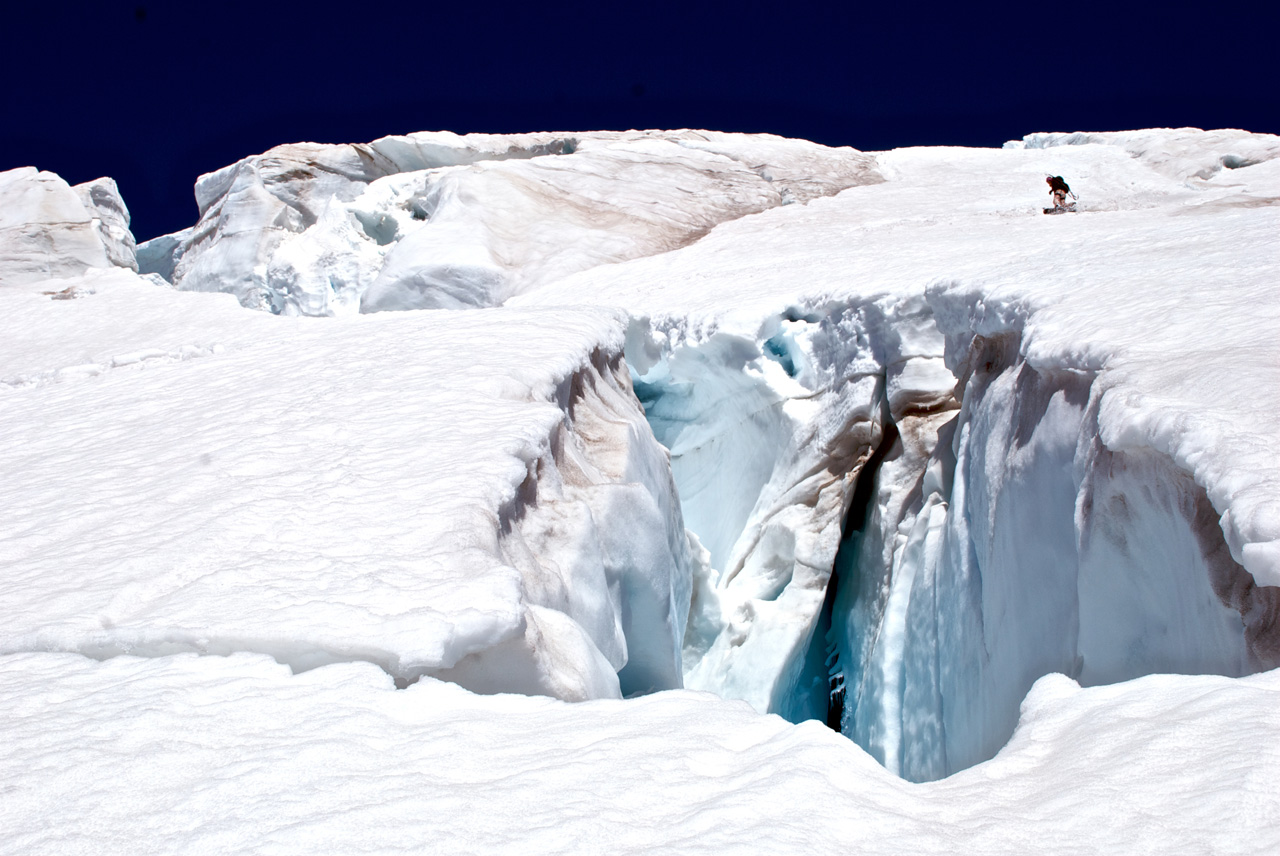 Some spring shredding on the Easton Glacier in Washingotn. Photo by Davide De Masi.