Canada Day is a strange animal. Awkwardly birthed a mere 72 hours before the monster celebration that is Independence Day, it is a decidedly more understated affair.
It's not that Canadians don't like to turn their nouns into verbs (their parties into party), it's just that it can seem terribly artificial when the day is officially lauded, fun allotted, and requisite activities prescribed.
Yes, we, like our American friends, enjoy blowing things up, drinking plenty of beer and wreaking some havoc in recognition of our birthday, but our contrasting histories, national identity and political ideologies are… well, a little bit different.
Not better, just different. Let's get that out in the open right now.
Take our animist symbols of nationhood. Ours is the beaver. Beavers are industrious and as home in the water as on the land. Beavers (like lumberjacks) cut trees down, both the forestry sector and resulting dams important to their collective well-being.
The beaver is no bird of prey. It doesn't ever "swoop in," and it is not easily substituted in place of activities typically reserved for their feathered American counterpart.
"Where beavers dare" doesn't have the same ring as "Where eagles dare." And Iron Beaver was a much different film than Iron Eagle.
They may not be all flashy and raptor-like, but beavers, as noted earlier, are hard-working and reliable. Leave It To Beaver, right? When it's come to peace-keeping and international aid missions in the past who is it that's had your back? Who has been an almost constant ally?
Damn straight.
Who has your back? These guys, Kokanee Crew in the mosquito pit
Sure, we have our differences (real Canadians refer to knit caps as toques, not "beanies") but in respect to our overlapping circles and interests we share a lot of common ground; Those who enjoy the shred enjoy the shred a lot.
Part of the Crushing It On Canada Day (Kokanee) Crew
This past Canada Day found at least two groups of eager, beaver and country-loving splitboarders and skiers getting after it in the high places.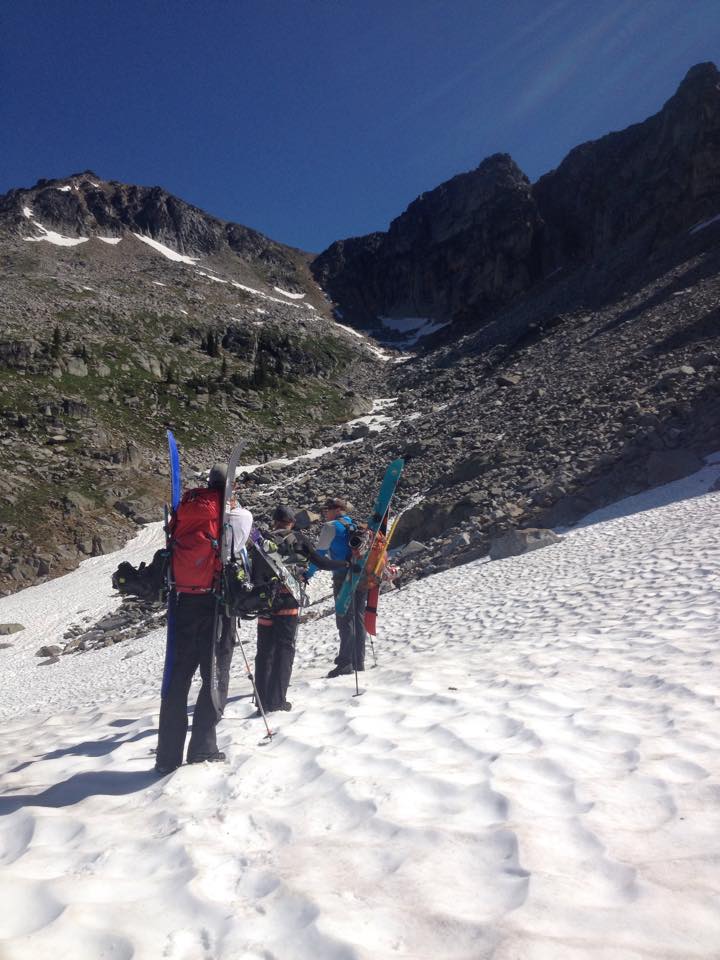 The Kootenay contingent led an overland assault like The Devil's Brigade, through mosquito-infested woodland like the Couriers Du Bois of yore. While we carried neither hundred-kilo packs nor cedar-strip canoes, our woes and travails were real until we reached the top of Grays Peak at Kokanee Glacier Park (that's right, people, the iconic peak on the Kokanee Beer can).
Trevor Campbell, John Fazekas, Davis King and I had some Double-D sized sun-cups complicating some of the down, but well-navigated runnels provided some slushy fun turns.
With a full eleven hours in the field, at day's end the mission was deemed a success by all, 950 meters successfully ascended and descended on the day.
That's right. This story is in metric. Deal with it! It was friggin' Canada Day on a glacier.
Meanwhile in Alberta, a like-minded crew made their way up and down Birdwood.
Rance Tuff, Trevor Dingman, Ryan Hanrahan and Ian Holmes putting their drinking caps on after popping their stubbies back at the trail-head.
Like a Douglas Coupland photo-book on speed, we lived our Canadiana hard on our given day of the year, earned our turns and beers like any Canadians would, with a lot of shrugging, apologizing, unnecessary politeness and the ever-present confirmations of bonded-together stoke-
"Pretty good, eh?"
"Just good to be out here, eh?"
"You betcha."
Happy belated Canada Day to aspiring and accredited Canadians alike!
And to our American neighbors, play safe and have fun in the mountains on the fourth- We got screwed with a mid-week day off, so you better party like it's a Saturday night 'cuz it is!