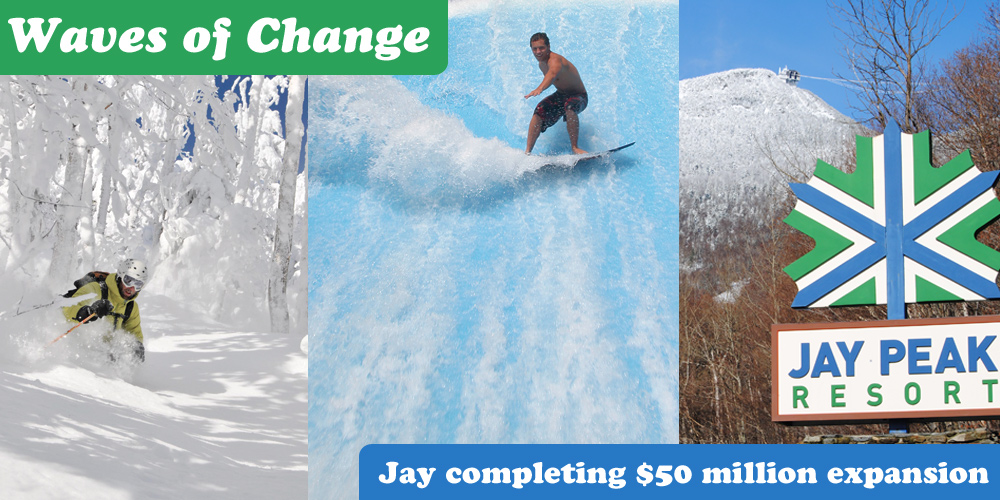 November 22, 2011
— Ryan Dunfee
Jay Peak has always held a mystical place in the East Coast ski scene. Literally as far north as you can get without crossing the Vermont border into Canada, Jay sits on the peak of a relatively short ridgeline that climbs out of the flat, empty, cold farmlands surrounding it. Alone, Jay is separated from the rest of the Green Mountains that wind their way along Route 100 from Mount Snow in the south all the way to Stowe.
Jay has more or less been the Mt. Baker of Eastern skiing — isolated in its Northeast Kingdom four hours from Boston and eight from New York City, with a solid stretch of nothing going for sixty miles all the way from the base of the infamous tram to downtown Burlington. Just like Baker, its snow totals and terrain are unheard of — wide-open glades found almost nowhere else in the Northeast that are pounded with over 400 inches of snow every winter, dwarfing the rest of the region's 150-inch to 200-inch average. And just like Baker, if you're not riding, there's nothing to do. Up until last year, much of the resort's nightlife revolved around the quirky ski bum lodges ten miles away in Montgomery, where skiers, riders, and snowmobilers reeling from cabin fever would pound drinks at the Snowshoe Lodge & Pub until they were kicked out, at which point they raged in the basement of Grandpa Grunt's across the street until they passed out in their rooms with pink shag carpeting and full-length ceiling mirrors.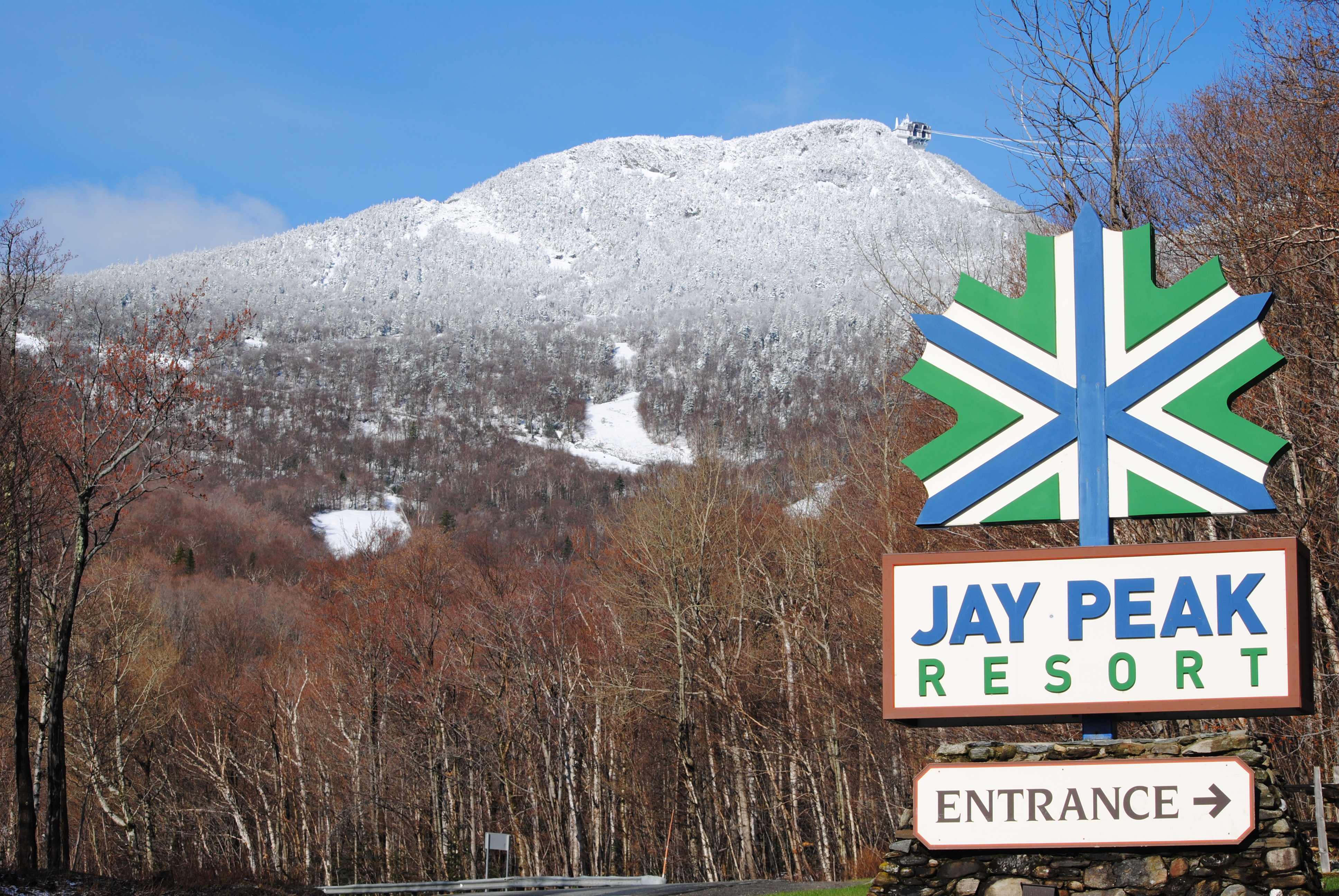 Now Jay is in the midst of a number of major projects that should take the edge off the apres scene, offer non-dirtbags beds with a decent thread count, keep the resort turning profits year-round, and give back to the community in the form of increased public recreation opportunities and local, full-time jobs.
Last season marked the opening of the Tram Haus, a more upscale 57-unit hotel with a new bar and a separate restaurant and this spring a new clubhouse opened for Jay's championship golf course, a central part of Jay's plan to attract more summer visitors.
More recently, a NHL-size ice rink opened in the Ice Haus. And this Black Friday, unheard of for most ski resorts, a full-size waterpark called the Pump House will open with a lazy river, a handful of waterslides including a Six Flags-style Aqualoop, and a surfable indoor wave attached to the 170-suite Hotel Jay and Conference.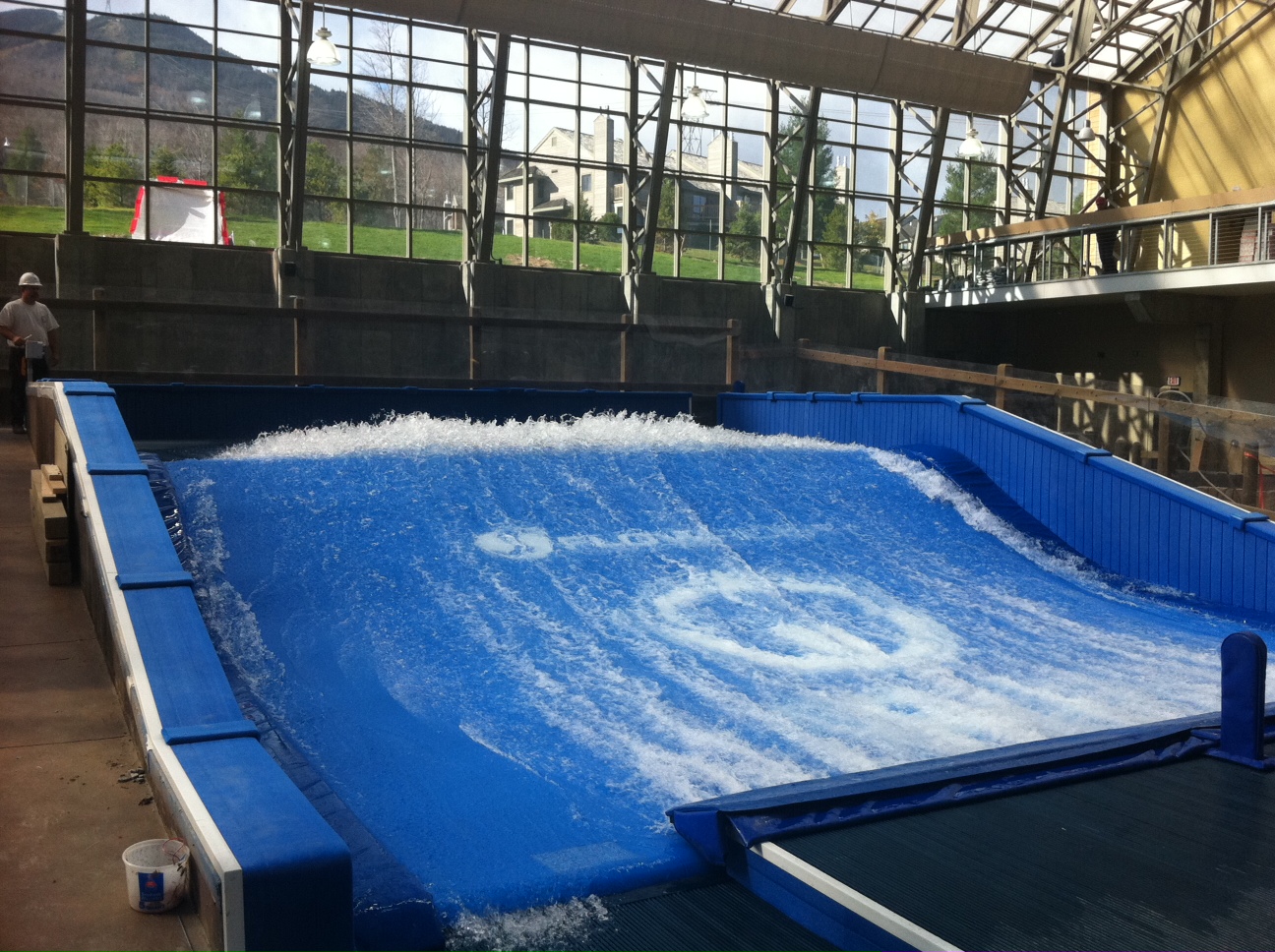 While a waterpark would be a big move for any Intrawest resort, for Jay, a resort that's been so quiet a new chairlift was considered a 'major capital development,' this is serious news. But despite the obvious instinct to eschew major developments at one of the East's relatively 'pure' ski areas, the new construction seems set to benefit Jay Peak's business, visitors, passholders and local jobseekers.
This huge set of projects was the vision of Jay's CEO, Bill Stenger, who first took the helm back in 1985. Seeking a way to bring profitability to the resort outside of the normal seven-week high season, provide local jobs, and something to do for non-skiers as well as those who get shut down when the upper mountain closes for high winds, Stenger's proposed plan seemed impossibly radical for Jay's historically glacial development pace.
"When I first saw the plans, I didn't believe them," said "Huge" Mike Steeves, a Jay fixture who's been making the five-hour drive from Rhode Island every weekend since 1993 to ride the legendary woods here. "Our last major change was a new chairlift; a project on that scale simply didn't seem possible."
Not to mention that the kind of money that funds a $50 million expansion hasn't made its way to the Northeast Kingdom often. But while Stenger and co. were able to put up ten million of Jay's own money, the resort ultimately found the majority of its funding through an international network of 450 investors sanctioned through the EB-5 Foreign Investment Program, a federal program where foreign investors who put in more than $500,000 and create at least 10 local jobs get residency status and an accelerated application for permanent citizenship.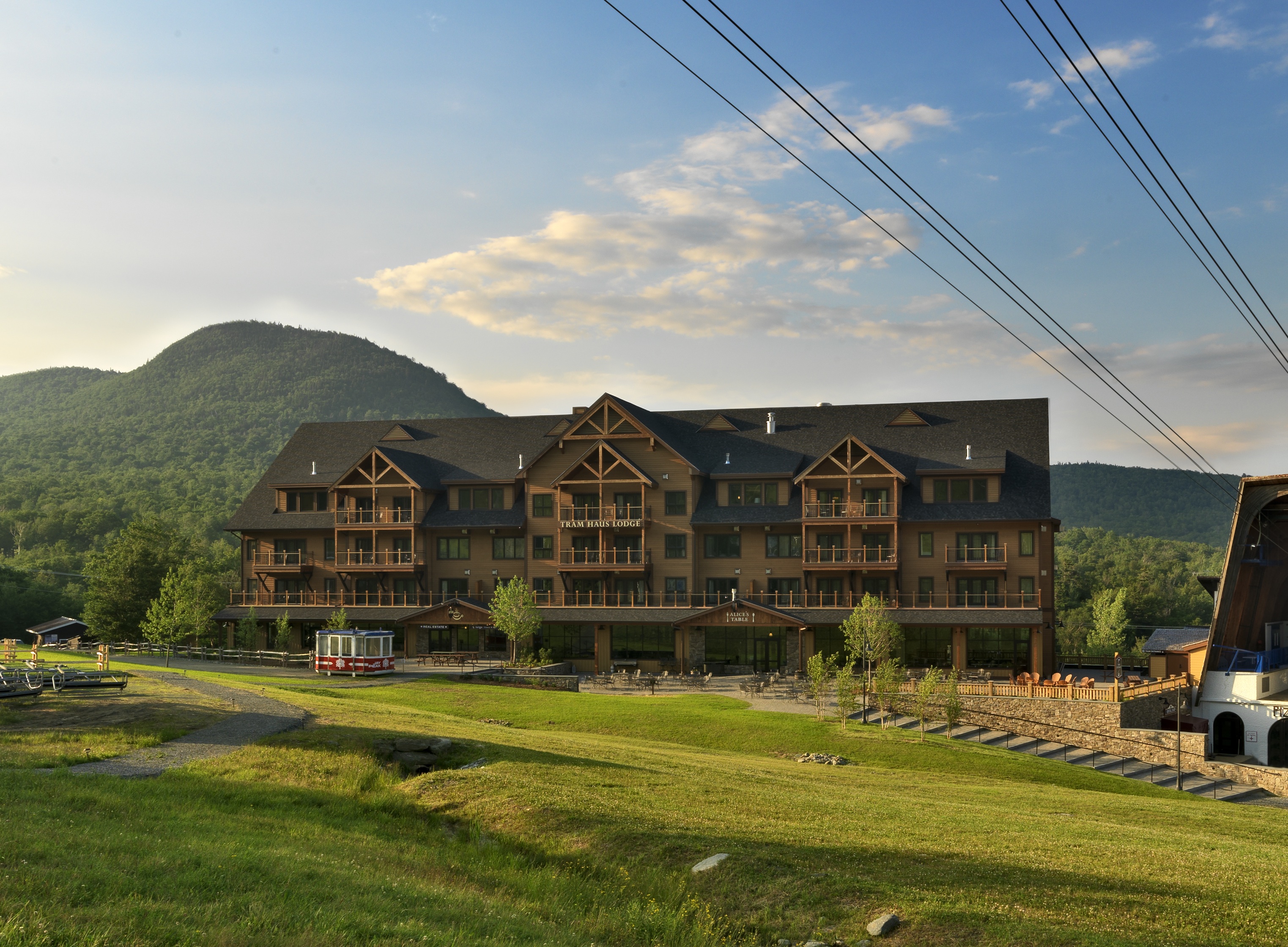 Steve Wright, Jay's vice president of marketing and sales, certainly anticipated some negative feedback from hardcore riders at the outset of the project, but he looked past it pretty quickly.
"I've said this all along: if all Jay Peak is is a collection of distressed lodging, lack of amenities and tree cutting, then we don't really have much of a place to hang our hats," Wright said. "The character of this place doesn't have to change because we increased the comfort quotient of our pillows or added new places to eat."
Steeves seems to back him up. Since the Tram Haus Lodge and the Tower Bar opened, "It's been great. Before the bar was cramped in the basement. Now we have a big, airy space with five times the capacity that you can actually bring your kids into for lunch without having some drunk fall over on them." Steeves notes he saw more passholders in the Tower Bar in its first year than he ever saw at any mountain lodges before.
Tim Fater, senior editor for Ski The East and a Jay passholder, supports the vision of Jay's home-grown management team.
"If you told me five years ago all this would be happening at Jay, I'd probably tell you you're crazy," Fater said. "But this development is happening and these aren't new faces hired to reshape the resort. These guys have been there for a long time and know the mountain, their brand and their customers better than anyone."
And while Wright admits that building a tropical indoor water park at the base of one of the East's coldest resorts was not the most environmentally sustainable move, he notes that they did invest $1 million into a repurposing and transfer system laid between the Ice Haus and the Pump House that will take waste refrigeration energy from the hockey rink and convert it into heating energy for the water park. The system is set to have an ROI of five years.
Steeves sees the local community as the biggest benefactor of the new developments. In the 1990s, unemployment in the Northeast Kingdom was high, and beyond a few hardcore skiers and riders, the locals didn't support or interact much with the resort. Full-time work at Jay, even in the winter, was hard to come by, and traditionally 85 percent of the workforce was laid off at the end of the ski season. Steeves anecdotally noted "dozens" of local friends who only had part-time work or only their spouse with a full-time job in the '90s, but now, with the focus on attracting more people to Jay Peak and for more of the year, he sees more couples where both people are on the payroll. By the end of the projects, Wright anticipates Jay's workforce to grow to 800 employees. Not to mention a few side perks — the local high school hockey team, which used to play home games across the border in Canada, now calls the Ice Haus home.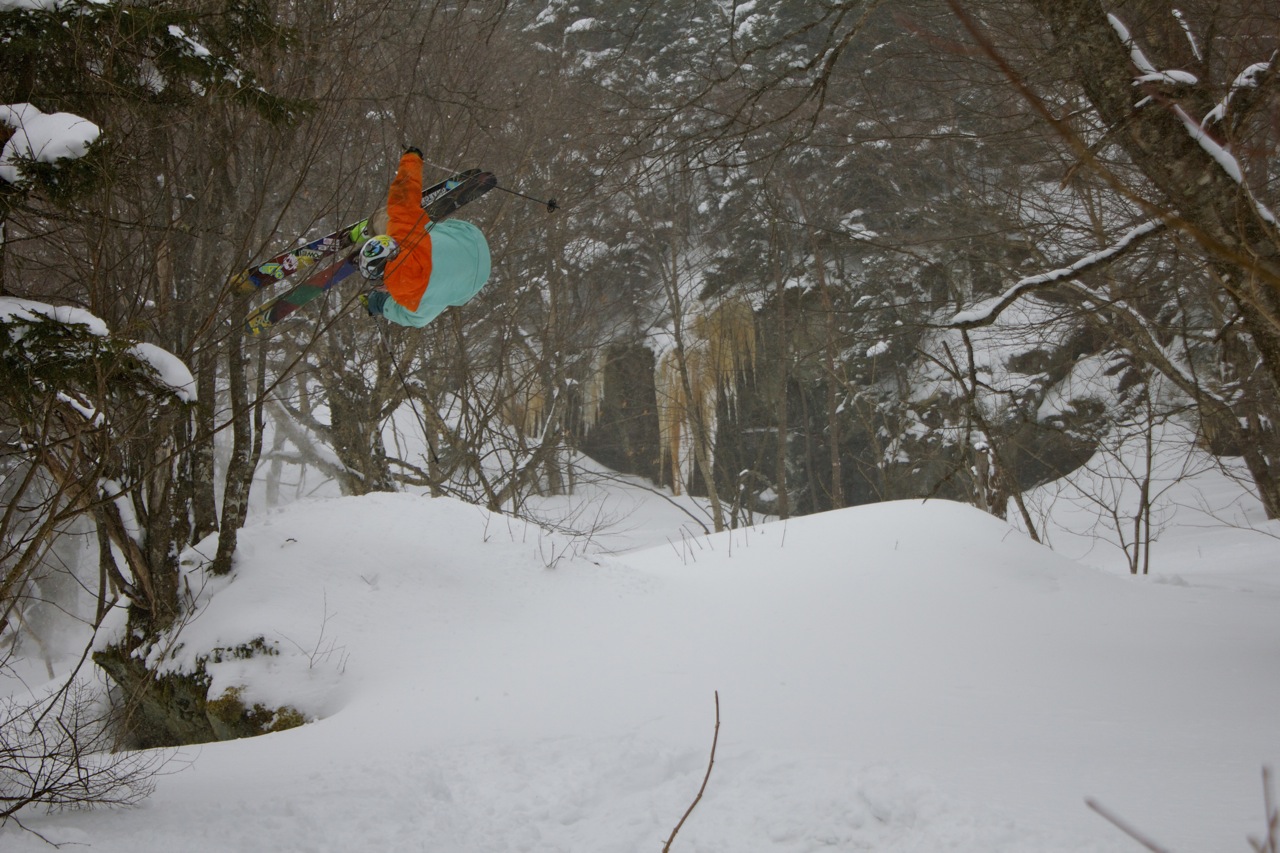 Despite the changes, Fater still believes that the mountain's unique terrain, soon to be expanded with additions of new intermediate and upper-intermediate glades along the West Bowl ridgeline, will continue to be the main attraction.
"Jay Peak has some of the most unique terrain in the east — the Face Chutes being a prime example — and the sidecountry and backcountry options are plenty," Fater said. "They'll always have that terrain, and as long as they continue getting nearly 400 inches of snow a year, that will be the mountain's main draw, as it has always been."
While Fater anticipates that the new developments will help bring in new crowds during key holidays and compel some new people to come visit for the first time, he still believes the resort's remoteness will keep flooded liftlines like those at Stowe and Killington at bay.
As Tim puts it, "A resort mailing arrived on my doorstep this fall that said: 'Everybody's welcome at Jay Peak.' Thankfully, not everyone comes."