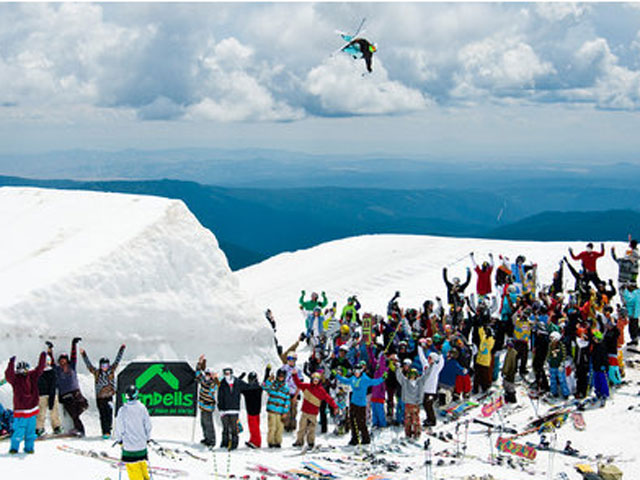 Tom Wallisch soars above campers at Windells summer camp, Mt. Hood, Oregon. Photo by Darcy Bacha.

Mt. Hood, Oregon – The U.S. Freeskiing team, including Torin Yater-Wallace, from Snowmass, Colorado, and Tom Wallisch, from Pittsburgh, Pennsylvania, has been hitting the jumps and halfpipe at Mt. Hood's Windells summer camp for the last month in preparation for the upcoming 2014 Olympic qualifying season. U.S. Freeskiing slopestyle coach Skogen Sprang has been on-hand to get the athletes ready for the first halfpipe World Cup, with airbags and soft summer snow providing a safe and comfortable learning environment to practice new tricks. The FIS World Cup circuit opens with halfpipe August 20-22 at Cardrona Alpine Resort, New Zealand. The second World Cup qualifier, slopestyle, will be in Ushuaia, Argentina, September 3-8.
Slopestyle coach Skogen Sprang is very satisfied with the practice venue. "The setup at Windells has been really good this year. There is a bunch of snow and tons of features. They've got a great 60 to 70-foot jump and a 100-foot jump, and there are all kinds of creative rail-lines to hit. Everybody is really stoked working towards going to Sochi in two years. It's a great scene on the glacier at Windells," said Sprang.
"We have a pipe cut on both sides and an airbag for the athletes to learn new tricks. The airbags in the pipe have been pretty huge for everybody; it's a great way to learn their tricks safely and helps to progress the sport," added U.S. Freeskiing Rookie Coach, Ben Verge.