August 29, 2011
Reports out of Vermont this morning show devastating flooding from Tropical Storm Irene. It appears the hardest hit areas are the southern and central parts of the state. Two photos have surfaced that show a collapsed base lodge at Killington Resort. President Obama has declared a federal emergency. Read below for a report from the Burlington Free Press.
Farther to the east, 100 people were stranded in Sugarloaf, Maine, when two bridges washed out on either side of the resort's access road. Luckily, resort guests and employees were able to exit the area on foot. Read the story here.
A Rutland Herald reader submitted this photo of a collapsed base lodge at Killington Resort in Vermont.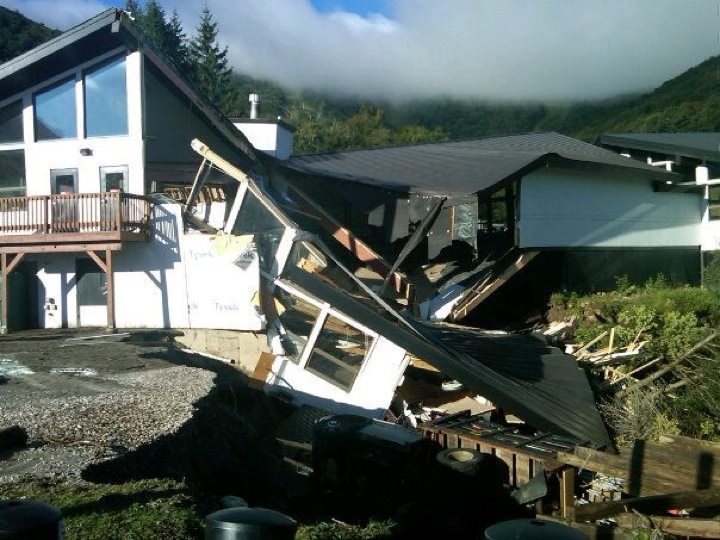 Another photo of the collapsed base lodge at Killington Resort.
Story from the Burlington Free Press:
Vermont is reeling this morning from what is becoming the state's worst natural disaster since the epic flood of 1927. Two people, including a child, have died in the storm, hundreds of roads statewide are closed, and thousands of homes and businesses suffered power outages and serious damage from flooding associated with Tropical Storm Irene.
In Waitsfield, raging Mad River torrents picked up a one-story building on Bridge Street housing Birke Photography and pushed it about 25 feet against a larger, adjacent building.
Water tore holes in concrete foundations on other buildings on the street, and water rose to the doorknobs of businesses. The covered bridge on the street was blocked off by yellow caution tape, but residents gingerly walked across the span anyway.
Meghan Myrick and Caretia Fernandez set up a table at the intersection of Bridge and Main streets and signed up volunteers to help clean up wet, mud-slimed businesses.
From 9 to 10 a.m., the pair had signed up 30 people, most of whom went home briefly to retrieve gloves, shovels, rakes and trash bags to help with the cleanup. A man pedaled a bike along Vermont 100, holding the handlebars with one hand and cradling a Shop-Vac with the other, headed toward the damaged section of Waitsfield.
"Tons of people are willing to help," Fernandez said. She and Myrick work at the True North Wilderness Program in Waitsfield, which gave its employees the day off Monday so they could help with flood relief.
Myrick said two of her favorite Waitsfield restaurants, the Green Cup and Mint, were damaged. "I love the Green Cup, and I love Mint. Both are amazing places to eat," she said. She'd seen the damage first-hand at one of the eateries. "Green Cup isn't doing well," she said.
Word of even more intense damage trickled from isolated towns in southern Vermont. Large sections of Vermont 100 south of Wardsboro are washed away, leaving chasms of up to 30 feet deep, according to town residents. Several people lost their homes in Wardsboro, including the town clerk. Some homes were swept off their foundations and washed downstream, residents said.
The Vermont State Police in Brattleboro have confirmed a second death in the Wilmington area following devastating flooding there.
Sgt. Michael Roj said the death of a child was reported Monday morning. He did not have information about the identity or age of the child. The death is being investigated by the Wilmington Police Department with help from state police, Roj said.
Gov. Peter Shumlin, Sen. Patrick Leahy, and Adj. Gen. Michael Dubie will be traveling by helicopter today and reviewing storm damage. They will tour the following areas: Ludlow, Springfield, Brattleboro, Marlboro, Wilmington, Benngington, Manchester and Rutland
President Barack Obama has declared a federal emergency for Vermont.
The White House issued a statement that says the following:

"The President today declared an emergency exists in the State of Vermont and ordered federal aid to supplement state and local response efforts due to the emergency conditions resulting from Hurricane Irene beginning on August 26, 2011, and continuing.
"The President's action authorizes the Department of Homeland Security, Federal Emergency Management Agency (FEMA), to coordinate all disaster relief efforts which have the purpose of alleviating the hardship and suffering caused by the emergency on the local population, and to provide appropriate assistance for required emergency measures, authorized under Title V of the Stafford Act, to save lives and to protect property and public health and safety, and to lessen or avert the threat of a catastrophe in the State of Vermont.
"Specifically, FEMA is authorized to identify, mobilize, and provide at its discretion, equipment and resources necessary to alleviate the impacts of the emergency. Emergency protective measures, limited to direct federal assistance, will be provided at 75 percent federal funding.
"W. Craig Fugate, Administrator, Federal Emergency Management Agency (FEMA), Department of Homeland Security, named Craig A. Gilbert as the Federal Coordinating Officer for federal recovery operations in the affected area."
A car floats down the Roaring Branch river in Bennington, Vt.
For the full story, click here.