November 3, 2011
— John Clary Davies
With the consultation of Travis Rice, a nine-person crew of loggers, former professional riders and guides built mountain-bike style platforms 60-feet up in the trees at Baldface Lodge, British Columbia, this offseason. The jumps, however, are not meant for bicycles.
Between Feb. 2 and 9, 2012, Travis Rice, Red Bull and Baldface Lodge will host The Red Bull Supernatural, a one-day event similar to Quiksilver's Natural Selection. The big mountain freestyle invitational will utilize manmade features on one of Baldface's biggest runs.
"These manmade stunts are like mountain bike stunts on crazy elephant steroids," said Jeff Pensiero, the owner of the British Columbia snowcat lodge. "It's crazy. It's like Mario Brothers or something. It's out of control."
The 2,200-foot north-facing run will feature about 100 jumps in the trees on a 50 to 55 degree slope. Riders will hit platforms 60 feet up in the trees in succession, like perfectly placed gigantic pillows. As the run transitions toward the bottom, contestants will hit three X-Games style jumps.
"The way winter is going to come in is just going to turn this into a massive pillow field," said Pensiero. "Some are just ungodly large. All riders really want at the end of the day are steep landings. The jump is secondary. These really get them out of the slope so they're dropping on to steepness. I think it's going to be really interesting. I think there's going to be some shit that people are going to hit that's just way too big."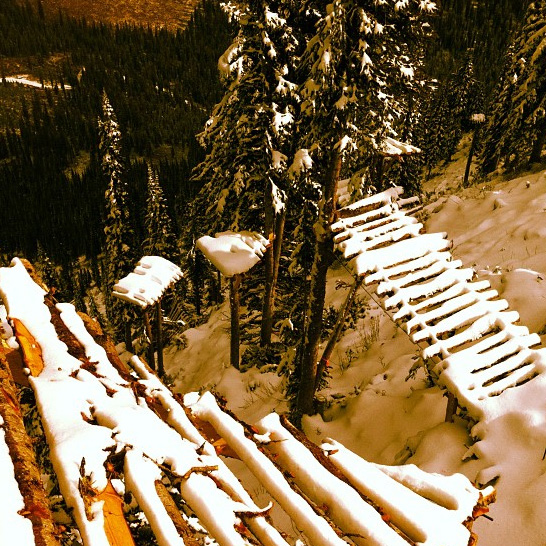 A photo of some of the Supernatural hits at Baldface Lodge from Travis Rice's Instagram.
Pensiero said Rice wanted to create the event because outside of Natural Selection, there aren't really competitions suited toward the type of riding he does.
"He wants to provide something that the lame Olympics aren't doing right and the X Games aren't doing right," said Pensiero. "Snowboarding is about riding with your friends and pushing the limits."
The invitational will include 20 of the world's best snowboarders. The contest has the lodge for a week, and will select the day to hold the competition based on conditions.
Pensiero said Red Bull has invested heavily in the event. They'll use devices to keep too much snow from building on the features to prevent their collapse. His only concern was that something that they can't control, like an avalanche, could wipe out the stunts.
"The thing is, nobody has ever built anything like this before," said Pensiero.