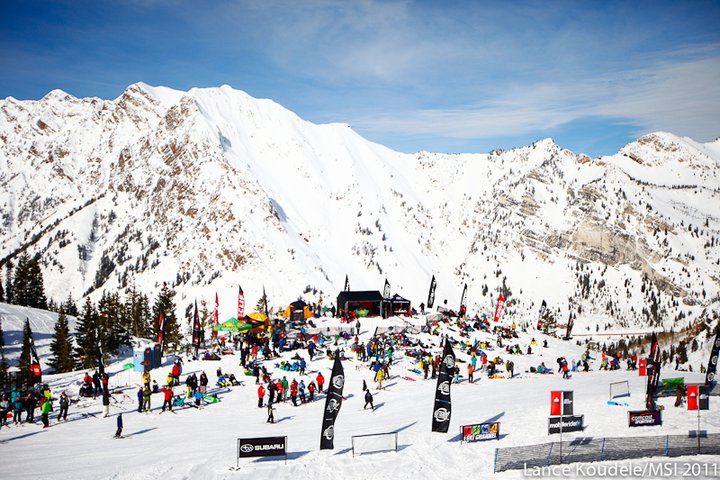 Salt Lake City, Utah- The best big mountain snowboarders make their way to Snowbird, Utah this week for the final stop of the 2012 North Face Masters of Snowboarding presented by PrimaLoft, April 12-15, 2012. Now in its fifth season, the three-stop tour is the only open competition for big mountain snowboarders, with an overall prize purse of $50,000.

Originally slated for January, event organizers pushed the Snowbird stop to April to allow for improved conditions on the venue. The west had a late start to winter, yet this spring has seen big snow totals, leaving the Wasatch Mountains in prime competition shape.

"Showcasing some of the best big mountain features of any resort, Snowbird is honored to host The North Face Masters," said Dave Fields, Snowbird's Vice President of Resort Operations. "With athletes who are as impressive as the terrain, it's sure to be a thrilling event."

Awarded to the top male and female rider at Snowbird is one of the most coveted prizes in big mountain snowboarding-the Katana Sword. Also, at each stop of the tour, The North Face honors a rider under the age of 21 with the Young Gun Award for innovative riding and promising talent. Being the last stop of the season, the Snowbird event also decides the overall tour champions for 2012.

Leading the tour in overall points for the ladies after two events is Kirkwood's Casey Lucas with 160 points, thanks to her first place finish at Kirkwood. Overall tour champion in 2012, Shannan Yates is currently in second with 135 points, and is certainly looking to win another title on her home turf at Snowbird. Only a point behind with 134 is fellow Snowbird rider Laura Dewey, coming off a second place finish at Crystal.

With only 14 points separating the top four men, the battle for the overall title will be fierce. Leading the pack heading into the final stop is Tim Carlson with 114 points. His many years of big mountain snowboarding experience make him a strong favorite to win. Next behind in the tour standings is Sammy Luebke with 105 points. Tied for third after Crystal and Kirkwood are Brandon Reid and Charlie Hoch with 100 points, each having won a stop of the series.

As an open event, The North Face Masters provides an opportunity for both established and up-and-coming riders to put together a winning run during two days of cutthroat competition. Saturday's finals held on Snowbirds famously technical venue, "West Baldy", will be broadcast live on the tetongravity.com homepage.

The North Face Masters of Snowboarding is presented by PrimaLoft and supported by The North Face, Subaru of America, Sierra Nevada Brewing Co., Bern, Lib Tech, Gnu, Mountain Sports International, Comcast Sportsnet, Snowboard Magazine, Clif Bar, Snowbird Ski & Summer Resort, Crystal Mountain and Kirkwood Mountain Resort.

For more information about series visit thenorthfacemasters.com.