September 12, 2011

VALLE NEVADO, CHILE — Team Europe clinched the Swatch Skiers Cup on Saturday with a final score of 14–10 at the inaugural freeski competition high in the Chilean Andes. In Saturday's showdown on the Backcountry Slopestyle course, Team Europe held its own against the favored strength of Team Americas freestylers and it was Kaj Zackrisson and his band of seven riders that held the Swatch Skiers Cup triumphantly aloft at the end of the day.
In two rounds of eight head-to-head duels, Team Americas would showcase its unrivaled freestyle strength on the two large features shaped by David Ny, and the varied natural hits, cliffs and powder landings of the Backcountry Slopestyle. The panel of three international judges awarded a single point to the winner of each man-to-man heat.

Coming off the Big Mountain segment of the event Monday trailing 2-6, Team Americas' riders were pressed in the Backcountry Slopestyle discipline to reverse their deficit. Powered by the talents of Rory Bushfield (CAN) and Dylan Hood (USA), they delivered their best. Rory simply stomped everything he threw, though his top run would include a 360 over the entry hip, a cork-720 off the kicker, a right-side 360 off a medium-sized drop and finish with a 180 nosetap off a rolling 10-meter drop.

Switzerland's Nicolas Vuignier, his first-round rival, answered with one of the most stylish cab-540's of the day. Most impressive in the first round was the explosive energy of Markus Eder's (ITA) cab 900 mute and switch 540 revert.

A series of spills by Team Americas would limit their gains, though, and both teams finished the first round with an additional four points, making it 10-6 for Team Europe.




Round two would see Henrik Windstedt (SWE) charge to the finish with solid, controlled skiing, winning a total of two points today for Team Europe. Co-founder of the event and big mountain specialist, Sverre Liliequist (SWE) would display a whole new side with a misty 720 and a stomped backflip.
Team Americas refused to be outshined , however and equalized the round yet again with Dylan Hood's (USA) enormous cork 720 and switch tricks around the venue.
Captain of Team Europe, Kaj Zackrisson (SWE) also pushed his limits today to land both left and right 360's — a first in his long career as a freeskier — after brief instruction from young compadre Nicolas Vuignier (SUI) the previous day.

Team Americas' Josh Bibby (CAN) would win both his runs, but the favored talents of teammates Dana Flahr (CAN) and James Heim (CAN) would not shine in the showdown today.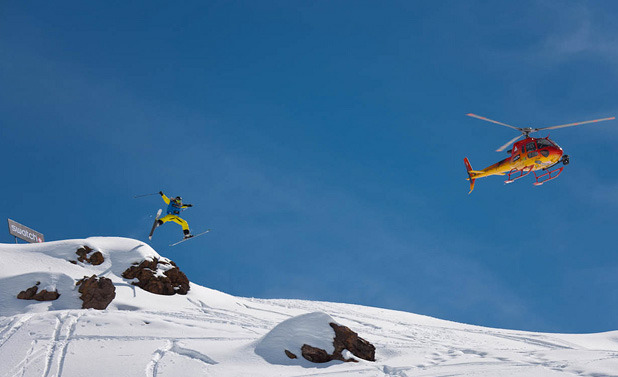 In the end, Europe would gain enough points by the third duel in the second round to win the event. The athletes agreed that after such an experience in Chile, they would certainly support another Swatch Skiers Cup.

"I think it's the best spirit I have ever seen in a contest," Richard Permin, of France, said.
Team Americas Captain Mark Abma, of Canada, was very impressed with the inaugural Swatch Skiers Cup.
"I think this has been a success just because of its team feel, and the camaraderie that comes from it. We have so many contests these days that are individually focused, that to create a team focus is really a funky twist. These days we just need something different and [Kaj and Sverre] stepped-up to it."