On Tuesday, Jeff Schwartz, the chair of environmental studies at Westminster College, published an op-ed in the Salt Lake Tribune titled, "Stop Ski Resort Expansions."

"Talisker, the Canadian developer, is trying to circumvent the public process and evade the Forest Service's long-established public comment process in favor of a deal struck in Washington D.C. with Utah members of Congress," Schwartz wrote.

His editorial was the latest in a long list of public opposition to The Canyons' and Solitude Mountain Resort's proposed SkiLink, which through the purchase of 30 acres of public land, would allow the ski areas to build a gondola that would allow 1,000 skiers an hour to connect between the resorts. Since Talisker introduced their initiative to four of five of their congressional representatives in November, Salt Lake County Mayor Peter Corroon, Salt Lake City Mayor Ralph Becker, the U.S. Forest Service acting deputy chief of staff Greg Smith and Black Diamond CEO Peter Metcalf have all spoken out against the proposal.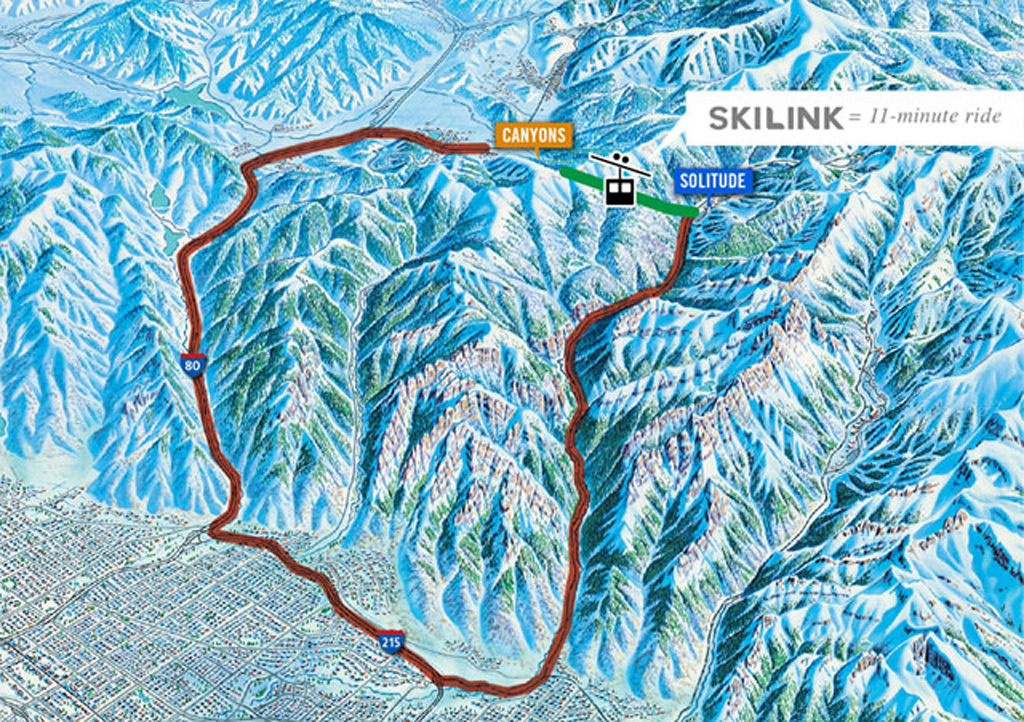 A map of the proposed SkiLink gondola in Utah is shown. Map created by the Salt Lake Convention And Visitors Bureau.
Despite the local public outcry, Mike Goar, the Managing Director of SkiLink, remained optimistic about the project.

"I've been around these canyons long enough to understand the issues and certainly understand the emotional attachment that many people have," said Goar, who worked at Solitude for 27 years. "We think this is a great opportunity to rebrand skiing in Utah, to give it greater recognition, and that is certainly a driving force behind it."

While Goar recognized SkiLink as a business venture, he insisted on the positive impacts the interconnect would have on the community. Based on the studies commissioned by Talisker, they expect the gondola to generate $51 million in revenue, which will in turn create 500 new jobs, while each year eliminating 18,000 cars (or 1 million miles) from the road from skiers that would otherwise drive between the ski areas.

This data has come under fire from opponents of the proposal.

"If you go to Alta or to Snowbird to ski, it's not like that afternoon you're going to fire up to Park City," said Schwartz. "Nobody does that. That's not even rational. As you draw it on the board for a committee in D.C. for old guys in suits, that might work, but for those that actually do this stuff, it's crazy."

Goar said their statistic regarding traffic were the result of finding that 20 percent of destination skiers roam to other ski areas on any given day, but admitted the numbers were open to question.

"There's always assumptions to be made [when doing studies like this] and they're always debatable," Goar said. "But what I say is while the numbers are debatable, what I don't believe is up for debate is some number of cars would be taken off the road."

In addition to questioning the data laid out by Talisker, many opponents are worried that by allowing the group to circumvent the U.S. Forest Service and purchase public lands, the bureaucrats would be allowing a dangerous precedent.

"These projects tend to be a toehold. As soon as you get one thing in there it's that much easier to say, 'oh, we're going to run an alpine slide down here a few years later,'" said Schwartz. "I think other people are dismayed about where this is all going to lead and the kind of looming danger of a Euro-style Wasatch, where everything's connected and there's trams up every peak and tunnels in other places."

Goar insisted this would be an isolated development.

"We have no vision of other developments," Goar said. "I don't think that it is possible to build any other infrastructure associated with ski resorts, nor is it possible to construct buildings, residential or commercial. So we say that and we have no interest in doing it."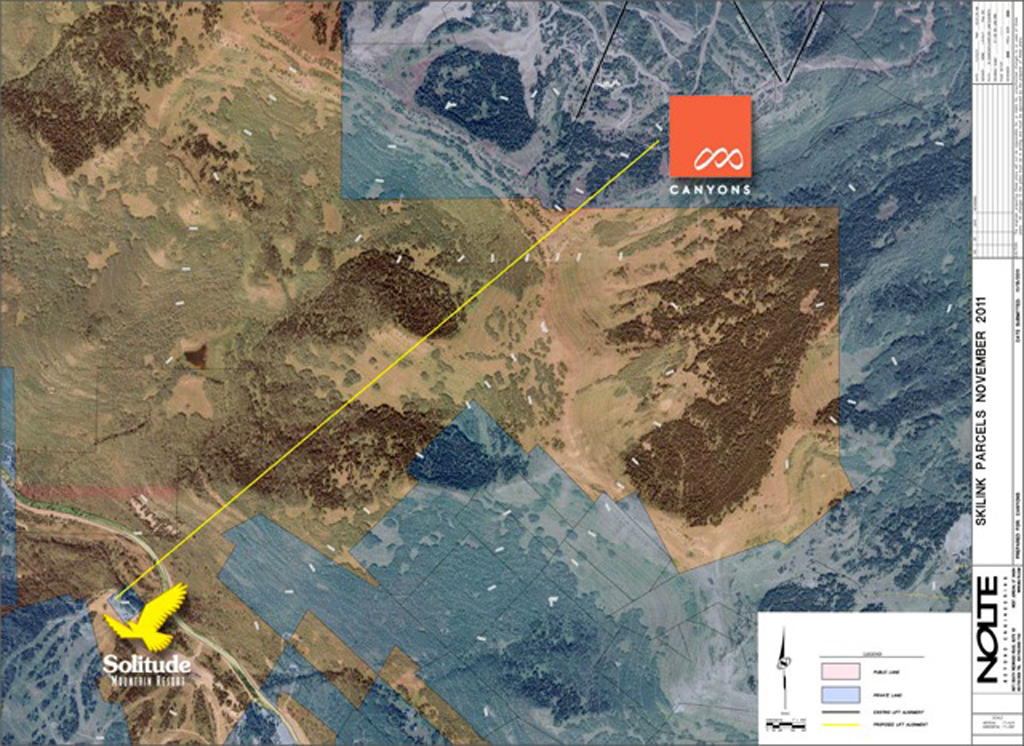 A closer look at the proposed site of the SkiLink gondola. Map via SkiLink.com
Opponents have also spoken up about the environmental impacts of the project. Goar said they have absolute certainty the gondola can be constructed without adverse impacts to the watershed but admitted erosion concerns, which he thought could be controlled, and the costs of tree removal and the visual impact of the lift towers.

Schwartz, a longtime backcountry skier, said he worried about compromising wilderness and open spaces. He said SkiLink would allow skiers to access terrain that was previously only accessible by walking in an already crowded Wasatch backcountry skiing scene.

As it stands, SkiLink is awaiting approval of congress and the president. If they sign off, the proposal will go back to the local bureaucrats for zoning, reviews, public comments, and an ultimate decision. Until then, the public debate will continue.
"Every year they do something to try to push on to public lands," said Schwartz. "That's why we get a say in this. In fact, we as citizens own these lands and get to use them and have a voice and a conversation about how they get developed."