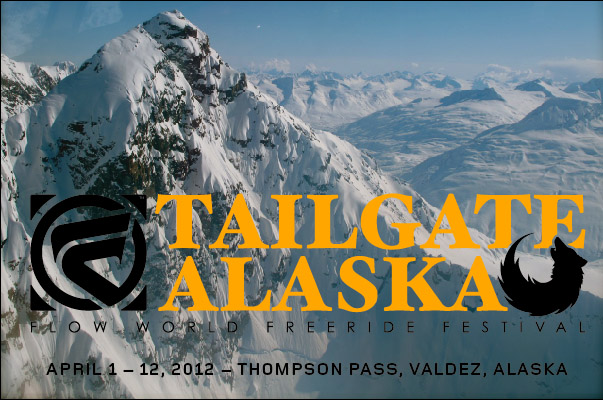 In less than a week, Flow Tailgate Alaska will take over Thompson Pass for the biggest freeride festival devoted to skiers and snowboarders. Voted by Transworld readers as the No. 1 snowboarding event in the world, Flow Tailgate Alaska brings recreationists, professional athletes, legends and the industry together in the ultimate winter playground from April 1-12, 2012.

For its fifth year, Flow Tailgate Alaska will bring together over 500 tailgaters for a two-week celebration in the Alaskan Chugach Mountains with educational opportunities, parties, competitions and entertainment for all. While most of North America had a weak winter season, the Chugach Mountains have been on track for a record setting season.

"This is probably a once-in-a-lifetime opportunity to ride this much snow in Alaska," event creator Mark Sullivan said.

The Alaska Avalanche Information Center will be offering daily classes on snow safety and avalanche awareness, glacier travel and crevasse rescue, and decision making in mountain terrain. The center also provides a daily avalanche bulletin for the Valdez/Thompson Pass area on their website www.alaskasnow.org.

"Valdez and Thompson Pass are seeing a banner snow year this season, with a 125-inch base and 639 inches of total snowfall thus far on the Pass, so there should be plenty of powder for Tailgaters visiting the area," AAIC Director Sean Wisner said. "We are proud to be part of such a great event with snow safety and education as its central theme. The AAIC staff encourages all mountain travelers to check the bulletin before venturing out each day, choose terrain that is appropriate for the conditions, and live to ride another day!"

Flow Tailgate Alaska serves as the host for skiing and snowboarding's original big mountain world championship events - The World Freeride Championships taking place from April 1-12, 2012 with a $10,000 payout to the winner.

The best part is, YOU are invited to come and participate. There are still a few tickets left for Flow Tailgate Alaska that include camping at basecamp, snow science classes, beer, bathrooms, discounts on RV, hotels, heli and a whole lot more. For more information, check out www.tailgatealaska.com.