Red Bull Cold Rush, a peer-judged, three-day backcountry freeskiing competition, returns in March to Silverton Mountain in Colorado with some brand new features and a new roster of athletes. For the second year in a row, 17 men and 5 women will compete in the Big Mountain, Slopestyle and Cliffs disciplines to determine the best all-around backcountry skier.

This year the Big Mountain venue is held on Silverton Mountain's north-facing Storm Peak, the highest ski area in North America at 13,487 feet. The aptly-named peak snares snow from passing storms, filling in the steep, rocky chutes and couloirs. The Grande and Pequeño chutes where the discipline is held are so steep that they do not see any sunshine until March, keeping the snow cold and light.

The Cliffs venue returns to Silverton Mountain's famous Zone 7 - a beautiful alpine cirque with 13,500-foot peaks that funnel into a freeskier's paradise stacked with cliffs up to 70 feet in height in every direction. The cliff zone is located lower down on the mountain, keeping the snow sheltered and fresh. The landing zones are wide open, allowing the competitors to throw down their biggest tricks with fewer consequences than that of the Big Mountain arena.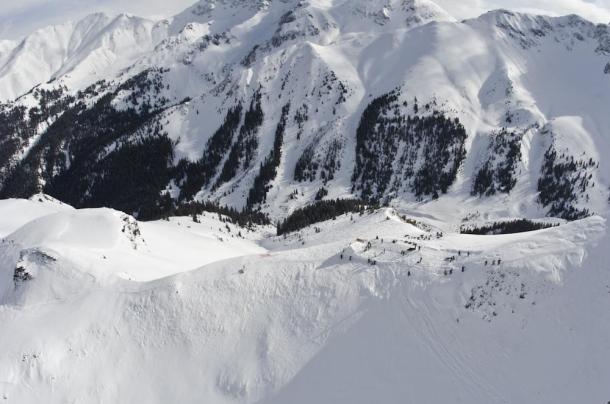 Last but certainly not least, the Slopestyle venue is located just off the top of the Silverton Mountain chairlift in the aptly-named run Mandatory Air. "Mando" as it is sometimes called is a big, wide-open, north-facing bowl filled in with powder and natural features to build massive hits. The area is quite large, allowing for multiple jumps and transfers in an above-tree-line alpine bowl.

"Since the event is taking place at Silverton Mountain again, I needed to make sure the event was unique in some way," says Pep Fujas, lead course designer and competitor in Red Bull Cold Rush. "We don't build any features on-slope for the Big Mountain or Cliffs events, so the Slopestyle discipline is the one venue I could switch up this year. I want to make the course bigger and better, so we're playing off the local mining heritage and building a custom rail feature, adding some jumps, and creating two distinct lines with three features each."

Helping execute Fujas' Slopestyle vision was course supervisor Dale Womack, who led a crew of builders from The Public Works along with a group of Silverton locals to bring his ideas to life.

The skiers' right line consists of a step-down over a cliff, followed by a true table-style jump measuring 60 feet to the knuckle but can be sent as far as 100 feet, and finishing up with a 70-foot step-down. The left line begins with a 20-foot long custom rail feature, followed by a 50-foot step-down over a cornice, and ends with a hip jump that can be aired out anywhere between 20-80 feet.

Stepping up to the plate in 2012 and making use of these features and terrain is a premier field of 17 men and 5 women set to raise the bar of backcountry freestyle progression. This year's Red Bull Cold Rush competitors include:

MEN: Andy Mahre, Collin Collins, Dane Tudor, Dash Longe, Dave Treadway, Fabio Studer, Josh Bibby, Kye Petersen, Leo Ahrens, Logan Pehota, Pep Fujas, Richard Permin, Sage Cattabriga-Alosa, Sean Pettit, Tim Durtschi, Tobias Tritscher, Wiley Miller

WOMEN: Anna Segal, Jackie Paaso, Michelle Parker, Rachael Burks, Shelly Robertson

For fans in the U.S., tune in March 24th to Red Bull Cold Rush airing nationally on NBC at 1:00 p.m. EST / 10:00 a.m. PST. The event airs as part of the new Red Bull Signature Series, the most progressive and innovative snowboarding, mountain biking, freestyle motocross, ice cross downhill, skiing and BMX events, showcased on custom courses from the inspiration of the athletes themselves.