September 14, 2011




Tonight, snowboarder Jeremy Jones, skier Chris Davenport, Olympic snowboarder Gretchen Bleiler and Aspen Skiing Company's Auden Schendler will discuss climate change in Washington, D.C. Honorary co-hosts Rep. Jared Polis (D-Colo.), Sen. Mark Udall (D-Colo.) and Sen. Michael Bennet (D-Colo.) will also speak on global warming.
The public event, organized by Protect Our Winters, begins at 6:30 p.m. at the United State Capitol, inside the visitor center's Orientation Theater South. The talk will center on how winter sports athletes can help solve climate change.

Then on Thursday at 10:30 a.m., Protect Our Winters will go to the U.S. Capitol to ask lawmakers to stop efforts in Congress to block the Environmental Protection Agency's ability to reduce greenhouse gas emissions. Unless curtailed, carbon dioxide pollution is likely to cause a steep decline in snow and result in significant economic losses to the $66 billion-per-year snow sports industry, they will tell Congress. The participants will deliver a letter outlining their concerns to lawmakers. Hundreds of supporters, including additional athletes and major winter sports businesses, have signed on to show their support.

For more information, visit protectourwinters.org.
To read a blog post by Jones and Bleiler, click here.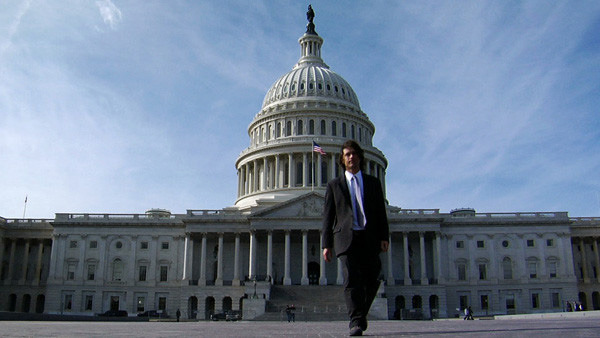 Jeremy Jones on Capitol Hill in February 2010.