September 23, 2011
Last week snowboarder Jeremy Jones, skier Chris Davenport, Olympic snowboarder Gretchen Bleiler and Aspen Skiing Company's vice president of sustainability Auden Schendler traveled to Washington, D.C., to advocate against global warming. Representing the nonprofit Protect Our Winters, the group was joined by Rep. Jared Polis (D-Colo.), Sen. Mark Udall (D-Colo.) and Sen. Michael Bennet (D-Colo.).
Protect Our Winters delivered a letter to lawmakers outlining concerns that, unless curtailed, carbon dioxide pollution is likely to cause a steep decline in snow fall and result in significant economic losses to the $66 billion-per-year snow sports industry. Hundreds of supporters, including athletes and major winter sports businesses, signed the letter to show support.
Tetongravity.com caught up with Chris Davenport and Auden Schendler to find out how the trip to Washington went and what the group suggests we do to combat climate change.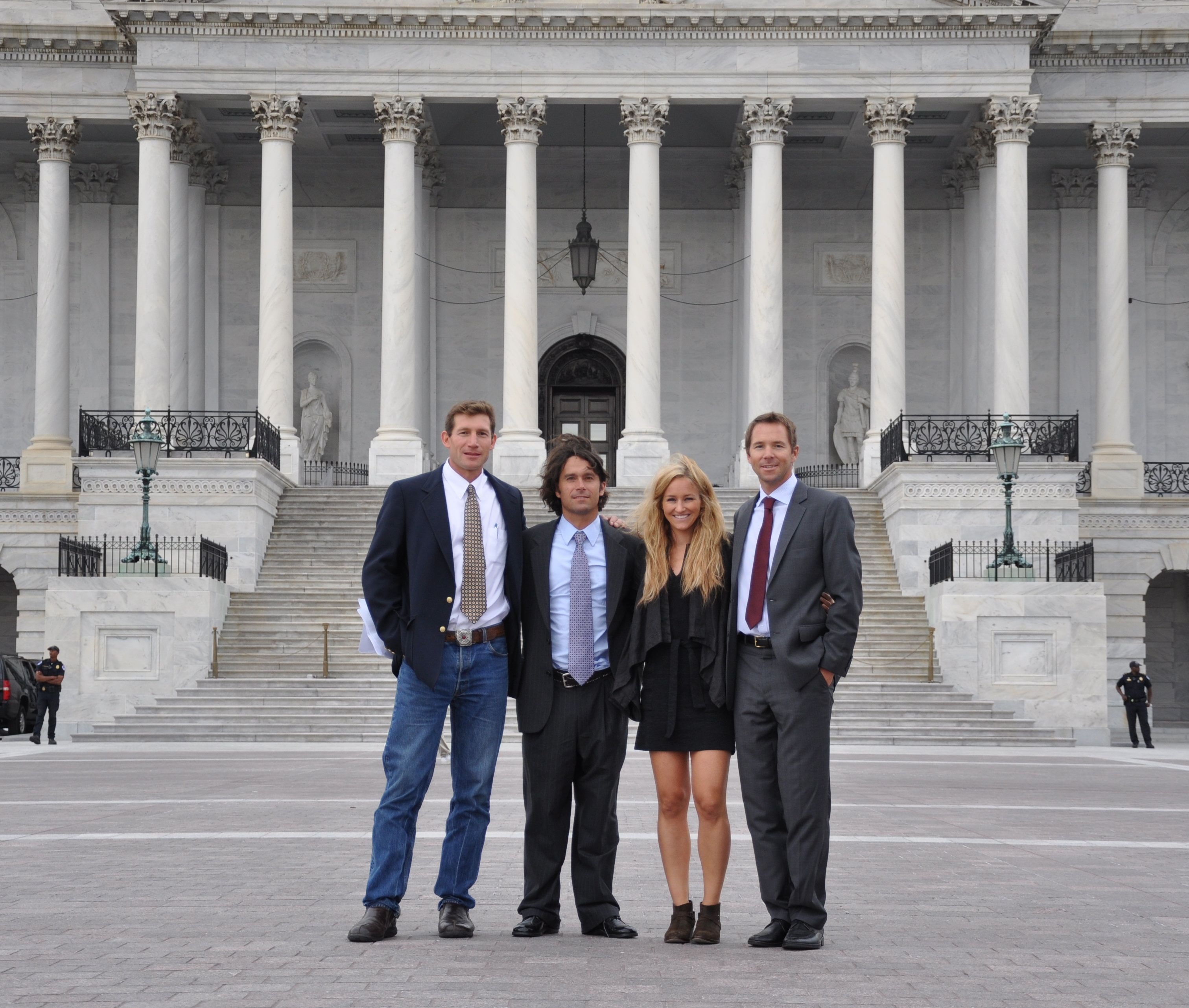 Tetongravity.com: I understand that Protect Our Winters was in Washington, D.C last week. I believe you gave a public talk at night and then did some lobbying in the Capitol the following day. Where did the talk take place and what did it focus on?
Chris Davenport: Well we did a number of talks while we were there, including a panel discussion at the Capitol, a press event and numerous meetings face to face with Senators, Congressmen and their staff. We basically tried to get [our] message across to as many folks as we could while we were in D.C. Everyone was very receptive to our point of view and our initiative. The theme that seemed to come across time and time again was that it's just hard right now in our government to get anything done, especially quickly, what with the partisan politics and in-fighting going on as the Republicans try to wrestle power from the Democrats in the Senate and in the White House.
TGR: What was your message when lobbying?
Chris Davenport: We were working with the Natural Resources Defense Council and Protect Our Winters to get the message out that the winter sports industry will not stand for the Republican party's attempt to undermine the EPA and the Clean Air Act in its quest to create jobs. The Environmental Protection Agency's mandate is to enforce the Clean Air Act, among other things, and they are important for public health, clean air and water and jobs. The EPA limits carbon because it's deemed a pollutant under the Clean Air Act. Limiting carbon emissions is the one single thing we need to do to successfully fight climate change. Science points out that clean energy legislation creates jobs, which is important for those of us who live in communities like Aspen, Colorado, or Jackson, Wyoming, that depend on a winter season to drive our economy.
Auden Schendler: A key point we made is that we represent a $66 billion industry — snowsports. And stable climate is required for all those jobs, all that income, all those communities. And if you expand beyond snowsports into other areas of our economy that are climate dependent (farming, fishing, hiking, biking, rafting, etc.) you get an astonishing number. In short, we are business people and this is about jobs.
Auden Schendler: Second point is mostly color commentary: I've been working on the politics of climate in the snowsports world for a decade. And last night, coming home from another trip doing a version of that, I heard the radio DJ on our local station saying he was going to interview Chris about his trip to D.C. And my first, gut response was: "I am so glad I'm not the guy who has to do that. I'm so happy to have other voices from my industry speaking out on this issues." And we have that now, and from what we can tell, almost every major snowsports athlete is willing to back us. This is the beginning of our own revolution.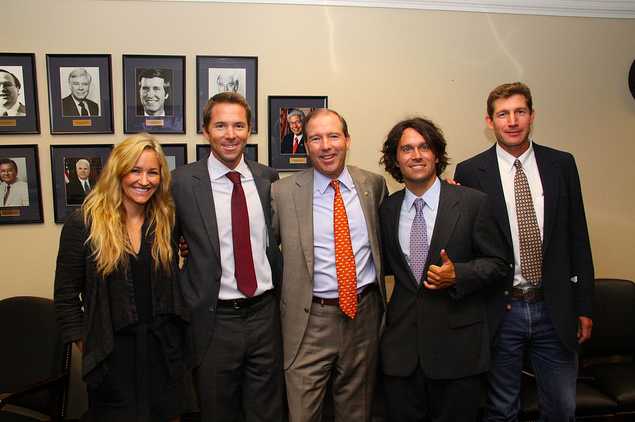 TGR: Almost everything is made of plastic, which is oil based and creates carbon emissions when produced. This includes most winter sports gear — it's all plastic. What does Protect Our Winters suggest we do to fight climate change? Where do we start when everything, including the sports we love, causes climate change?
Auden Schendler: If you hold a magnifying glass to anything today, you'll find it has a climate impact, because we're a carbon-based society. The point isn't to make people feel bad or hypocritical, the point is that we are all guilty, and we are all part of the solution. So working together with other fossil fuel using humans, we have to fix the whole enchilada, so that when you ski, or fly, or make skis, or make films, or raise your kids, you can do so in a carbon free way. The theory behind POW is that the snow sports industry, while relatively small, has enormous appeal and star power. We need to use those qualities as a platform from which to drive big scale change at the policy level. That's why we were in D.C.
Chris Davenport: Check out POW Board member Gretchen Bleiler's answer to this question ... The 21 Day Reusable Challenge. This is what we are working towards.
TGR: You went to Washington with a letter signed by 500 or so members of the winter sports industry, what did it say?
Auden Schendler: It made Chris' first point, which is that we are a business of $66 billion, and we depend on climate. Don't gut the EPA's ability to regulate CO2. Signed by Patagonia, Black Diamond, and many major athletes and businesses.
TGR: Do you feel this trip to Washington was a success?
Auden Schendler: We're fighting a long war here. There is no short-term success, but there is a chipping away at the problem and the politics and this is necessary and critical.
TGR: Will there be future trips to Washington?
Auden Schendler: We're already planning them.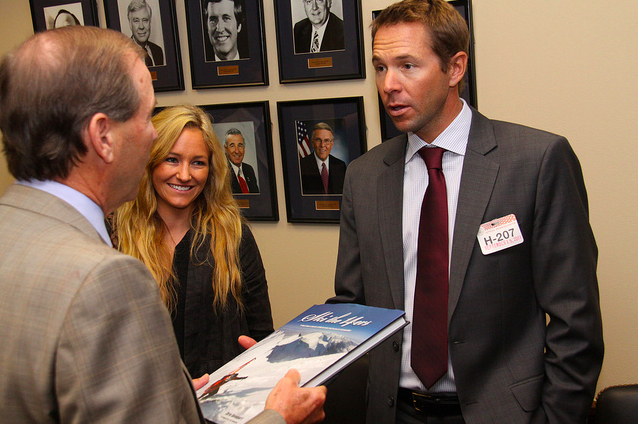 Gretchen Bleiler's 21 Day Reusable Challenge public service announcement:
For more, visit ProtectOurWinters.org