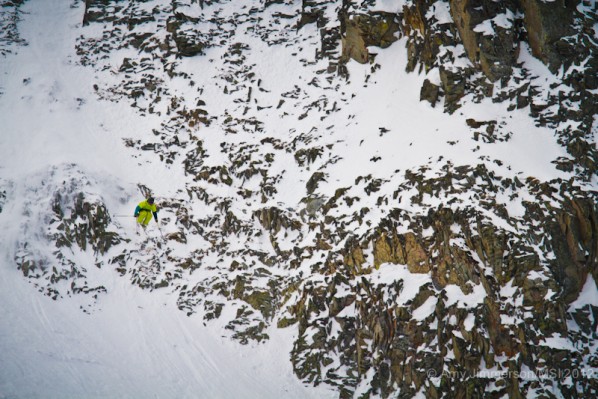 Moonlight Basin, Montana - The Subaru Freeskiing World Tour Qualifier made its first-ever stop at Moonlight Basin, and Day 1 of the event did not disappoint. In overcast, windy conditions, 97 athletes took on the 1300' vertical "Headwaters" venue and 50 percent of the field was able to navigate the rocky, 40-50 degree pitches to make the cut and move onto Day 2 of the event on Saturday.
Patty Baskins out of Vail, CO, leads the men's field heading into Day 2, with a score of 36.87, closely followed by Kyle Taylor and Ben Ogilvie, scoring a 36.63 and 36.03 respectively.
"It was interesting to see the athletes get creative with the venue and choose their lines. There wasn't a lot of jumping, but the technical skiing in the rocks was impressive. Solid skiing throughout your whole run was tough to come by as the long, steep venue took its toll on some, but those that powered through it with aggressive skiing the whole way were rewarded," said Competition Director Ron Pankey.
For the ladies, Vail athletes continued their winning ways, as Molly Etters holds a commanding two-point lead heading into Day 2 with a score of 32.40. In second is Australian Natalie Segal scoring a 30.57, followed by Ashley Bembenek with a 30.43.
"Going into today we knew that this venue was naturally challenging in how steep it was. It was going to be a matter of who had the most control and a handful of competitors stood out by maintaining that control and picking consequential lines to bring it all together," said FWT host Frankie Alisuag.
The "Three Forks" section of the Headwaters will play host to Day 2 at Moonlight Basin with even bigger features and 1500' of rocky, fall-line skiing.