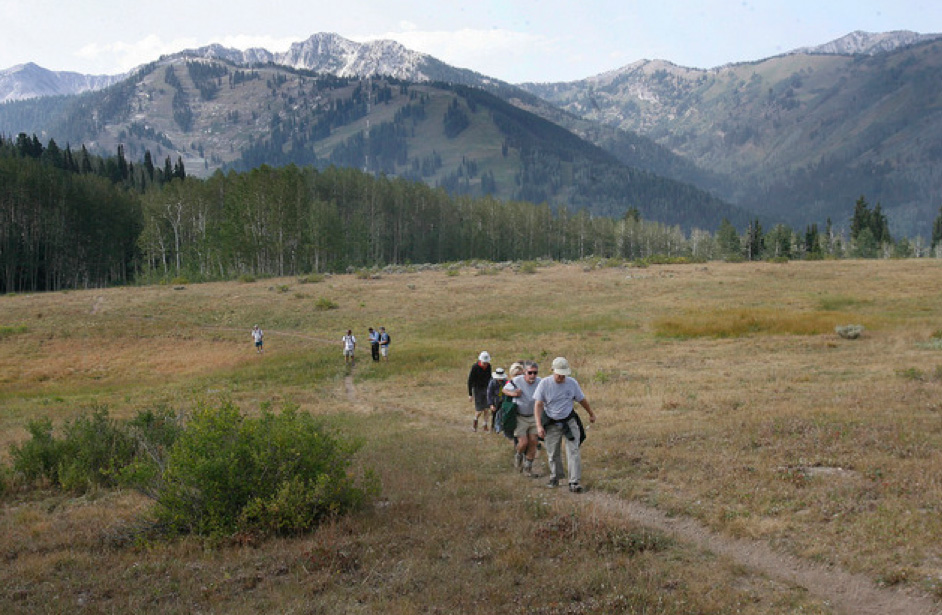 A group led by Rep. Joel Briscoe, D-Salt Lake City, hikes Saturday through a meadow near where the proposed SkiLink gondola project would go through. Save Our Canyons and other environmental groups held a press conference to denounce the SkiLink proposal and tout what they contend is growing opposition to the idea. Photo by Scott Sommerdorf / The Salt Lake Tribune.

Conservation groups hike to areas that would be impacted by Canyons-to-Solitude gondola.

By Mike Gorrell | The Salt Lake Tribune

SkiLink opponents took a hike Saturday to show what they don't like about the idea of running a gondola from Canyons Resort in Park City to Solitude Mountain Resort in Big Cottonwood Canyon.

The expedition began at the Willow Heights Trailhead, just below the Solitude parking lot where SkiLink would hook into that resort. It was there that Save Our Canyons, the Sierra Club and the Wasatch Mountain Club, with support from a couple of Democratic politicians, announced the launch of a campaign to muster growing public and business opposition to SkiLink.

Then the group headed three-quarters of a mile up a dirt trail to Willow Lake, an elevation gain of 600 feet that offered views of where the gondola would enter Big Cottonwood, passing through aspen and conifer trees that would be split by its 70-foot-wide lift corridor.

"Clearly, people are very disturbed, not just about the project but the process," Save Our Canyons Executive Director Carl Fisher said, citing 1,600 signatures collected so far on petitions against the gondola, which Rep. Rob Bishop and other Republican members of Utah's congressional delegation are pushing with federal legislation requiring the U.S. Forest Service to sell 30.3 acres of its hillside lands to Talisker Inc., the Canadian company that owns Canyons Resort.

That sale would remove the Forest Service from the regulatory process overseeing SkiLink, leaving decisions up to Salt Lake and Summit counties, which govern use of private lands on both sides of the ridgeline, and Salt Lake City, which is charged with protecting the watershed in Big Cottonwood Canyon. Conservation groups want the Forest Service to have some say-so, too, because its master plan for the central Wasatch Mountains prohibits ski-resort expansion on public lands.

"It's important to protect the integrity of public lands, the heart of the watershed and open space," said Mark Clemens, manager of the Sierra Club's Utah chapter.

The bill before Congress, added Rep. Joel Briscoe, D-Salt Lake City, "subverts the democratic process — and process matters. It sets an awful precedent for other public lands in Utah."

Contacted later, Canyons Resort Managing Director Mike Goar characterized these arguments about the process as "misinformation. This is not an end-run around the public process. The federal legislation does not approve SkiLink, by any measure."

"It just allows us to make application to the local jurisdictions," he said, which wouldn't be possible if the Forest Service is involved. "It makes the process local. Local citizens will have a chance to comment. Local elected officials will decide whether SkiLink goes forward."

Will McCarvill, the Wasatch Mountain Club's conservation director, objected to the ski resorts' continuing encroachment onto prime backcountry terrain. The resorts picked off the best slopes decades ago and make it easy for people to access out-of-bounds areas, he added. SkiLink only will enhance that.

"SkiLink will enable skiers from The Canyons to expand their access to central Wasatch powder," McCarvill said, noting that even if the gondola does not have an unloading station on the ridge, it will provide a way back to Canyons Resort from Solitude.

"These vacationers will not care about impacts on our wildlife, our water or that they have taken another chunk of preferred snow terrain," he added. "They will not give a damn about those who live here and will have to deal with these negative outcomes."

Goar doubted SkiLink would generate additional backcountry skiing competition. He said the ridgeline unloading station was removed from the plan to be sensitive to those concerns. While the gondola could provide a ride back, Goar doesn't feel that would compel many people to ski into Big Cottonwood from Canyons' Ninety-Nine 90 lift.

"I don't believe for a minute, because of the length of the hike, that it will introduce new people. It's a long haul," he said, adding that Canyons would strive to minimize the gondola's visual impact.

Fisher said the petition drive's first signer was Salt Lake City Mayor Ralph Becker and has received support from businesses such as Black Diamond Equipment Ltd., Voile, KP2 Architects, Western Investment LLC and John Johnson Financial Advisors. The effort also received verbal endorsements Saturday from several cyclists pedaling up Big Cottonwood past the news conference and, on the trail, from a camouflage-clad bow hunter.