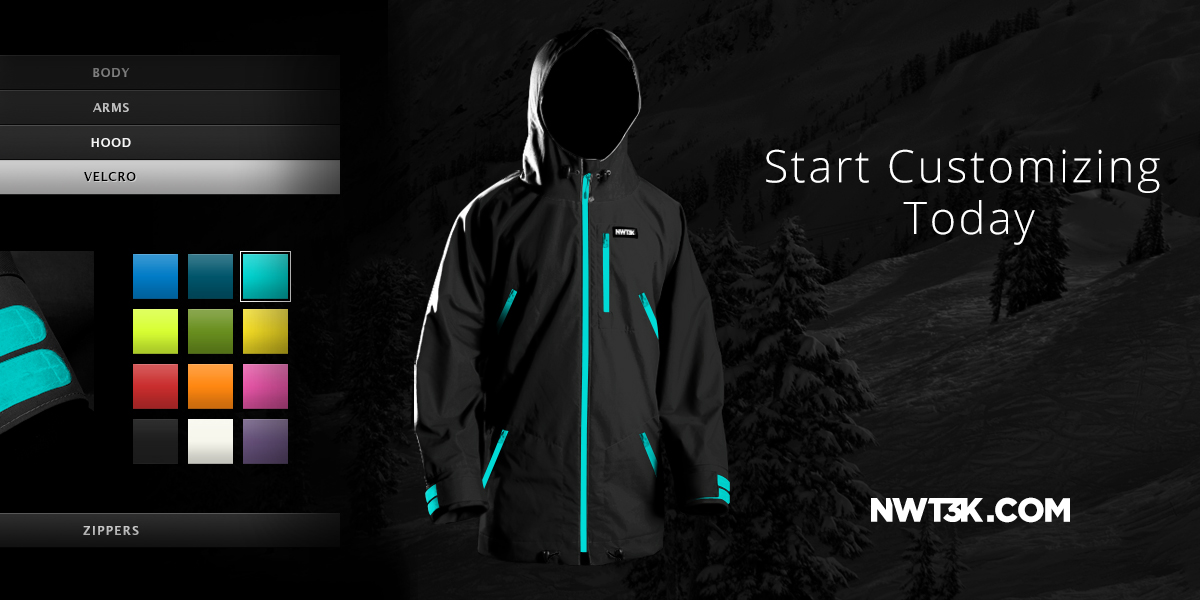 Northwest Technical Outerwear Allows for Individuality in Snow Sports Apparel

New company allows skiers and snowboarders to build & customize Jackets.

Seattle, WA December 18th, 2012 – Last week, Northwest Technical Outerwear (NWT3K) began a new era in the
winter outerwear market by introducing the first high-quality, affordable, and customizable jacket available to
the public.

NWT3K recognizes that skiers and snowboarders love individuality almost as much as they hate seeing their
name brand jacket sitting mirrored next to them on the chairlift every season. NWT3K aims to shake up the
industry by utilizing new website technology that offers a simple interface for consumers to pick colors they
love and the features they need. Customization aligns with high-quality technical jacket features, designed
specifically to combat common problems riders face on the slopes. From wide cuffs that easily fit around your
gloves to durable, color schemed velcro, Northwest Technical Outwear caters to the distinct, die-hard snowbird.

Founder and CEO, Nick Marvik, strongly believes that you should be able to express your personality through
not only your riding style, but also your outerwear style. "Most companies release only a few jacket options
per season, so it's inevitable that you'll see some look-alikes on the mountain. Our brand means that you
are able to represent yourself through a jacket design that is timeless. With NWT3K, your gear will never be
considered 'last season's jacket'."

NWT3K is also a passionate advocate for keeping their products USA-made. The company has ensured that
production remain in its home city of Seattle, WA – without passing the cost on to customers. This supports
local businesses and allows for riders to receive their custom jacket directly from the factory, resulting in a
much faster time to delivery.

NWT3K's custom jacket builder allows riders to:

-Choose from 12 different colors for the body, arms, and hood areas of the jacket
-Choose from 10 different zipper colors
-Choose from 10 different velcro colors
-Choose from 16 different zipper layouts
-Add additional features such as pits zips

Custom Jackets start at $289. Visit www.NWT3k.com for more information.

About Northwest Technical Outerwear

Northwest Technical Outerwear, LLC is a start-up outerwear company that streamlines their ski and snowboard
jackets around customer personalization, satisfaction, and experience. The company's design allows snow
addicts to customize the colors and technical features featured on their jacket, while stile providing the durable,
high quality elements enthusiasts expect from big-name brands. As a new player in the snow sports apparel
industry, NWT3K hopes to shake up the standards for product technology, design, and innovation. Founded
and scaled by a full-time college student and ski junkie, NWT3K jacket features are developed with the avid
skier and practical functionality in mind. They are also advocates for "USA Made," and have managed to keep all
production based directly out of their headquarters' city of Seattle, Washington.