Snowbasin, Utah — Nick Goepper won the men's freeski slope Finals at Sunday's Winter Dew Tour Toyota Championships with his score of 95.00 and he was also voted the Mitch Breakthrough Athlete of the Year.

In his winning run, he stepped things up and did a switch double 14 instead of the switch double 12 he did in his first run.
His run started with a 450 on 270 out on top rail, front swap backside 450 out on A-Frame, on the cannon box he did a switch 2 on rodeo 450 out. For the jumps, he started with a switch left double 10 Japan and finished with a switch right double 14 mute.
Nick Goepper.

"I've been so close all year, but to finally get the number one spot feels awesome," Goepper said.
Tom Wallisch took home the Dew Cup and also won Toyota Athlete of the Year with his second-place finish and score of 92.25. He was ranked first overall with wins at each of the previous two Dew Tour stops, and he was the last to drop in to the finals with the only shot of bumping Goepper off the podium. Wallisch has come back in his second run to take the win at each of those events. But today in Utah, he was able to increase his score by one point, but it wasn't enough to overtake the 17-year-old Goepper.
"I'm not much of a go for broke, last run huck yourself, try something new kind of guy," Wallisch said. "I'd rather see skiing be smoother. Just full, complete, good runs. I never really try to huck myself second run. I just go for cleaning it up. Making it as smooth as possible. And it's worked for me in the past, so I'm going to keep doing it."
Tom Wallisch.

His run went like this: switch lip 2 pretzel 2 on the down rail, to switch on frontside switchup backside 450 out, to switch on to cannon rail backside pretzel 450 out to switch. He hit up the jumps with a switch left double cork 1080 Japan to switch right double cork 1080 Japan.

Defending Dew Cup champ Bobby Brown finished third with 91.00 after his second run that started with a switch 2 to pretzel 2 on first rail, switch on to switchup inward 2 out on second, cork 630 on cannon then right double 12 to switch double 14 on the last two jumps.

"I was struggling on the course the last few days," Brown said. "I'm just stoked that I'm on the podium, and Goepper and Wallisch killed it today. I'm just happy to end the Dew Tour on the podium."

Results
1. Nick Goepper, 95.00
2. Tom Wallisch, 92.25
3. Bobby Brown, 91.00
4. Chris Laker, 90.25
5. Russ Henshaw, 89.50
6. Alex Bellemare, 88.00
7. James Woods, 87.00
8. Joss Christensen, 82.00
9. Andreas Hatveit, 76.00
10. Alex Beaulieu-Marchand, 70.00
11. Jamieson Irvine, 69.00
12. JF Houle, 13.00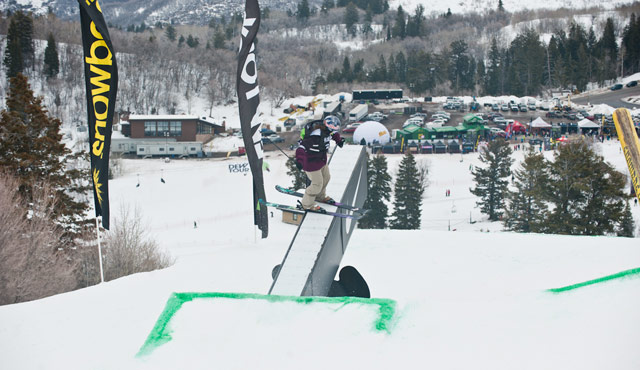 Kaya Turski.
Kaya Turski won the women's freeski slope title with her score of 93.75, increasing her lead by one point in her second run at the Toyota Championships on Sunday, and she also took home the Dew Cup. This was the first year for a Dew Cup in women's freeski pipe.

Turski is on a hot streak after winning the X Games and the last stop of the Dew Tour. It's not suprising, with a winning run that consisted of switch 2 onto the flat box, gap blind swap on the flat down, blind swap on the A-Frame rail, into a blunt 450 off the cannon. For the jumps, she started wtih a switch 720 high mute into a switch 5 Japan.

"I'm training really hard," Turski said. "The opportunity of us being in the Olympics is really huge for me. I'm very excited to go and represent Canada in 2014."

Second place went to Australian Anna Segal, who scored a 90.75 on her final run and pulled of her first cork 9 without ever attemping one.

Her run went like this: transfer from down rail into down box, back switchup on the up down rail, back 270 out grab on up cannon, right 7 safety on first jump and left cork 9 mute on second.

"I'm really excited to be up on the podium with Devin and Kaya," Segal said. "Those girls are so progressive and so solid. At X Games, Devin beat me, so it was kind of cool to one-up her on this one. Especially since she already won the pipe. She's had her fun."

Devin Logan - who won the Dew Cup and the competition for women's freeski pipe yesterday evening - podiumed again today with a third-place-finish after her first-run-score of 89.00.

"Devin really gave it her all, she's keeping me on my toes," Turski said. "All the girls are really skiing well these days. The level is definitely being pushed. So it's really exciting being up there and dropping in, you really have to bring your A Game, and that's what I did."

Devin's started her higher scoring run with a switch on to up gap down box, to blind 270 out of the up down rail, to 180 safety grab out of the cannon. She hit up the jumps with a switch 5 mute on the first into a cork 7 tailgrab on the last.

She was also in contention for the Cup in slope, but after such a solid season, she had no regrets.

"I was just so happy with yesterday, I just wanted to come in today and have fun and that's what I did," Logan said. "Just getting another podium is awesome in my eyes. I'm not upset that I got third at all, I'm actually really happy with how I skied."

Results
1. Kaya Turski, 93.75
2. Anna Segal, 90.75
3. Devin Logan, 89.00
4. Emilia Wint, 82.00
5. Keri Herman, 77.00
6. Ashley Battersby, 71.75