Killington, Vermont - The women's freeski superpipe finals at the Winter Dew Tour's Pantech Invitational in Killington, Vermont, saw six of the best pipe riders battling it out on the icy walls. The win went to Maddie Bowman with her second-run score of 87.50.

Bowman went all the way from last to first place after her solid run. She started out with a straight air on the left wall into a right left 9, to straight air, left 5, to right 5 into a left 7 to finish it off.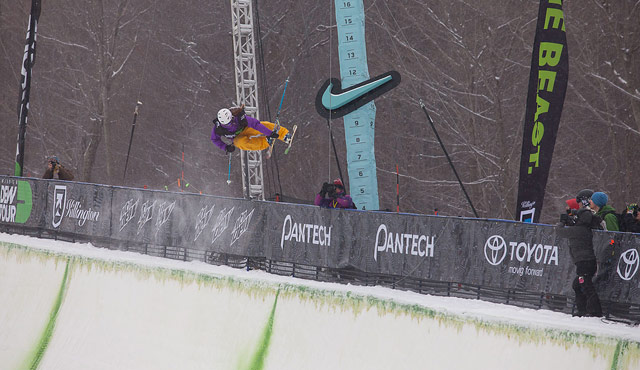 Maddie Bowman airs out of the pipe at the Pantech Invitational in Killington, Vermont.

"I was just stoked to be skiing and watch all the other girls ski," Bowman said.

Second-place went to Devin Logan, who used a Japan grab to 5 tail to flair to mute grab to alley oop critical to 720 mute grab to score 86.00. She's also second overall in the running for the Dew Cup, that will be awarded to women freeskiers for the first time after next month's finals in Snowbasin, Utah.

"I plan on coming back for Snowbasin," Logan said. "It's great that they're finally making us equal to the boys and giving us this opportunity. We're going to go out and show them what we got."

Third place went to Brita Sigourney with her score of 85.00.

"I'm definitely stoked, it was a really good competition," she said.

It was with heavy hearts but for a definite purpose that these women came into Saturday's Dew Tour event. With freeski pioneer and fellow competitor Sarah Burke's recent passing in Utah, all the girls were riding for her, and the contest kicked off with a moving tribute.

"Yesterday was really hard for a lot of the girls and it was nice because we talked at the top," Bowman said. "She was a friend, an idol and she was so kind-hearted. It was hard, but we're all skiing for Sarah. Always. She'll never be forgotten for us."
Results:

1. Maddie Bowman 87.50
2. Devin Logan 86.00
3. Brita Sigourney 85.00
4. Annalisa Drew 75.25
5. Anais Caradeux 73.25
6. Ayana Onozuka 72.75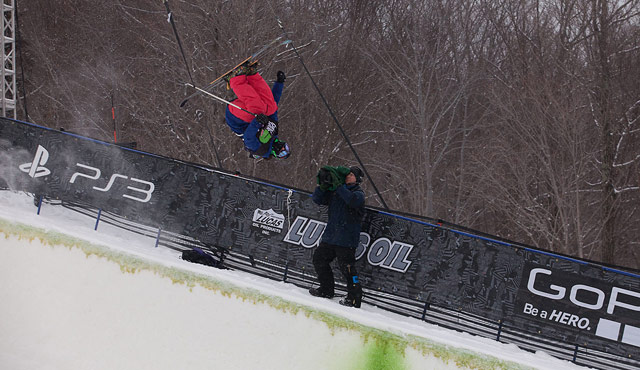 Devin Logan gets inverted.
The full schedule of the 2011-12 Winter Dew Tour is as follows:

Nike Open, Dec. 15-18, Breckenridge Ski Resort – Breckenridge, Colo.
Pantech Invitational, Jan. 19-22, Killington Resort – Killington, Vt.
Toyota Championships, Feb. 9-12, Snowbasin Resort – Ogden, Utah