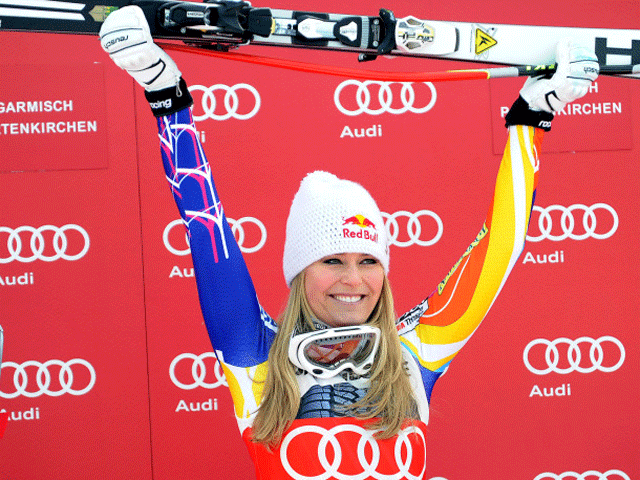 Park City, Utah – The U.S. Ski Team's Lindsey Vonn, of Vail, Colorado, was announced Wednesday as a 2012 ESPY (Excellence in Sports Performance Yearly) nominee for Best Female Athlete. Vonn, who has won the highest individual ESPY category the last two years, posted a record-setting season that included her fourth Audi FIS Alpine World Cup overall title. Also up for ESPYs are snowboarders and fellow Olympic gold-medalists Kelly Clark, of Mount Snow, Vermont, and Shaun White, of Carlsbad, California, along with Jaime Anderson, of South Lake Tahoe, California. Each are nominated in the Best Action Sports Athlete category.
Lindsey Vonn won the category for Best Female Athlete in both 2010 and 2011. Her 2010 victory was the first time a snow sports athlete won the top honor in ESPY history. Vonn's 2012 season included a record 12 World Cup wins en route to her fourth Audi FIS Alpine World Cup overall title, in addition to her fifth straight downhill crown, fourth Super G title and third consecutive Super Combined Globe to bring her career total to 16. She also reset the women's all-time World Cup point total record to 1,980, falling just 20 points shy of Hermann Maier's men's record. Among women racers, Vonn only stands behind the all-time World Cup win marks of Annemarie Moser-Proell (62) and Vreni Schneider (55). Among men, she's only shy of Ingemar Stenmark (86) and Maier (54).
Kelly Clark has been nominated for the 2012 ESPY award for Best Female Action Sports Athlete. She produced a nearly perfect season that included an unprecedented 16-event winning streak, including victories at the Aspen and European X-Games. Clark is one of only a few female riders who has landed a 1080 in competition, and helped pave the way for snowboarding in 2002 when she became the first athlete to win the ESPY award for Best Action Sports Athlete after winning the Olympic gold medal in halfpipe.
Shaun White is nominated for the 2012 ESPY award for Best Male Action Sports Athlete. Last winter, he became the first snowboarder to receive a perfect score of 100 and secure a halfpipe gold medal at the Aspen X-Games. White also won gold in the European X-Games slopestyle event. He has won this category six times, including every year since 2008.
Jaime Anderson is also nominated for the 2012 ESPY award for Best Female Action Sports Athlete. A slopestyle pioneer, Anderson produced eight podiums last winter, including gold in both the Aspen and European X-Games. She also posted a clean sweep of the Burton Open series with wins in the U.S., Europe and Canada. Slopestyle snowboarding will make its debut at the 2014 Olympic Winter Games in Sochi, Russia, where Anderson is hoping to secure gold.
The ESPYs are determined entirely by popular vote. Polling is open until July 9 at espn.go.com. The awards will air live on July 11 at 9 p.m. ET on ESPN.