Revelstoke, Britsh Columbia – Day One of the Swatch Freeskiing and Freeride World Tour went off Friday on Revelstoke's "North Bowl" with great success. The level of skiing and athleticism displayed was high, with athletes battling for the few spots in Sunday's finals.
Already a freeskiing legend at the young age of 21, Kye Peterson of Whistler/Blackcomb, Canada, topped the Men's field by taking full advantage of the terrain "North Bowl" has to offer. Kye successfully skied off a big double-staged cliff up top, and then skied fast and aggressively through the open bowl. To gain maximum style and creativity points, he landed two huge 360s at the bottom, impressing fans and judges alike. Sitting in second place, with his playful, fluid, stylish skiing, is Subaru Freeskiing World Tour 2011 Champion and The North Face athlete, Drew Tabke, with a score of 39.17. Completing out the top three Men's finishers was Oakley White Allen of Snowbird, Utah, scoring 37.50. Out of the 50 Men's skiers, 25 men will advance to the heli-accessed Day 2 Finals on "Mac Daddy", a remote location in the Revelstoke backcountry.
The stacked women's field was very competitive, with only 3 points separating the top ten female competitors. Ashley Maxfield of Alta, Utah, skied the most technical line of the day for the women, wowing the crowd and surprising even herself. "I went bigger than I thought, but as soon as I landed on the second pillow I knew I had it" said Maxfield who scored 33.50. Two- tenths of a point behind Maxfield sits the third place finisher of the 2011 Canadian Freeskiing Championships and Revelstoke local, Nicole Derksen with a score of 33.30. Rounding out the top three Women's Day 1 competitors is the 2011 Freeskiing World Tour Overall Champion and The North Face athlete, Angel Collinson with a score of 32.90.
"The level of skiing today was even higher than anticipated," remarked Event Director Bryan Barlow. "Conditions were perfect. Soft landings and good snow allowed competitors to ski lines that have rarely or never been skied before."
The 2012 Swatch Freeride and Freeskiing World Tour at Revelstoke Mountain Resort continues Saturday with snowboarders from The Swatch Freeride World Tour and The North Face Masters of Snowboarding, competing on Mac Face for a one-run final. The Final Day, Day 2, of the Swatch Freeskiing and Freeride World Tour is currently scheduled for Sunday, January 8.
Saturday Jan 7: Snowboarding
Sunday Jan 8: Day 2 Skiing Finals
Day 1 results below: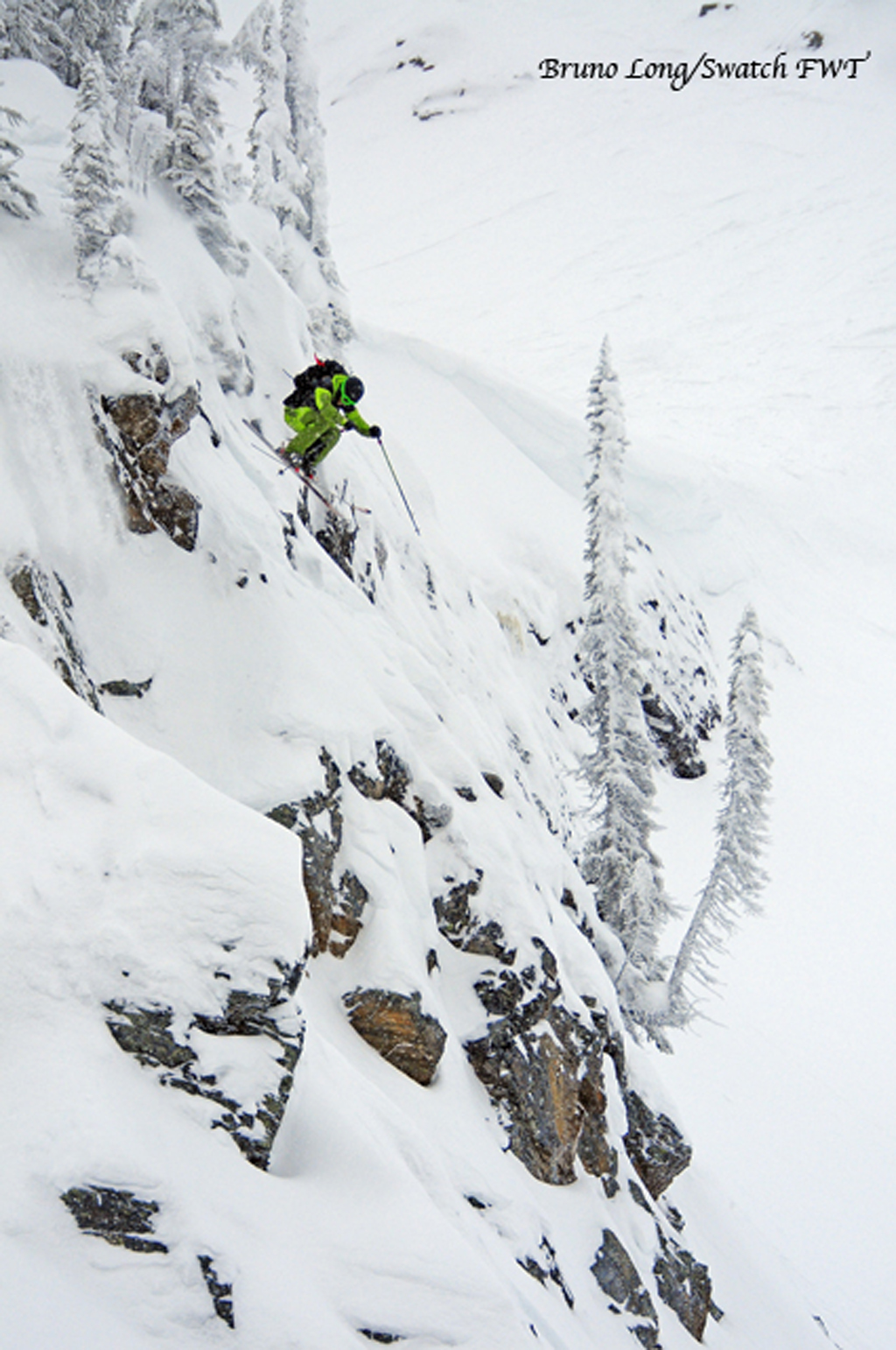 Swatch Freeskiing and Freeride World Tour
Revelstoke Mountain Resort – Day 1 – North Bowl
Friday, January 06, 2012
Results
Ladies Result Name Bib Home Mountain Country Day 1 Score
1 Ashley Maxfield 14 Jay Peak / Alta USA 33.50
2 Nicole Derksen 19 Revelstoke CAN 33.30
3 Angel Collinson 12 Snowbird USA 32.90
4 Jess McMillan 3 Jackson Hole USA 32.87
5 Crystal Wright 9 Jackson Hole USA 32.73
5 Tatum Monod 1 Whistler CAN 32.73
7 Louise Lintilhac 5 Stowe USA 32.30
8 Sarah Martinais 16 FRA 31.77
9 Pia Widmesser 4 GER 31.70
10 Alexis Dupont 20 Snowbird USA 31.67
Cut-Off
11 Jacqui Edgerly 15 Aspen Snowmass USA 30.40
12 Janina Kuzma 8 Cardrona NZL 30.27
13 Sonja Lercher 6 Blackcomb CAN 29.27
14 Jaclyn Paaso 2 Squaw Valley USA 27.40
15 Lorraine Huber 13 Arlberg AUT 19.00
16 Leah Evans 11 Red Mountain CAN 17.63
16 Lauren Goss 18 Revelstoke USA 17.63
18 Eva Walkner 17 Dachstein AUT 17.07
19 Crystal-Rose Lee 10 Whistler CAN 15.00
20 Gillian McKercher 7 Sunshine Village CAN 12.00

Gents Start Name Bib Home Mountain Country Day 1 Score
1 Kye Petersen 46 Blackcomb CAN 41.93
2 Drew Tabke 32 Valle Nevado USA 39.17
3 Oakley White Allen 56 Snowbird USA 37.50
4 Benjamin Ogilvie 59 Fernie Alpine Resort CAN 37.10
5 Cliff Bennett 30 Audobon USA 36.90
6 Richard Small 67 Fernie Alpine Resort CAN 36.83
7 Carter McMillan 31 Lake Louise CAN 36.70
8 Sebastian Hannemann 25 Hochfingen GER 36.60
9 Rylan Kappler 68 Revelstoke CAN 35.67
10 Sean Cochrane 62 Revelstoke CAN 35.17
11 Mat Jackson 48 Squaw Valley USA 35.10
12 Josh Daiek 38 Kirkwood USA 34.97
12 Jake Sakson 60 Aspen Snowmass USA 34.97
14 Sean Collin 69 Squaw Valley USA 34.57
15 Samuel Anlhamatten 24 Zermatt SWI 34.33
15 Jeremy Prevost 55 Meribel FRA 34.33
17 Nicolas Salencon 43 Bariloche ARG 34.30
18 Kevin Guri 65 Les Menuiry / 3 Valley FRA 34.07
18 Bjorn Heregger 39 St. Anton AUT 34.07
20 Aurelien Ducroz 26 Chamonix FRA 33.67
21 Adrien Coirier 50 Tignes FRA 33.63
22 Christian Boucher 58 Whistler CAN 33.20
23 CJ Wright 42 Craigieburn Valley NZL 33.10
24 Dylan Crossman 64 Mad River Glen USA 33.00
25 Julien Lopez 54 Tarentaise FRA 32.87
Cut-Off
26 Guerlain Chicherit 63 Tignes FRA 32.67
27 Blake Clarkson 33 Snowmass USA 32.50
28 Ben Paciotti 21 Crystal Mountain USA 32.07
29 Tom Leitner 27 Hochfella GER 31.50
29 Patrick Westfeldt 57 Aspen Snowmass USA 31.50
31 Mathieu Mati Imbert 35 Vars La Foret Clanche FRA 29.67
32 Erik Sunnerheim 49 Are SWE 27.97
33 Tom Runcie 61 Crested Butte USA 27.80
34 Christian Reichenberger 28 GER 26.33
35 Connery Lundin 47 Squaw Valley USA 25.67
36 Jason Jones 41 Adanac Ski Hill CAN 20.67
37 Willie Rocket Schneider 22 Alpine Meadows USA 17.33
38 Matty Richard 44 Whistler / Blackcomb CAN 16.67
39 Stefan Hausl 36 Arlberg AUT 16.33
40 Caleb Mullen 51 Schweitzer USA 15.70
41 Richard Amacker 23 Nendaz SWI 15.40
42 Luke Nelson 34 Fernie Alpine Resort CAN 14.97
43 Reine Barkered 40 Are SWE 14.67
44 Henrik Windstedt 45 Are MCO 14.17
45 Conor Pelton 29 Crystal Mountain USA DNF
46 Neil Williman 37 Temple Basin NZL DNF
47 Sam Smoothy 52 Treble Cone NZL DNF
48 Caleb Brown 53 Fernie Alpine Resort CAN DNS
49 Kevin O'Meara 66 Squaw Valley USA DNF