This exclusive women's only event is offered to advanced intermediate and above skiers with goals of progressing freeride skills, making new friends, becoming more comfortable in the backcountry and soaking up the Chilean culture. Slopeside apartment lodging, priority lift line access and delicious Chilean breakfasts & dinners are all included as part of the package.
Ingrid Backstrom in Chile. Photo by Adam Clark.
Ingrid and the group will explore the extensive in-bounds and off-piste terrain found at La Parva. Daily camp focuses include skiing steeper lines, reading the mountain to find the best snow, skiing chutes and introduction to small cornice & rock drops. Along for the week will be a fully certified bi-lingual PowderQuest guide that will provide logistical support, avalanche and mountain safety courses, intro to backcountry hiking, route finding, weather analysis and more. Participants will progress their freeride abilities and learn to navigate the backcountry in a safe supportive environment.

Morning and evening activites round out the week with yoga classes, private wine tasting, tango classes and more. The final day will be spent exploring Santiago, Chile including a visit to the famous open air market and a tour of the Concha y Toro vineyard & winery. The PowderQuest Women's Freeride Camp with Ingrid Backstrom in La Parva, Chile runs from August 3rd-10th 2012 and signups are limited to the first 10 women to register. This camp will fill to capacity quickly. Please contact PowderQuest at 1-888-565-7158 or info@PowderQuest.com with any questions or to signup today.
You, too, could have this much fun with Ingrid. Photo by Adam Clark.
"I'm thrilled to be partnering with PowderQuest and La Parva for an amazing week of skiing. La Parva offers excellent terrain for us to ski, learn and play on – plus gorgeous and true Andean beauty. We are all lookin forward to an amazing week!"-Ingrid Backstrom

"It is a great honor to work with such an amazing skier and woman like Ingrid. Everyone at La Parva is excited to be the home of this first ever camp concept. I am confident that every participant will have a memorable and beautiful experience. La Parva will extend all our hospitality to make the group and Ingrid feel like they are at home" -Rodrigo Medina, La Parva Ski Resort

"Ingrid Backstrom is an inspiration in the world of women's skiing. The terrain available at La Parva will provide a perfect setting for women to push their comfort zone with Ingrid showing them how it is done. All during the summer and in a whole new culture. -David Owen, PowderQuest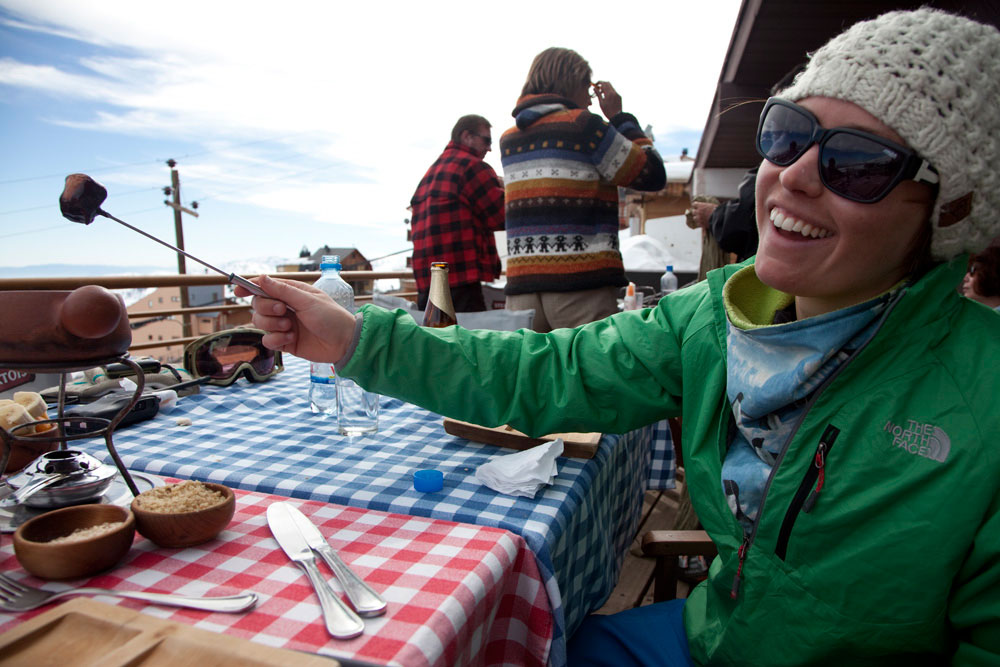 Fondue! Photo by Adam Clark.