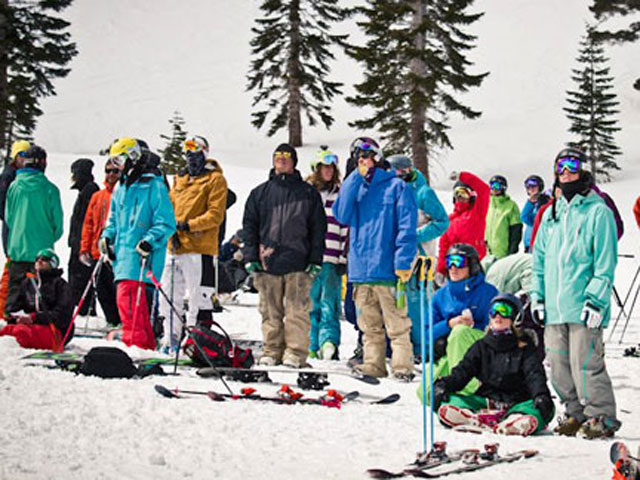 Spectators watch as a freeskier competes in a big mountain competition. Photo by Amy Jimmerson/FWT.

Salt Lake City, Utah – Board members of the International Freeskiers and Snowboarders Association (IFSA) have recently elected a new President for the 2013 season. Jason Frazier of Salt Lake City, Utah, will be overseeing the development of big mountain freeskiing and snowboarding as the new President of the IFSA. Frazier comes to the board of directors after three years of competing on the Freeskiing World Tour as well as an eleven year career in the financial industry, working in market growth and development. With an educational background in economics, accounting and finance from the University of Utah, Frazier is a perfect fit for the Presidential position of the IFSA.
"I couldn't be more excited to be working with the IFSA. It's an organization that continues to develop and promote the sport of big mountain riding," said Frazier. "My vision for the IFSA is to bring the sport to a whole new level of exposure, while focusing on continued safety and an athlete centered experience." Over the past two years the IFSA and junior freeskiing have flourished under the leadership of Rob Greener. Greener will remain on the board as Vice President and continues to spearhead junior IFSA events.
More changes for 2013 include a new IFSA Head Judge for the season. Eric Schmitz, longtime close friend to former Head Judge, the late Jim Jack, has been elected to this position. Schmitz is a former freeskiing competitor, champion, and multiple title holder.
"We are thrilled that 'Schmidty' [Eric Schmitz] has accepted the position as Head Judge with the IFSA," said Frazier. "Schmidty's commitment to our high standards of consistency and excellence make him a perfect fit to continue the legacy of our previous Head Judge, Jim Jack."
"2012 will forever be remembered as the year we said good bye to our mentor, friend and brother, Jim Jack. May we always keep his passion alive as we celebrate our sport together in the mountains," stated the new President of the IFSA, Jason Frazier.