Grand Teton National Park rangers have recovered the bodies of two local, expert backcountry skiers who were the focus of a search and rescue mission on Thursday morning, March 8. Chris Onufer and Steve Romeo, both of Jackson, Wyoming, were buried by a large avalanche sometime Wednesday, March 7. The avalanche initiated near the summit of the 11,355-foot Ranger Peak in the northern end of the Teton Range; it ran to the base of the peak, depositing a large debris field in Waterfalls Canyon.
During an aerial reconnaissance flight, rangers picked up two positive beacon hits at 8:48 a.m. from the debris field. Seven rangers were flown to the area to begin a physical search of the debris field using probe poles. Rangers reached the first body around 11:45 a.m. and second around noon.
The Teton County Search and Rescue (SAR) contract helicopter and crew assisted in the search and rescue mission. Teton Interagency helitack personnel established a temporary helibase at the Colter Bay swimbeach on the east shore of Jackson Lake.
The avalanche danger was listed as moderate on Wednesday afternoon, and low on Thursday morning, according to the Bridger-Teton National Forest avalanche center.
Steve Romeo ran the alpine touring blog TetonAT.com.
Chris Onufer was the Jackson Hole Mountain Resort tram maintenance manager.
This photo shows the area of the avalanche incident and where the two skiers were found on Ranger Peak in Grand Teton National Park. Photo via jhavalanche.org.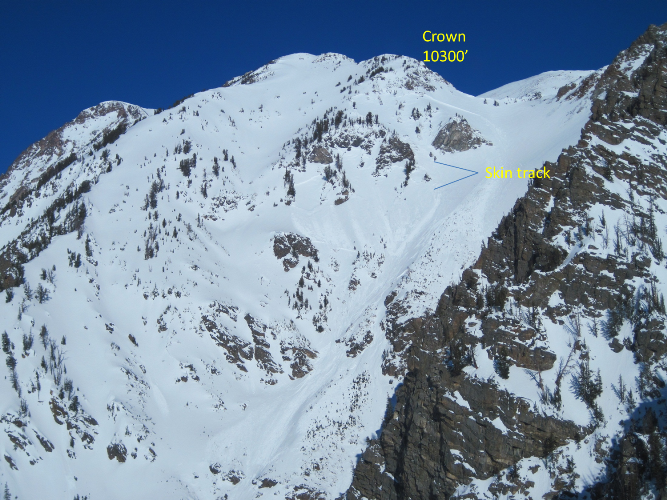 A closer look at the avalanche. The two skiers were on their ascent when the avalanche occured.