Roldal, Norway — The Roldal Freeride Challenge competition face "Couloir 3" is a playful venue with a wide range of cliffs and wind lips to drop. The snow on top of the competition face was packed and icy but things were getting much better further down.
Podium Ski Men, from left to right: 5th Drew Tabke (USA), 3rd Sam Smoothy (NZL), 1st Dennis Risvoll (NOR), 2nd Aurélien Ducroz (FRA), 4th Cato Laegreid (NOR)
The biggest run of the day was Norwegian local wild card Dennis Risvoll, throwing two back flips and a lot of amplitude in his run, scoring best points of the day, crushing the standings of the established FWT riders. It would not be a surprise if we see this great skier as a wild card of one of the two last stops of the tour.
Risvoll won the Røldal Freeride Challenge last year and has gotten the taste for gold. After he said: "I didn't think my run was that good as I wanted to do a double back flip! So I am stoked to win. We have a lot of great skiers in Norway, so I didn't feel pressure standing on top next to the big guys on the world tour. Conditions in the face were good, despite flat light during my run. I'm now hoping to get more wild cards and competing in more events."
Last year's world champion French Aurélien Ducroz, is back in the game, climbing the rankings. He contributed with a beautiful run, including a long flight and a huge back flip.
Season wild card, New Zealander Sam Smoothy, who won the Chamonix-Mont-Blanc stage, keeps on charging and took third with high speed in a powerful run. With his third place today he still sits in first place on the overall ranking.
Smoothy gave us his impression of the day: "Cool! That's the word! It's been a long day with lots of changes but it ended up running well for me. I skied fast and I am super happy with my run."
He also told us what it means leading the world ranking: "It was really important for me to perform well here. I fulfilled my objective: to stay on the top of the ranking. I'm not yet able to come to Fieberbrunn but for sure, I will be in Verbier and this was the goal. And I'm really looking forward to be there!"
Podium Snowboard Men, from left to right: 3rd Christian Schnabel (AUT), 1st Flo Orley (AUT), 2nd Emilien Badoux (SUI)
In the men's snowboard division Austrian dad Flo Orley was on top of his game and took victory with a solid run combining a lot of features.
Flo was incredibly happy: "This has been a tough season for me but with constant improvement race after race, I now have a goal to go and compete in Verbier where I have been competing the last 12 consecutive years. So, I don't want to miss it this year."
Swiss Emilien Badoux, won the Freeride World Qualifier in Røldal in 2010, seems to like the Norwegian mountains and got the second best score of the day with multiple drops and stable landings. Newcomer on the tour, Christian Schnabel from Austria didn't hesitate and went fast, which put him in third place. Chamoniard Jonathan "Douds" Charlet is still leading the overall ranking after a fourth place today.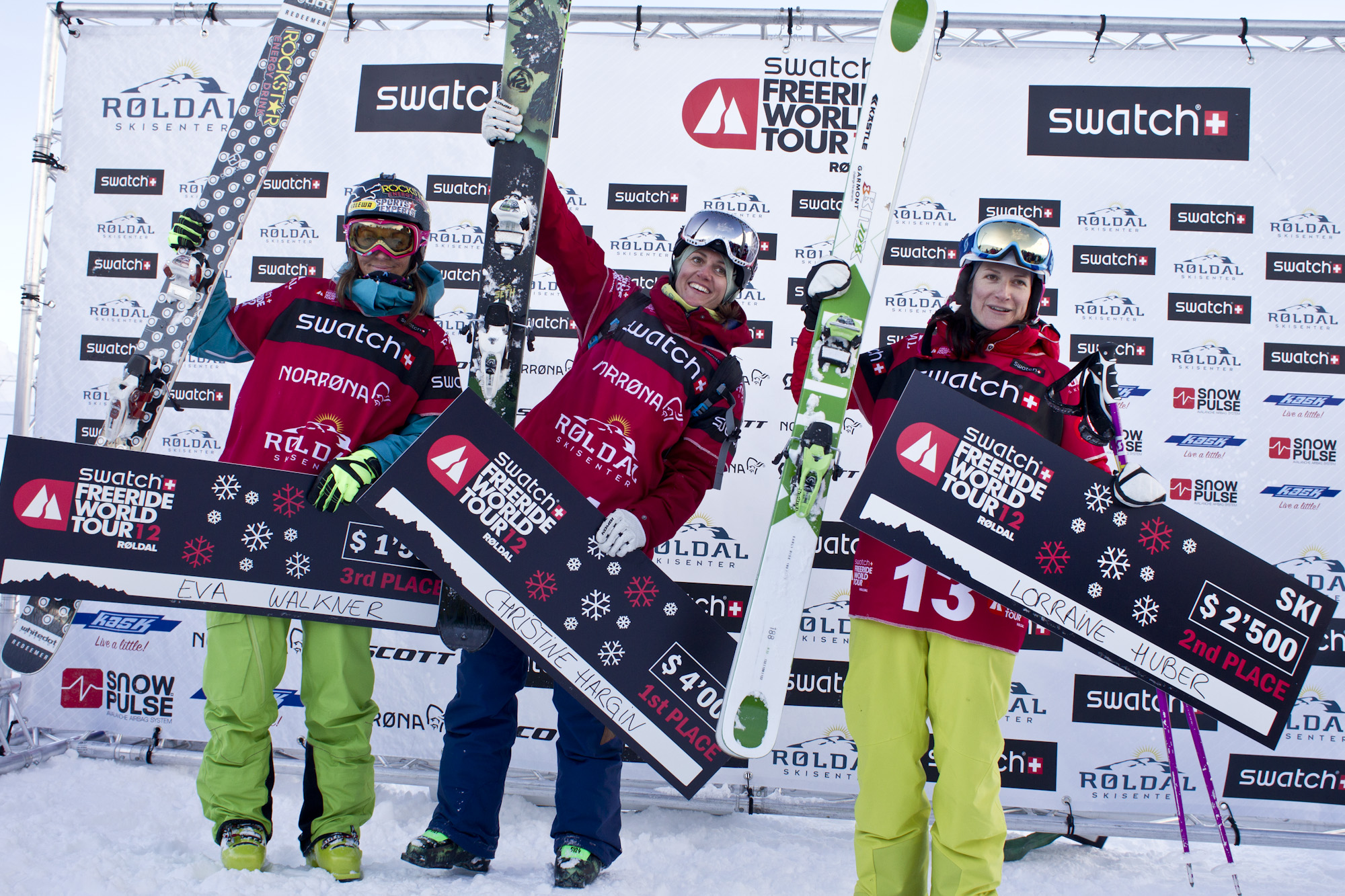 Podium Ski Women, from left to right: 3rd Eva Walkner (AUT), 1st Christine Hargin (SWE), 2nd Lorraine Huber (AUT)
The ladies seemed to enjoy the Norwegian mountains and all eight female skiers charged hard and stable, making it difficult for the judges. Swedish Christine Hargin knows how to ski the Scanidinavian mountains and has been to Røldal before. She skied faster and stronger than her competition.
Hargin was stoked: "It was a really long day and I was very nervous on top, waiting. I'm happy because I did what I expected to do."
Lorraine Huber from Austria took second after hitting several cliffs and riding fluid. Her fellow country member Eva Walkner skied fast in the icy top section, took good air and earned third. Angel Collinson still sits in top position on the overall ranking despite a 8th place today.
Podium Snowboard Women, from left to righ: 3rd Maria DeBari (USA), 1st Margot Rozies (FRA), 2nd Shannan Yates (USA)
French freestyle rider Margot Rozies is going from strength to strength her first season on freeride competitions. Today she didn't get the best light but that did not seem to stop her. She rode fast, fluid and took great air on the last two cliffs.
Rozies sits on second place on the overall ranking: "I am really happy with my run. I was super stressed on top and when I started I was lost on the top ridge, so I climbed back up and started again. This victory gives me a great boost for the overall ranking and the title is now my goal. "
Second place went to American Shannan Yates, who did a creative line in the mid section and stomped her cliffs. Maria DeBari, also from the US, continues her podium streak and came third, meaning she still has top position on the overall ranking.