Snowbasin Resort, Utah — David Wise won the mens freeski pipe Finals with a score of 94.50 and Kevin Rolland took home his second consecutive Dew Cup at the Toyota Championships after finishing second with 93.00. Torin Yater-Wallace was third with 92.75.

Wise took the lead in his first run and held onto it until the end. In that winning run, Wise started with a switch double 1080, into right 9, left 9, alley oop flatspin 5 tail to end with a double cork 12. With Defending Dew Cup champ Rolland and 16-year-old pipe phemon Yater-Wallace set to drop in after him, he wasn't leaving things up to chance and decided to go for his first-ever 14 on his second and final run.
David Wise.

"My first run was good, it was really a solid run for me, so I kind of felt like I had to add a little bit of something to it," Wise said. "The 14 was the first thing that came to mind, so dropping in I was like, 'OK, I'll go for that 14 at the end. I know it's there. It's just one extra rotation. I can get it.' "

He wasn't able to land it, but he was so close to bringing it around. This is a great season for the 21-year-old from Reno, who's coming off a win in pipe at X Games.

"I'm on a hot streak for sure," Wise said. "It's fun to be out here enjoying the sport. Landing runs. I've been around in the scene for a long time and did a lot of finals where I just didn't quite get the run the way I wanted to. So just being able to land runs and just enjoy doing what I do has been awesome. And that's honestly what's made the difference for me."

For Kevin, he was sitting in 11th place going into his final run after falling on his first, and the Dew Cup was hanging well out of his reach. If he finished below 7th place, the Cup would belong to Yater-Wallace.
Kevin Rolland.

"It was trouble in my mind," Rolland said. "It was really odd in my mind at the top, and I just tried to put the run to grab the Dew Cup."

He came back and dropped switch into a 900, to switch 720, back-to-back double flips and finished with a double cork 1260 to earn the second-place and the Dew Cup for his highest overall season rank.

"It feels really, really great," Rolland said. "Especially this year because I didn't get the X Games win and I didn't get the last Dew Tour."

Yater-Wallace could have had a very different outcome had his ski not come off when landing the last trick of a perfectly executed first-run that included a double cork 12 mute into an alley oop flat 5 and a double flair. Miraculously he was still able to stay on his feet, and rode it out on one ski. His explanation for pulling it off: "I was just so stoked to land, and I just needed to, so I had to." It brought cheers from the crowd, that were quickly replaced by boos towards the judges when his score suffered for it.

But with one run left, he came back for redemption with a double cork 12, alley oop double, double cork 9, left 10, into a switch 9. His third-place finish bumped Simon Dumont off the podium and into 4th with a 91.75.

"I feel great about my season," Yater-Wallace said. "I guess I've been on the podium at almost every event so far. So I can't be happier. I don't care where I really ended up today, I just wanted to be on the podium so bad and I was. I had a ton of fun and I put down a run I had never done before, which has been my goal for a while, and I just couldn't be happier."

Results:

1 David Wise 94.50
2 Kevin Rolland 93.00
3 Torin Yater-Wallace 92.75
4 Simon Dumont 91.75
5 Thomas Krief 90.75
6 AJ Kemppainen 86.25
7 Mike Riddle 83.75
8 Tucker Perkins 78.00
9 Josiah Wells 76.75
10 Gus Kenworthy 75.00
11 Matt Margetts 40.00
12 Benoit Valentin 29.75
For the first time in Winter Dew Tour history, the women's freeski pipe athletes were competing for a shot at the Dew Cup, awarded to the highest overall in season standings. After Saturday's Finals at the Toyota Championships, Devin Logan won the Cup and the event with a score of 90.00.

"I knew I was in contention for the Dew Cup and just had to come out and put down the best run I could," Logan said. "I had slope this morning, so I was a bit tired, but I got some energy, found some deep down and ended up doing it, so I'm thrilled." She also won the slope Semi's held earlier in the day.

In pipe, she came back in her second run to take the win with a Japan grab, to 5 tail grab, flair, mute grab, alley oop critical, 7 mute, to finish with a switch alley oop 5.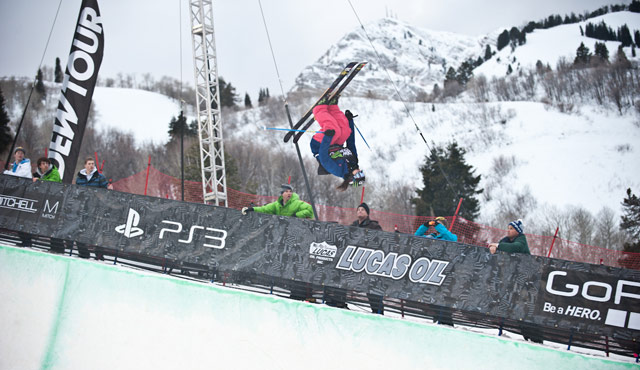 Devin Logan.

Canadian freeskier Rosalind Groenewoud finished in second with 82.50 on her second run that went like this: Japan grab, to 5 tail grab, flair, mute grab, alley oop critical, 7 mute, switch alley oop 5.

"I feel good," Groenewoud said. "Both my runs had little mistakes in them, so obviously I would have liked to be cleaner. But my second run had a trick I've never completed before, a kind of cork 5 flair upside down. So I was happy about doing that for the first time in competition and I'm hoping to clean it up for next event."

Maddie Bowman, who came into the event ranked first overall, finished third with 80.00.

Logan not only won the Dew Cup and the Toyota Championships title, she earned the Paul Mitchell Breakthrough Athlete of the Year award, largely for her 2nd place finish in both slope and pipe finals at the Winter Dew Tour's Pantech Invitational in Killington, Vt. She was stoked to accept her award.

"That's awesome," Logan said. "I know my family was out there voting for me so much.They were rallying up everyone they knew. That definitely helped push, but also you add the athletes' vote and seeing that I was thrilled. I'm just so happy winning Dew Cup, Breakthrough Athlete and my first double threat. It's a dream come true. It hasn't set in yet."

Tomorrow she will compete in the slopestyle finals, with a great potential for earning back-to-back Dew Cups in both the pipe and slope disciplines.

Results:
1. Devin Logan 90.00
2. Rosalind Groenewoud 82.50
3. Maddie Bowman 80.00
4. Anais Caradeux 70.00
5. Ayana Onozuka 67.25
6. Brita Sigourney 54.50