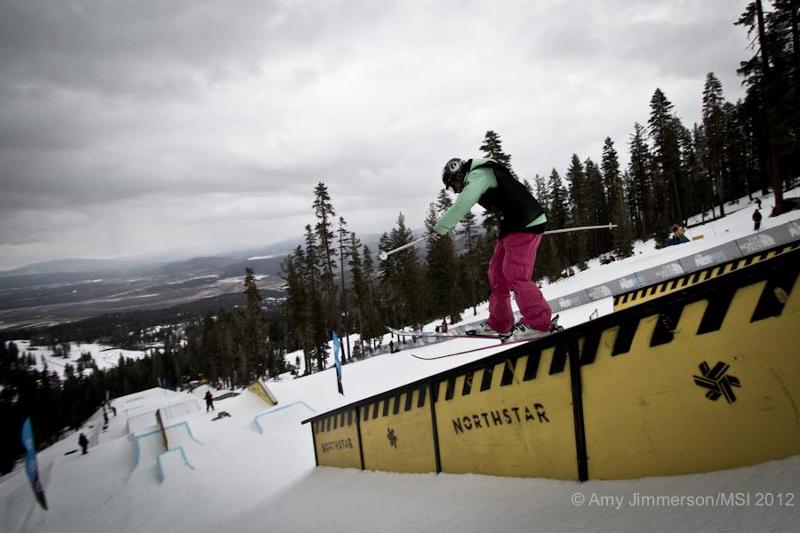 Northstar, California - The second stop of The North Face Park and Pipe Open Series concluded yesterday under sunny skies at Northstar, California. Twenty thousand dollars in prize money was awarded to the top finishers, with James Campbell, of Sugarloaf, Maine, and Yuki Tsubota, of Whistler Blackcomb, Canada taking top honors in the park competition. Topping the podium in the pipe event was Kyle Smaine, of Heavenly, California, and Cassandra Sharpe, of Whistler Blackcomb, Canada.

Qualifiers for the men's park competition took place on Friday, with fifty-three male athletes trying to advance to the semi-finals in a best-of two run format. Then on Saturday, with partly cloudy spring-like conditions, twenty-two male and eleven female competitors battled it out in the park semi-finals and finals.

Taking top honors for the men was James Campbell, who delivered a near flawless run top to bottom, consisting of technical combos on the rail section, and then linked two back-to-back double flips, a switch left-side double rodeo 900 and a left double cork 1080 high mute grab, scoring an 89.00.

"James perfectly executed the hardest run of the day, hands down. He was solid on both rails, had spins both ways and back to back doubles." stated head judge and AFP General Manager, Steele Spence.

Rounding out the men's podium in second place was Spencer Milbocker of Bittersweet, Michigan scoring an 86.2 and Cody Cirillo of Breckenridge, Colorado in third with an 85.00.
In the women's park competition, The North Face athlete Yuki Tsubota dominated the field with her technical and smooth skiing. Yuki slid both rail features and then was the only female to successfully land a left-side cork 720, scoring an 87.2.

In second place was Catherine Warchal, of Camelback, Pennsylvania, stomping the landing on a crowd pleasing double front-flip, receiving a score of 80.80. Rounding out the women's podium in third was Taylor Lundquist of Park City, Utah receiving an 85.00.
Semi-finals and finals for the men's and women's pipe competition took place on Sunday in Northstar's Olympic caliber, twenty-two foot tall, five hundred ten-foot long superpipe, under perfect, sunny, blue sky conditions.

Taking top honors for the men was Kyle Smaine with an outstanding run consisting of a double flair and left and right side spins boosting with amplitude that left the judges on the edge of their seats. Smaine's winning run scored a 92.60.

In second place was the technical freeskiing master, Patrick Baskins of Vail, Colorado, scoring an 89.80 with his smooth switch left and right spins and flawless left-side 1260 to end his run. Rounding out the podium in third placewas park champion, James Campbell scoring an 84.00.
"The men's pipe finals today were legitimate by anyone's standards. First place finisher, Kyle Smaine, displayed he was a force to be reckoned with, with his amplitude, matching of pipe transitions, and perfect technical execution," stated head judge and AFP General Manager, Steele Spence.

On the women's side of the pipe competition, Cassandra Sharpe positioned herself on the top of the podium with a run consisting of a smooth right-side flair, the only invert attempted and landed by a female in the event, scoring herself a 77.00.

Maggie Stout of Blue Mountain, Ontario finished in second place with her very technical spins in both directions and consistent amplitude, scoring herself a 73.00. In third place was Abigale Hansen from Mammoth, CA earning a 69.60.

"I was impressed with the up-coming talent in the women's field. I look forward to seeing the ladies taketheir runs to the next level of halfpipe skiing. Cassandra Sharpe showed she was not afraid to put it all on the line for the competition with her amplitude and inverted airs," said judge and freeskiing legend, Skogen Sprang.
All weekend long the competitions started with a forerun by 11-year old Aspen Spora, who was fresh from forerunning the Winter X Games in Aspen, Colorado. He displayed to all the competitors in the event the youthful talent emerging from the next generation of freeskiers.

The North Face Park and Pipe Open Series concludes in Waterville Valley, New Hampshire, on March 8-11, 2012. For more information, please visit The North Face Park and Pipe Open Series website:www.thenorthfaceppos.com.