Some of our favorite skiers from the U.S. Ski Team have been crushing it on the World Cup circuit. Bode Miller won the World Cup downhill in Beaver Creek on Friday, Lindsey Vonn won the WC downhill Friday and Saturday in Lake Louise, then went on to win the super G on Sunday. Julia Mancuso placed third in the super G. Also on Sunday, Ted Ligety placed second in the giant slalom in Beaver Creek. For more on how the U.S. Ski Team dominated, read below.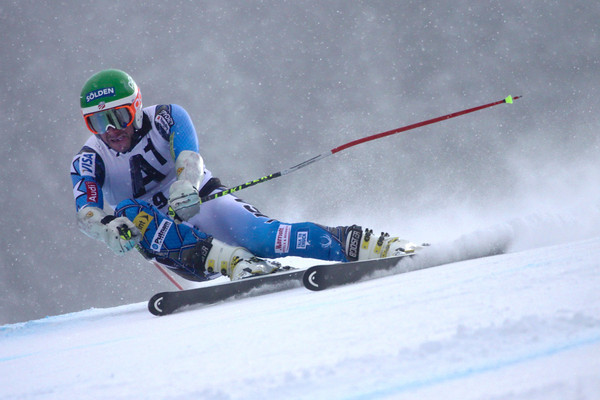 Bode Miller skis to win on Dec. 2 at the Audi Birds of Prey Alpine World Cup downhill race in Beaver Creek, Colorado. Photo © Eric Schramm.
Bode Miller Wins World Cup Downhill At Beaver Creek
BEAVER CREEK, Colorado — Bode Miller (Franconia, NH) took maximum risk, but skied a flawless run Dec. 2, to win the Audi Birds of Prey downhill in Beaver Creek, CO. It was the 33rd Audi FIS Alpine World Cup win of his career with a slim .04 margin over Swiss Beat Feuz. It was also a historic third win for Miller in the Audi Birds of Prey downhill and his first at Beaver Creek since 2006 when he and teammate Daron Rahlves (Sugar Bowl, CA) went one-two. Ted Ligety (Park City, UT) was the next American in 22nd as four Americans finished in the top-30 points. Hours later, Lindsey Vonn (Vail, CO) captured a downhill win in Lake Louise, ALB to create the first time two Americans had won downhills on the same day since Dec. 2004 when Miller won in Beaver Creek and Vonn (then Kildow) captured the first win of her career in Lake Louise.
"I love to ski the way I did today. When I came across the finish line I was 100 percent satisfied, and it's great to have it coincide with a win," Bode Miller said. "It was tactics — being able to commit to taking that kind of risk. It's really demanding on this hill. You see how tight the course is. If you try to back off in any spot, a few tenths can slip away from you and I didn't back off anywhere. I had my foot on the gas the whole time."
Lindsey Vonn rips the second downhill training run in Lake Louise. Photo: Malcolm Carmichael/Alpine Canada.
Clean Sweep For Vonn In Lake Louise, Mancuso Skis To Third
LAKE LOUISE, Alberta — Lindsey Vonn (Vail, CO) completed a historic clean sweep Dec. 4, in Lake Louise, topping the Audi FIS Alpine World Cup super G podium with Julia Mancuso (Squaw Valley, CA) third. It was Vonn's 45th career World Cup win and 11th in Lake Louise. Following a season opening giant slalom victory in Soelden, Austria, a pair of downhill victories Friday and Saturday and then Sunday's super G win in Lake Louise, Vonn now has four victories in the five races she's started this season. It was the second podium finish for Mancuso, who was also third in the Nature Valley Aspen Winternational giant slalom last weekend. The women's alpine tour now moves to Beaver Creek, CO - site of the 2015 FIS Alpine World Championships — for a Dec. 7 super G. It will be the first women's World Cup race to be held in Beaver Creek.
"To have three wins this weekend is more than I ever could have expected," Lindsey Vonn said. "I'm just so thankful to have the support of my teammates and everyone on the World Cup."
"It was a lot of fun racing super G herein Lake Louise — it's completely different than downhill," Julia Mancuso said. "It's nice to have a good result and I can't wait to rip up the Beaver Creek hill."
Anna Fenninger (Austria), Lindsey Vonn and Julia Mancuso on the Lake Louise super G podium. Photo: Roger Whitney/Alpine Canada.
Ligety Narrowly Misses GS Win In Beaver Creek
BEAVER CREEK, Colorado — First run leader Ted Ligety (Park City, Utah) couldn't quite hold on Dec. 4, finishing second in the Audi Birds of Prey giant slalom Sunday in Beaver Creek. With a .21 second lead over Austrian Marcel Hirscher, went back and forth in and out of the lead on his second run before falling .16 to the Austrian. Ligety, who held onto his Audi FIS World Cup lead, was the defending champion at Beaver Creek. The men are back on the same hill for a rescheduled World Cup GS today.
"Second place is obviously good, but I wanted to win more than anything. I feel like I had room to improve after my first run, I had more speed," Ted Ligety said. "I've got my family and friends here from Park City so it's even more motivation to put up some good results."
Ted Ligety skis Sunday in the Audi Birds of Prey Alpine World Cup giant slalom in Beaver Creek, Colorado. Ligety placed second. Photo © Eric Schramm
To read about Ted Ligety and his dispute with the FIS, click here.