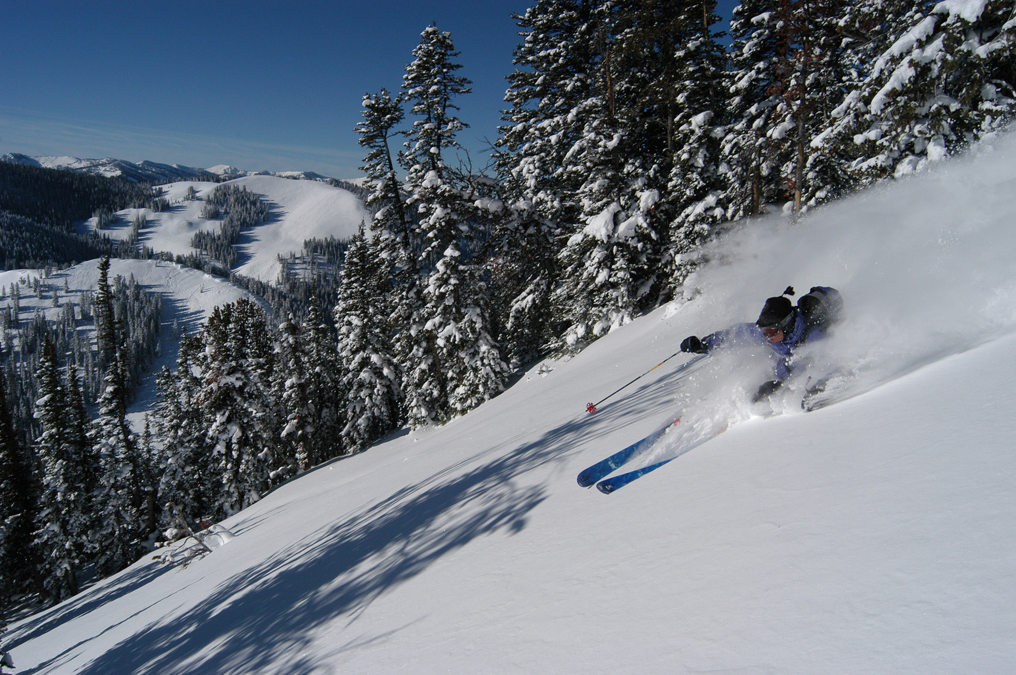 Evan Howe skis Shovel Slide on Mount Glory. When there's powder like this, the Teton Pass parking lot is often full with cars. This traffic sparked Ben Morley to create the ride share network called Backcountryride.com. Photo by David Gonzales.
Every winter, Teton Pass ambassador Jay Pistono estimates backcountry skiers and snowboarders accumulate about 60,000 laps on the mountain pass. Pistono bases his estimate on the number of cars he sees on average in the parking lot each day. The 100 daily vehicles parking at the trailhead typically hold two humans who, he says, ski two laps a day. Using Pistono's math, that's 12,000 ski runs a month.
"As far as backcountry skiing, there's no next best place," Pistono said.
Jackson Hole saw heavy snowfall in October and November 2010. And with the resort still closed for the season, Teton Pass saw unprecedented amounts of backcountry users.
"Jackson hole has some of the best access in the world, if not the best," said Ben Morley of Backcountryride.com. "You can get to some of the best backcountry in the world within, like ten minutes, and I think that the word has spread."
The influx of traffic, in addition to a Glory Bowl slide that covered the road, had tensions between riders, the Wyoming Department of Transportation, and commuters from Idaho high. At one point, WYDOT threatened it would discontinue plowing the parking area on the top of the pass.
A shot of a full parking lot on Teton Pass from the Mount Glory bootpack. Backcountryride.com seeks to link skiers and snowboarders with cars headed up the pass in an effort to increase carpooling and decrease traffic. Photo by David Gonzales.
That's when Morley decided to pursue Backcountryride.com. Morley, who is a Nordic coach at the Jackson Hole Ski Club, is a lifelong Jackson resident. His grandfather is Alex Morley, who was a partner with Paul McCollister in starting Jackson Hole Mountain Resort. Ben Morley's site began as a ride share network for Teton Pass users. Now Morley is working on code that will allow the user to enter any location in the world. The program will use Google Maps to match riders' needs with drivers' routes as closely as possible.
Morley said initially he simply wanted to mitigate traffic and parking issues on Teton Pass. Then he realized the website would be relevant anywhere in the world. But so far, the site has been slow to catch on.
"I don't think a whole lot of people jumped on board right away because people are accustomed to their cultural habits," Morley said. "They'll do what they want. This has helped people become more aware of our impact. We're trying to unite to do something about it."
To find out more, visit Backcountryride.com.