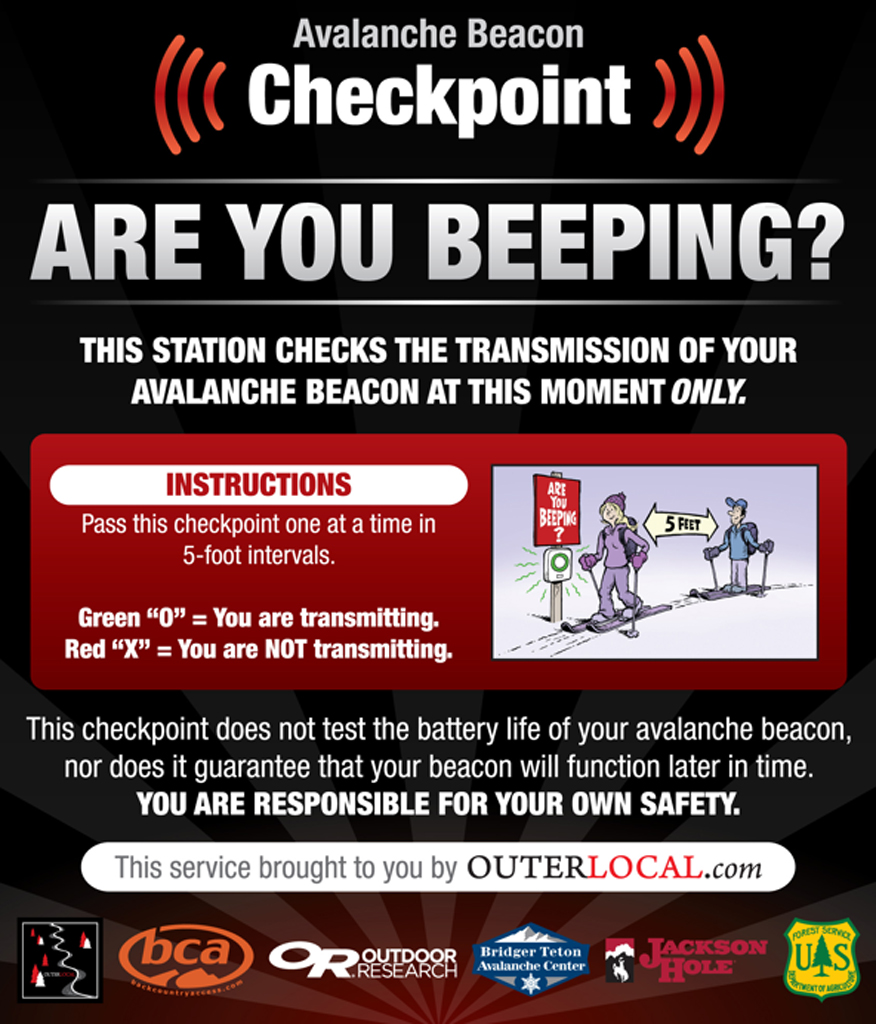 November 29, 2011
Jackson, Wyoming — Outerlocal.com, a social media website for adventure athletes, announced the creation of a unique program for the 2011-2012 winter season in the Tetons.
In collaboration with Backcountry Access and Outdoor Research, as well as key partners on either side of the Tetons, Outerlocal's "Are You Beeping?" program will confirm the presence of an avalanche beacon's transmission signal at backcountry access points throughout the range, including Jackson Hole Mountain Resort; Teton Pass; Grand Targhee; and Grand Teton National Park.
Each checkpoint will feature a large sign that asks, "ARE YOU BEEPING?" The sign will instruct travelers to pass the checkpoint one at a time. Underneath the sign, a BCA Beacon Checker will check the presence of a transmit signal. A positive indication on the Checker—a green "O"—will confirm the presence of the signal. A red "X" will display if a transmit signal is not detected.
The program will be presented for the first time on Thursday, December 1, during the Avalanche Awareness Night, from 6:00 to 9:30 p.m. in the Grand Teton Room at the Snow King Resort.
The idea for such a program arose for Outerlocal founder Christian Beckwith last winter. Beckwith, a longtime Valley resident who has made numerous first descents in the Tetons, had just completed a technical descent of Teewinot Mountain. He went to turn off his beacon at the mountain's base—only to discover that he had never turned it on.
"We had left the car at three or four in the morning," Beckwith recalls. "Maybe it was the lack of sleep, or maybe it was the conversation about whether to bring a rope—but I simply forgot to turn my beacon on. The Are You Beeping program will help backcountry travelers avoid similar mistakes."
Forgetting to turn on one's beacon is an error that can prove fatal in the event of an avalanche. If a skier is buried in an avalanche without a transmitting beacon, his or her chances of being rescued by partners is extremely compromised.
But as a veteran mountaineer who has witnessed multiple "launch" scenarios on any given day, Beckwith suggests that it's not as rare a mistake as one might think.
"You get out of the car at the top of the Pass and it's nuking and all you want to do is get your pack on and get out of there. Or you bump into a friend at the Village and she suggests a quick Four Pines and next thing you know you're exiting the gate. Sometimes you just forget."
Beckwith began work on the program this autumn. First, he contacted a number of avalanche beacon manufacturers. Though many expressed interest, Backcountry Access ("BCA") quickly distinguished themselves by offering to donate twelve Beacon Checkers. BCA's Tracker 2 avalanche beacons are already used exclusively by the Jackson Hole Ski Patrol, "so going with them was an easy decision," said Beckwith.
The next step was figuring out how to pay for the checkpoint signs and power sources. Beckwith had climbed the Cathedral Traverse and skied the Grand Teton with Dan Nordstrom, the owner of Outdoor Research. The Seattle-based clothing company has exploded under Nordstrom's leadership as he brought his passion for alpinism to a product line he uses on all his adventures. Nordstrom, who loves the Tetons, quickly agreed to have Outdoor Research underwrite the additional costs.
Ray Spencer at the United States Forest Service and Bob Comey at the Bridger-Teton Avalanche Center were also instrumental in making the checkpoints a reality. Spencer is the USFS's winter sports administrator for the Tetons, and his appreciation of the checkpoints' value facilitated their implementation on Forest Service lands.
As the Bridger-Teton Avalanche Center's chief avalanche forecaster, Comey spends every workday focused on making backcountry travel safer for Teton skiers. He helped Beckwith figure out power sources for the Beacon Checkers, coordinated conversations with representatives at the Jackson Hole Mountain Resort, and helped work through key logistical issues.
Scott Guenther, chief climbing ranger at Grand Teton National Park; Jake Elkins, Jon Bishop and Tim Mason at the Jackson Hole Mountain Resort; and Ken Rider and Joe Calder at Grand Targhee all participated in making the checkpoints a reality as well.
Beckwith points out that while the checkpoints will help remind backcountry travelers to turn on their beacons, they will serve as an advisory only. The checkpoints can confirm transmission signals at the moment a traveler passes them, but they do not test a beacon's battery life, and there is no guarantee that the beacons will function later in time. There is also no guarantee that a beacon is receiving. Ultimately, such considerations are the sole responsibility of the backcountry traveler.
"Anyone interested in backcountry travel needs to take an avalanche safety course before entering the backcountry," said Beckwith. In addition to receiving proper training, travelers must always carry probes and shovels as well as beacons in the backcountry, and be accompanied by a partner who knows how to use them. And checking the day's avalanche forecast before embarking on a backcountry adventure is a prerequisite.
But Beckwith hopes the checkpoints will help backcountry travelers avoid the fundamental mistake he made that day on Teewinot.
"People should think about their avalanche beacons the way they think about their underwear," he said. "Put 'em on before the start of any backcountry adventure."
And, he added, "These checkpoints will help remind you to turn them on, too."