Williston, Vermont – Ski The East is proud to announce the 3rd Annual 2012 Ski The East Freeride Tour (STEFT). The STEFT is the first and only event series of its kind on the East Coast and is proud to continue the tradition of bringing the region's best all-mountain skiers to the most challenging venues to compete for cash and prizes.

"Each year we've improved the tour for our competitors and spectators based off of valuable feedback. This year we've implemented some important changes to ensure more consistency and allow the tour to continue its growth, while maintaining each event's individual integrity," said Tour Director Tim Fater. "Now there's a new tour-wide judging system and we've helped establish three Junior Qualifier events for our younger competitors, 13 and under. A limited number of qualifying spots at the main events will be reserved for the juniors, which will ensure the highest level of big mountain talent. I'm proud of the progress we've made and look forward to some serious competition and good times."

2012 Ski The East Freeride Tour Schedule
STOP #1 - Mad River Glen – Unconventional Terrain Competition - February 11, 2012
STOP #2 - Magic Mountain – Southern Vermont Freeskiing Challenge - March 3, 2012
STOP #3 - Sugarbush – 15th Annual Castlerock Extreme Challenge - March 10, 2012
STOP #4 - Jay Peak Resort – Extreme Competition - March 17 & 18, 2012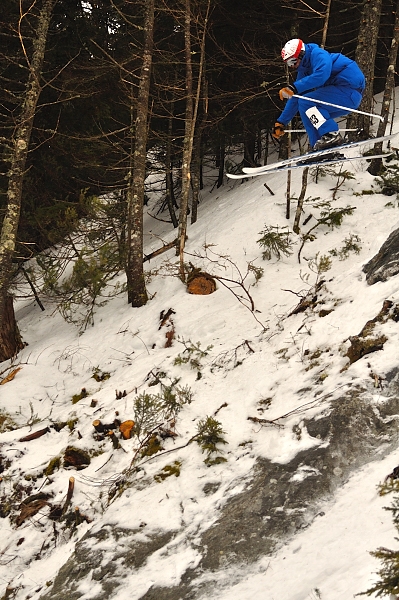 Jamie Fater competes in the Castlerock Extreme Challenge at Sugarbush. Photo by Tim Fater / Ski The East.

These four resorts previously hosted events that were independent of one another and were individually considered among the most challenging competitions on the East Coast. Each has their own longstanding history and dedicated following. By integrating these events into a collaborative tour, the STEFT is delivering a heightened level of competition, camaraderie, and exposure for the contestants and the host resorts.
In addition to the new tour-wide judging criteria and age regulations, we've added more awards and prizes, including an overall cash purse of $4,000. Additional signature STEFT awards include the coveted Ski The East "Shot-Ski Trophy," presented to the male and female first place finishers of each event, as well as a Bern helmet for the "Cliff Huckstable Award," which will go to the athlete who executes the Best Air at each event.

Also new for 2012, the STEFT has partnered with the Subaru Freeskiing World Tour (FWT), the longest running and most prestigious competitive big mountain tour in the world. The STEFT has been accredited as a 3-star FWT Qualifying event, which provides a direct route for the top Eastern talent to compete in the world-class event series.
SkiTheEast.net will provide extensive media coverage at each event including news articles, photography, video edits, and a feature-length STEFT compilation video. Ski The East will also facilitate event awareness on a larger scale through garnering mainstream print, television, and internet coverage.
The STEFT aims to continue growing the Eastern freeride community by offering a unique platform for the collaboration, recognition, and progression of competitive freeskiing within the region.
For more, visit skitheeast.net