As with anything new and different, I'm usually a little skeptical until I find a reason not to be. So, when I heard there was a new Woodward facility going in up at Boreal Ski area on Donner Summit I wondered, how cool could it really be? I took a little trip up there last Saturday to check it out for myself. After about 5 seconds inside the 33,000 sq. foot facility any preconceived notions that I had of Woodward Tahoe were completely shattered.
The front entrance to Woodward Tahoe while still under construction, being blasted by a late season snowstorm.
Construction of Woodward Tahoe began last summer. The massive structure was built right next to Boreal's base area and parking lot. I'd seen the hulking mass of the building under construction a number of times while driving by on I-80 but it never seemed that impressive from a distance. Pulling up to it the other day, however, I was blown away by its' massive dimensions, and then I went inside.
A welding helmet awaits its' use. Construction is moving along rapidly in preparation for opening in June.
Flanked by Shaydar Edelman, Boreal's mountain manager, and John Slaughter, Boreal's marketing manager, I stepped into the most impressive ramp park that I've ever seen, and it's currently only about half finished. We met up with Nate Wessel, Woodward's head park designer, and I got the grand tour.
Overlooking a fraction of the facility, objects are much larger than they appear.
Woodward Tahoe is the 6th Woodward facility in the world, with 4 others in the US, and one in China. The brand-new 6 million dollar facility is slated for completion by the first of June, 2012. The unique facility is known as the "Bunker" and was designed with ski and snowboard training in mind. "When I design a park I design it unique to its' location to try and cater to the clientele and serve a purpose," says Wessel, "I'm never going to do the same thing in a building, all of the newest ideas I have are in here." The new Woodward facility will be a great complement to Boreal ski area. Known primarily for their park and pipe, Boreal consistently boasts the longest season in the Tahoe area.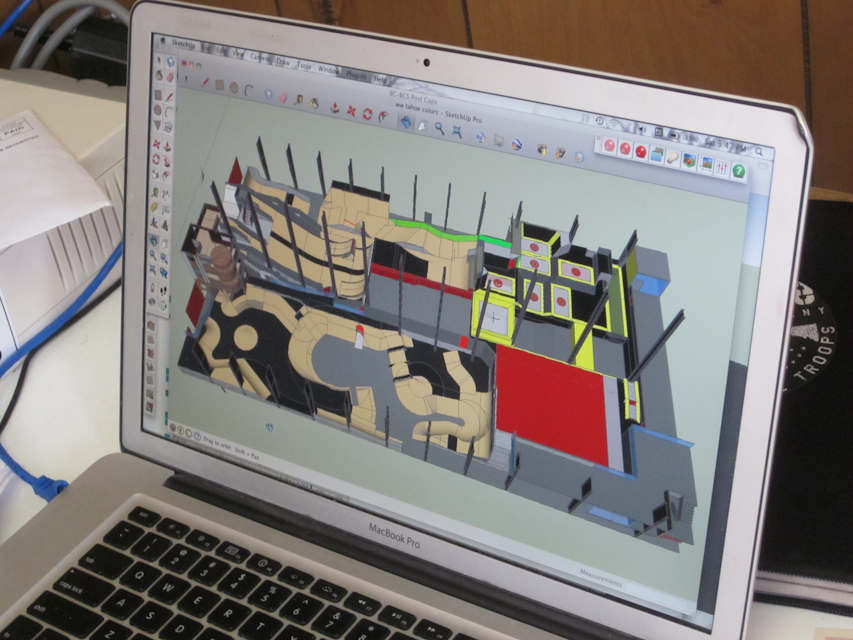 Designer Nate Wessel talks me through his 3-dimensional plan of Woodward Tahoe.
When completed, Woodward Tahoe will be one of the premier indoor ski and snowboard training facilities in the world. They have recently partnered with Moment Skis and Burton Snowboards to create new models of wheeled skis and snowboards for use on the indoor ramps. "The 'park' skis and boards will be a constant progression," says Wessel, "the current ones work great but we'll be refining them as we go along." Woodward Tahoe is the first facility built specifically to cater to the use of 'park' wheeled skis and boards.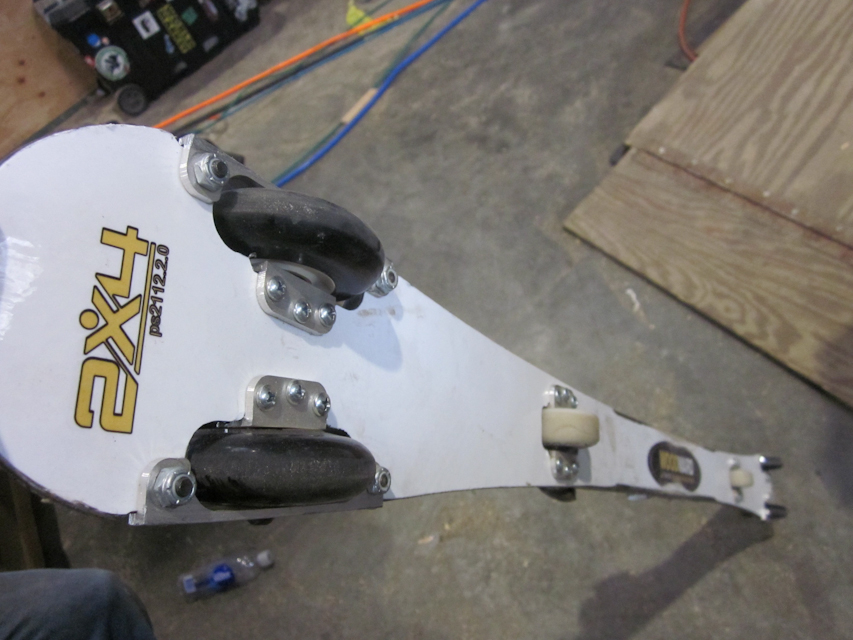 Current wheeled skis made by 2x4. Woodward is collaborating with Moment and Burton for newer models.
The Bunker won't only be for ski and snowboard training. The facility will also cater to skate, bmx, digital media, cheer, and tumbling training. "Everything we're building here is for the skis and boards, but at the same time we're trying to cater to everyone," says Wessel, "It will all be useable for bmx and skate, or for air awareness training." By incorporating multiple drop-in heights and adjustable angles (depending on your discipline) on their skatelite ramps with foam and resi-pit landings this facility will truly accommodate learning and progression no matter what you ride.
Woodward Tahoe's one-of-a-kind tramp park includes multiple levels, angled redirect walls, 6 Olympic sized trampolines, a super-tramp, a 40 foot long tramp, and 2 foam pits. The super-tramp is one of two in the country, the other at Woodward Copper, and throws the user up to three times higher to practice bigger tricks. A full size gymnastics and cheer spring floor will be available for tumbling or parkour training. A street/flow course takes up the remaining floor space with features built into the underside of the drop-in and viewing platforms. A top-of-the-line digital media lounge takes up otherwise dead space beneath and above some of the ramps for people to hone their digital media skills, the perfect complement to the action going on inside Woodward Tahoe.
This summer, the Bunker opens for 9 weeks of summer camps starting June 10th, the first five weeks involve on-snow training just outside the door of the Bunker at Boreal. After camps are finished for the summer, the facility is open to the public starting August 17th and passes are on sale now, 2 hour drop-in sessions will also be available. To sign up for camps, to buy season passes, or for more information visit www.woodwardtahoe.com