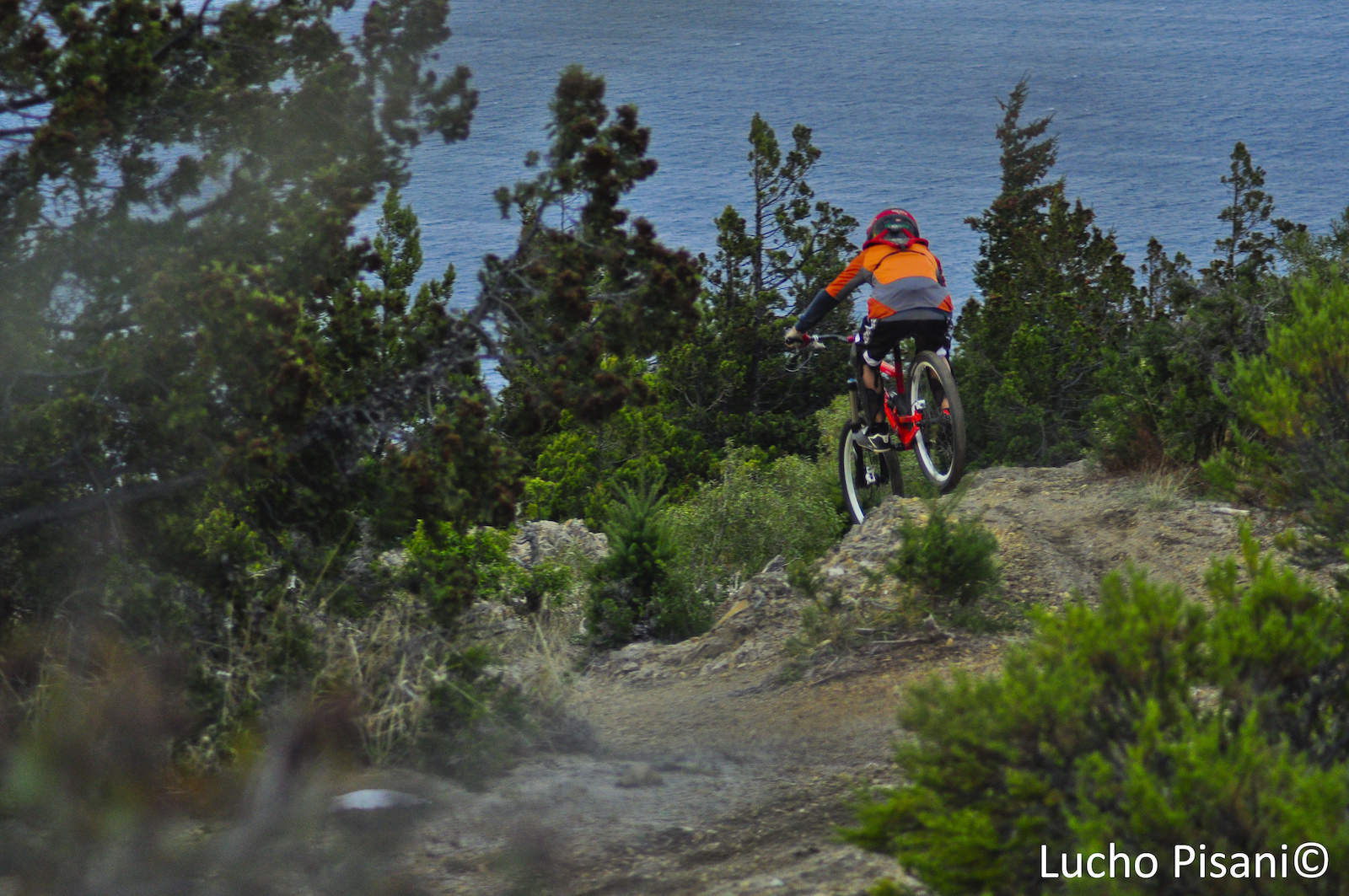 Lucho Pisani photo
Bariloche is a city in the province of Rio Negro, in the south of Argentina, at the Patagonia. The city, established in 1902, has a population of around 110.000. It is located near the Cordillera de los Andes, the biggest mountain range in South America. The landscapes here are stunning, the city is surrounded by lakes, forests and big mountains. Bariloche is one of the most important tourist centres in South America. There is an international airport just 10 km away from downtown.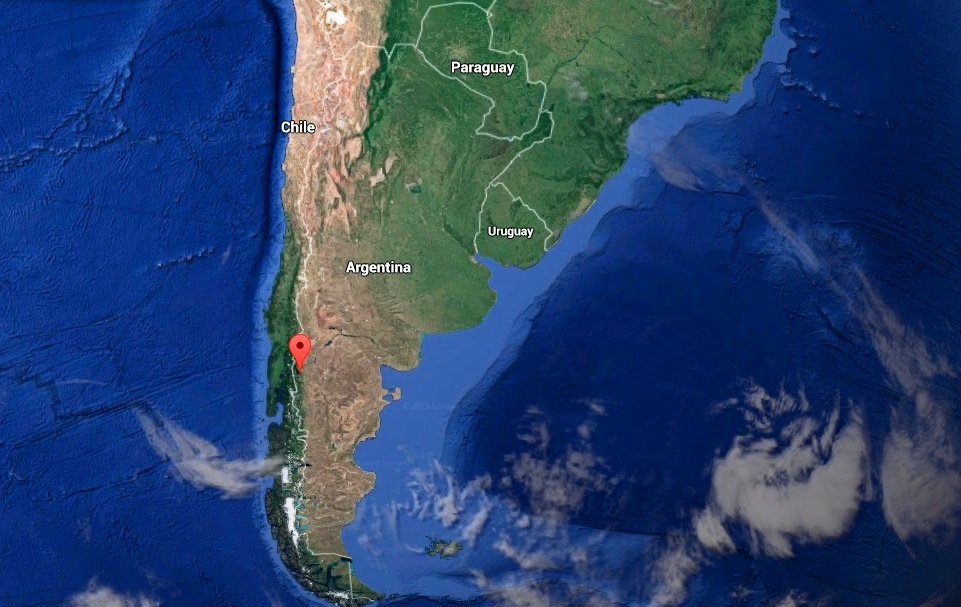 Location of Bariloche
Although it is mainly known for its ski centre, which is one of the biggest in south america, Bariloche is also one of the best places to mountain bike.
During summer there is a lift accesed bike park, in the slopes of Cerro Catedral. With over 700 metres of vertical drop, the bike park is opened from December to February (and sometimes March) and has trails for all levels and styles of riding. There are also some bike rentals near the chairlifts which offer a wide range of bikes. The climate here is usually very dry on summer, which leads to pretty unique conditions. Some people call this conditions "Anti Grip". It is hard to ride here but it is really fun, and improves your riding a lot.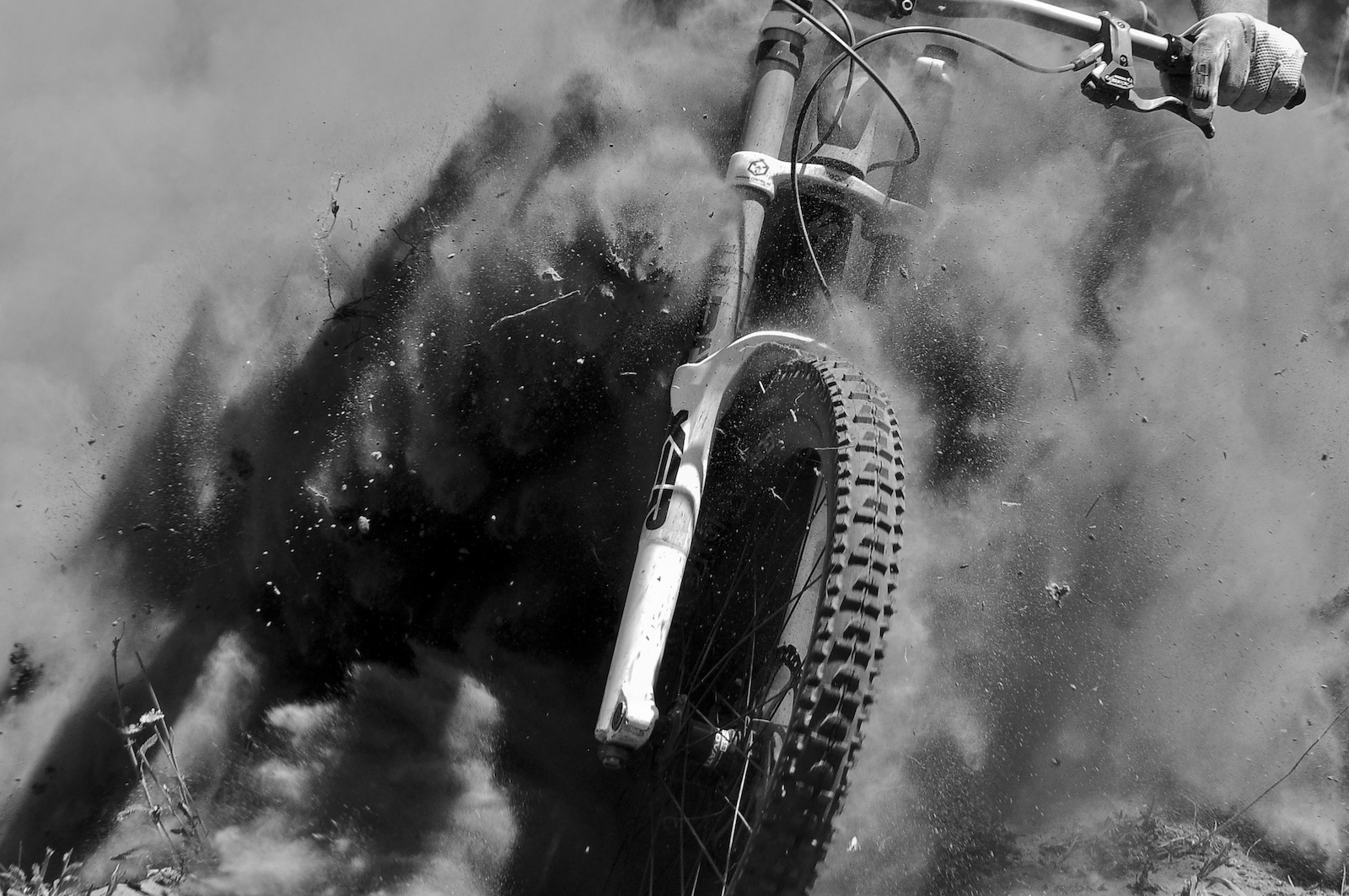 The "antigrip". Lucho Pisani photo (Local photographer).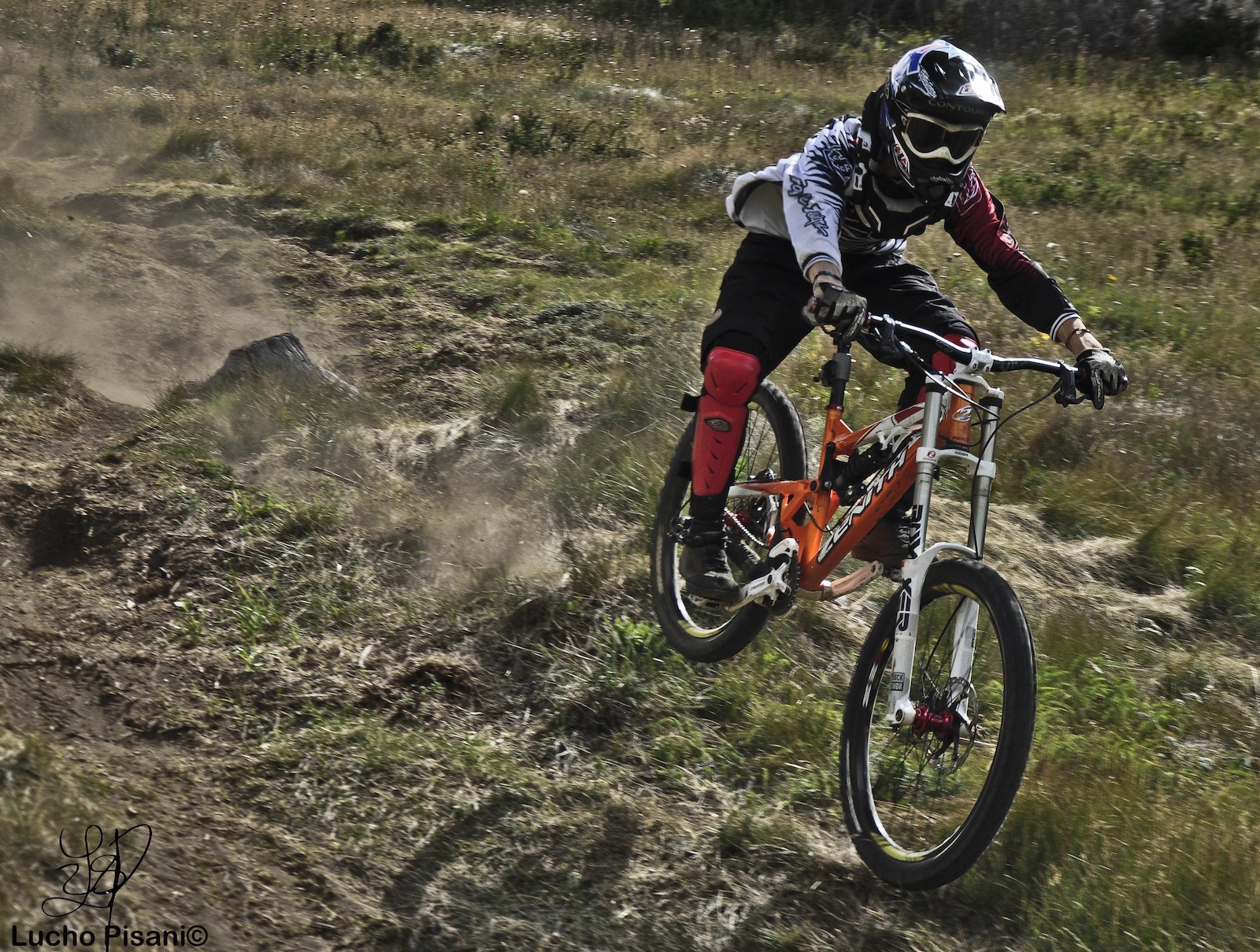 One of the Dh trails of the park. Wide open and really fast! Rider: Manuel Farre, one of the most talented local riders. Lucho Pisani photo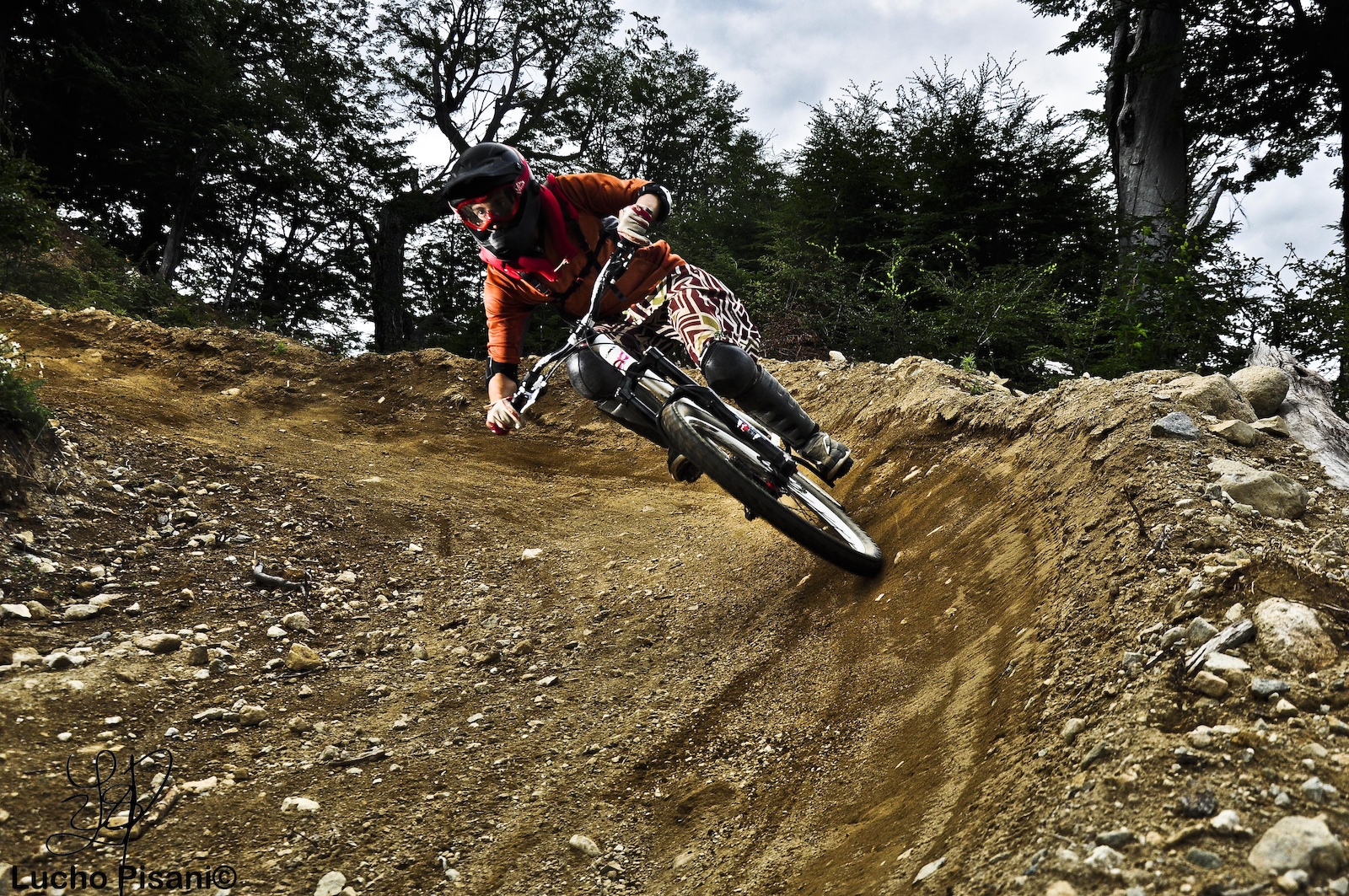 There are also some flowy, machine-built trails at Catedral Bike Park.
The bikepark hosts every year a stop of the Open Shimano Latam, one of the most important downhill race series in South America. Over 300 riders come every year from all over the continent to test their skills and fight for the win.
Next year the Open Shimano will come back to Cerro Catedral as well as one stop of the IXS South American Cup, which will have its first edition in 2016.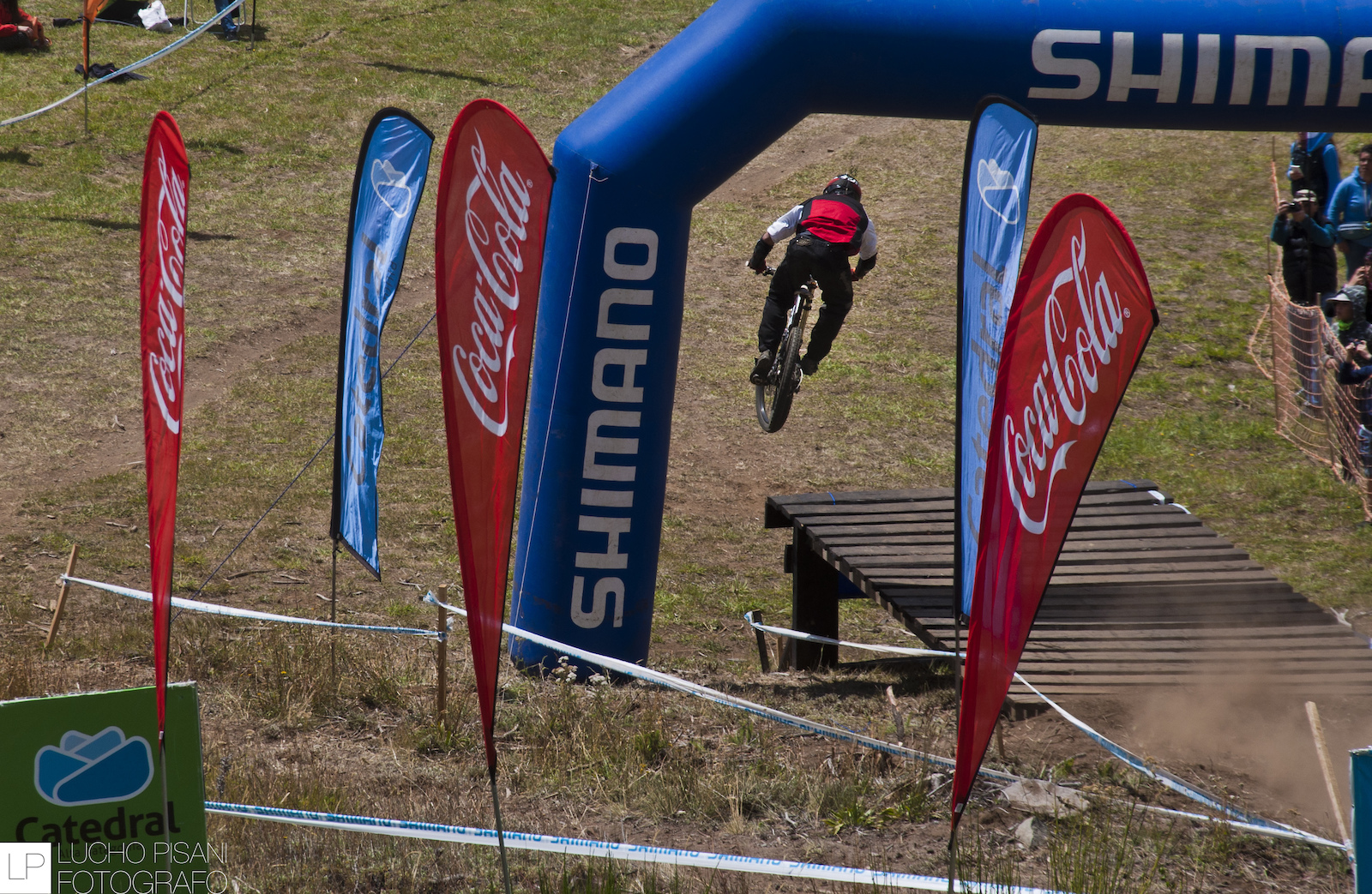 Nicolas Bortoni, one of the fastest (if not the fastest) local racers, near the finish line of the Open Shimano. Lucho Pisani photo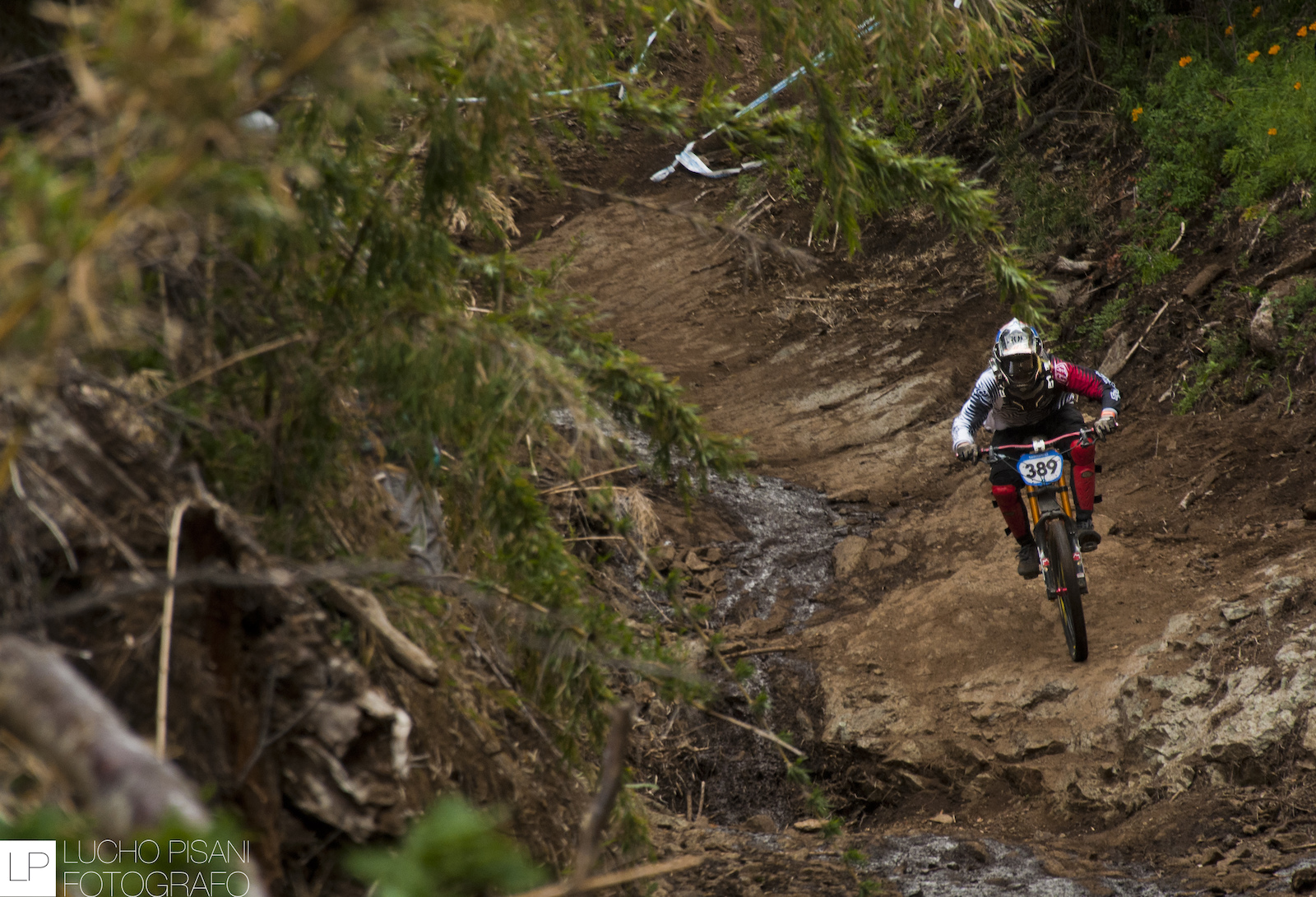 Manuel Farre, flat out on a rocky section of the race track. Lucho Pisani photo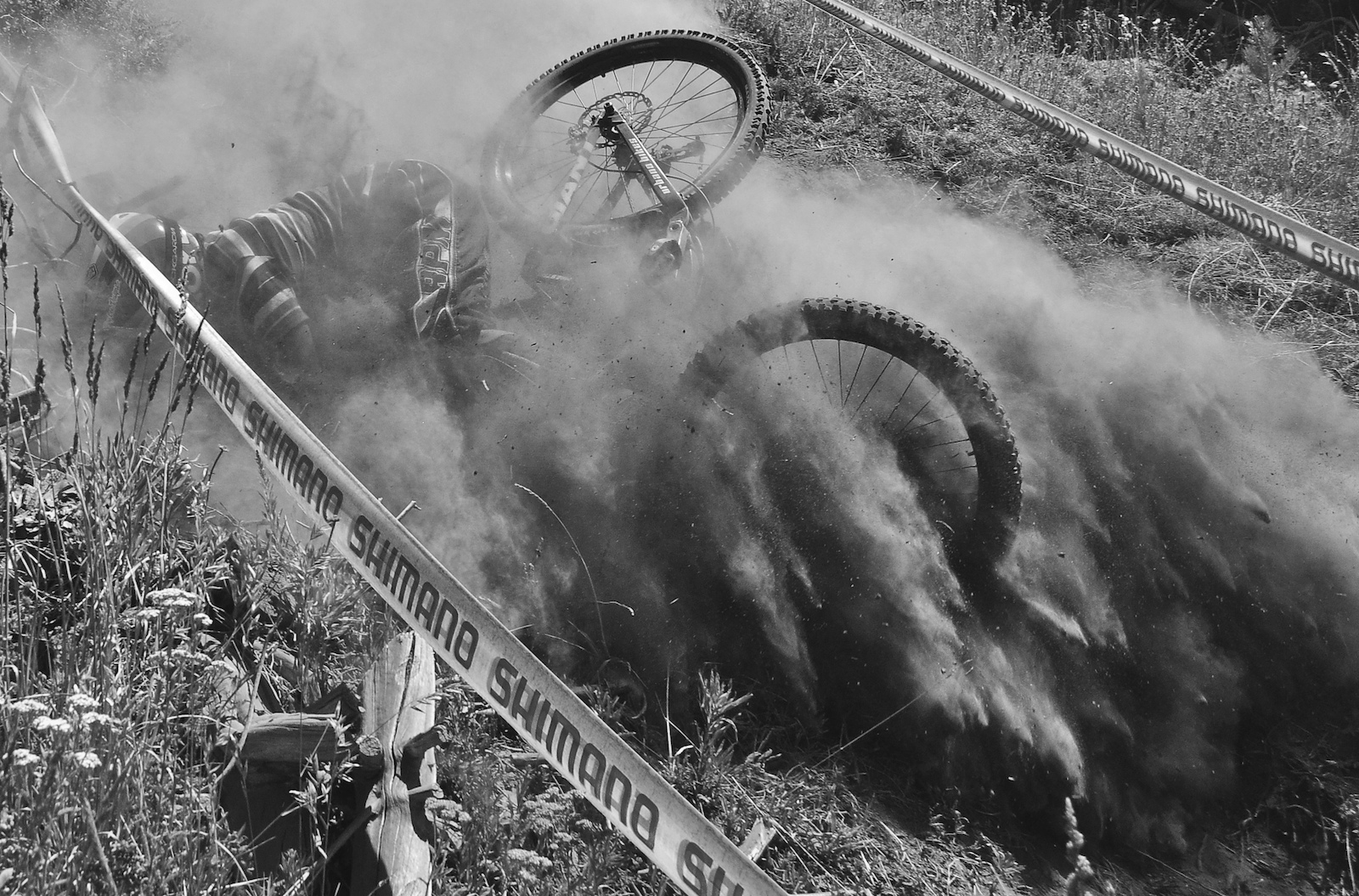 Don't mess with the antigrip. Lucho Pisani photo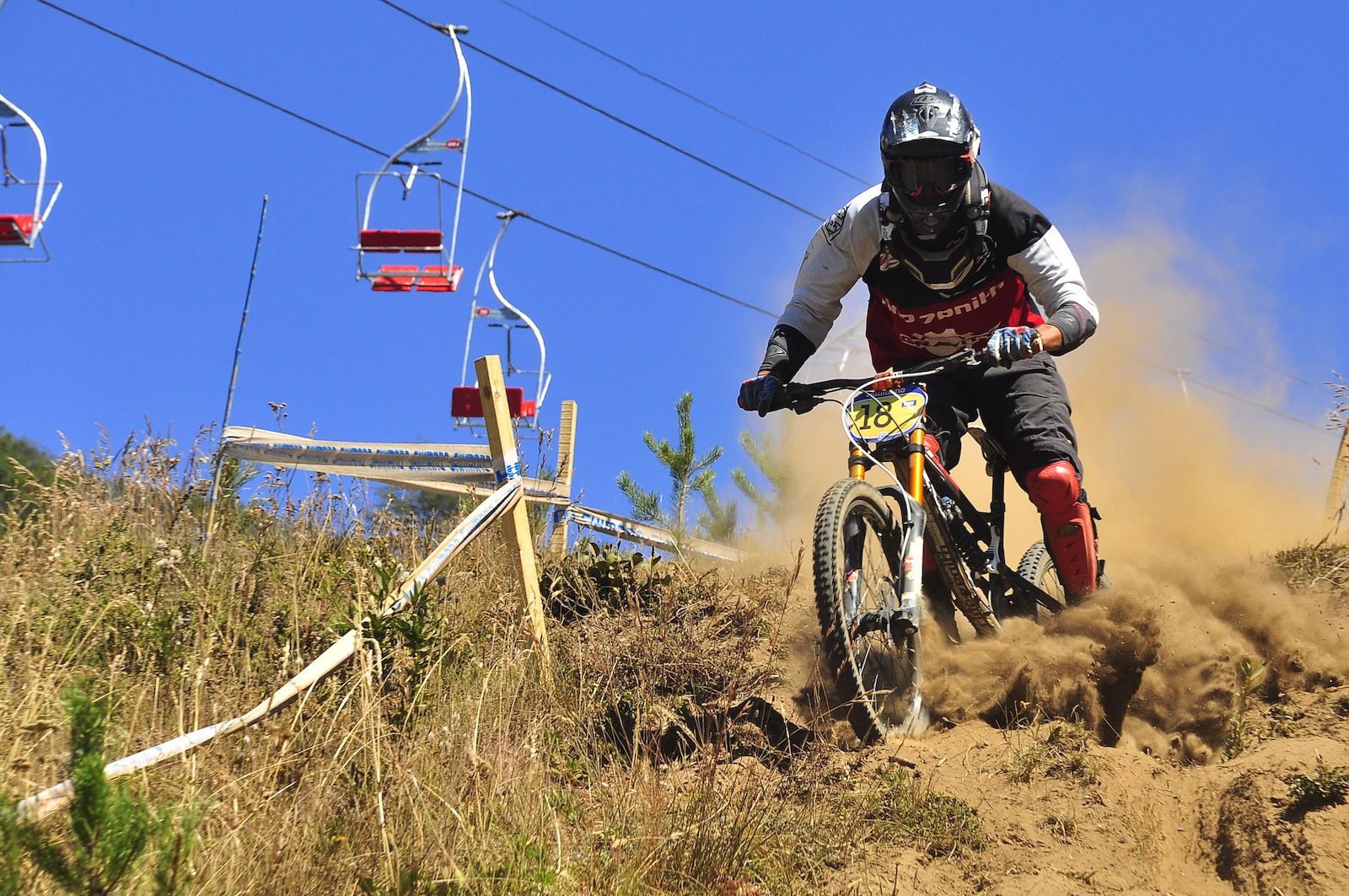 Bortoni has no trouble on the brown pow. Lucho Pisani
Around the end of March there is a sudden change in the climate, being cooler and with much more rains. Although the lifts are now closed, some of the trails of the bike park are still rideable if you are willing to walk up the mountain. There are also lots of trails near the city that are open all year long, and in autumn is when they are in their best conditions. The ground in this season is much more packed and grippier.
Next year in this season, Bariloche will host one stop of the Enduro World Series for the first time. This race will no doubt be one everybody will remember, with the best riders of the world competing.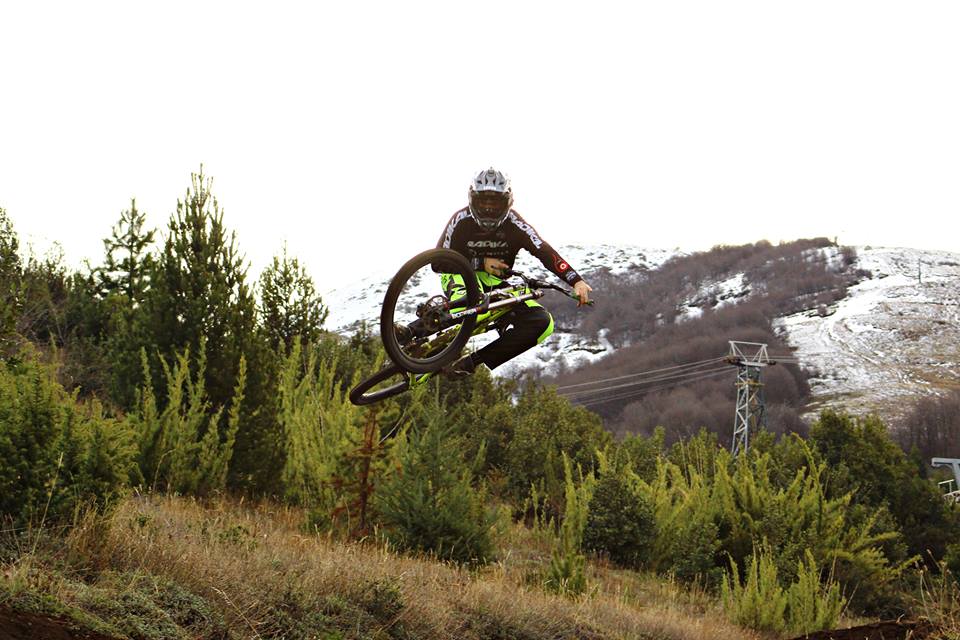 Fede Provervio is other of the very talented riders of Bariloche. Here he is enjoying one of the jump trails of the bike park in autumn. Andres Fajardo photo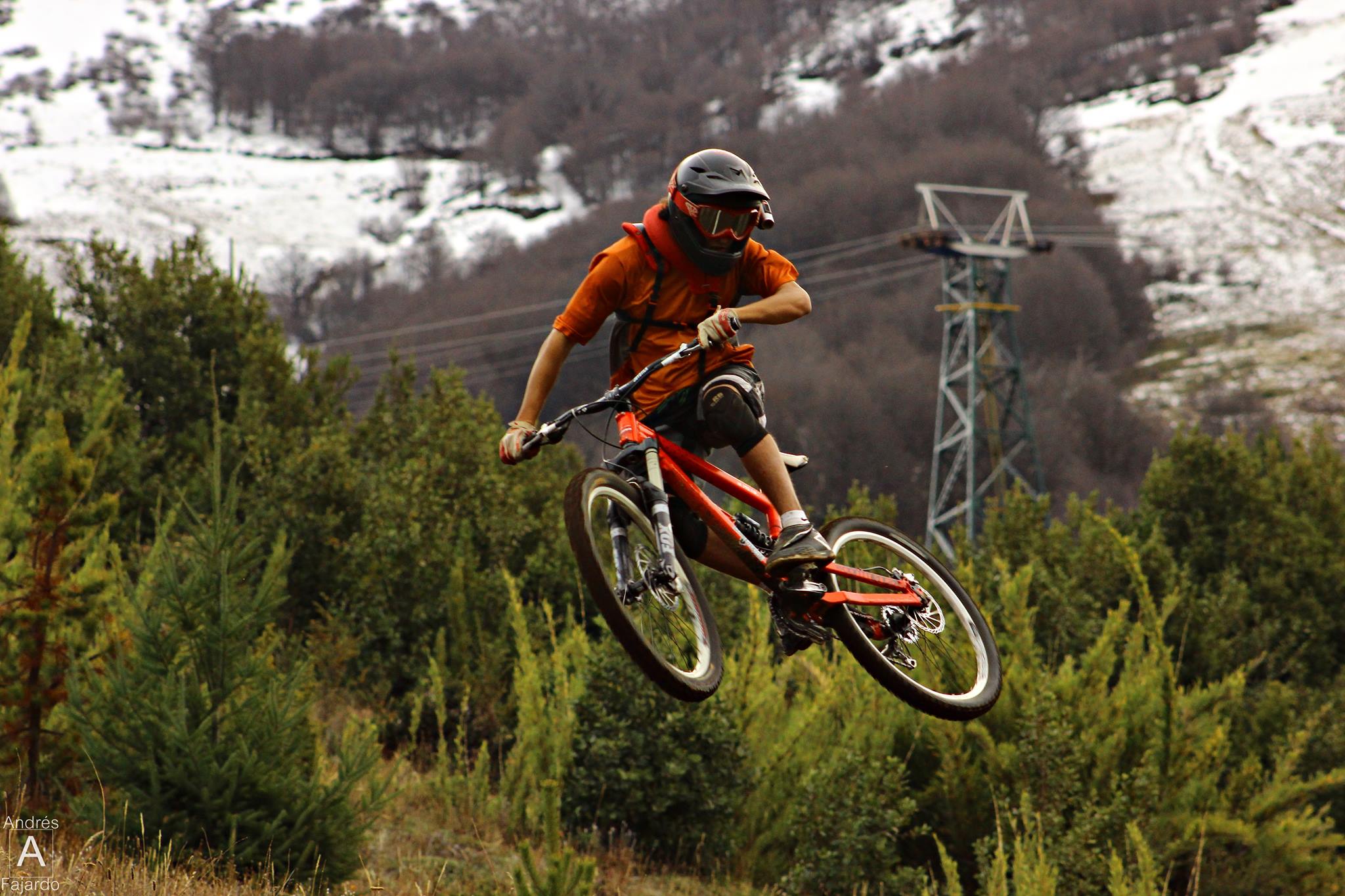 That's me enjoying the perfect conditions of the autumn. Andres Fajardo photo
One of the most ridden zones is the Cerro Otto, right on the side of the town. Here you can find some nice DH trails, around 2 minutes long. They are not super technical so you can ride them with shorter travel bikes too, not only full DH bikes. There is also one longer trail, "picada del 7" that starts at the very top of the mountain and goes all the way down to the valley. It is a bit more enduro oriented and lasts around 7 minutes.
You can get to the starts of all these trails pedaling or with a truck as there is a road to the top of the mountain.
Some of the trails Cerro Otto has to offer. They are rideable all year round. Andres Fajardo photo
Photo: Andres Fajardo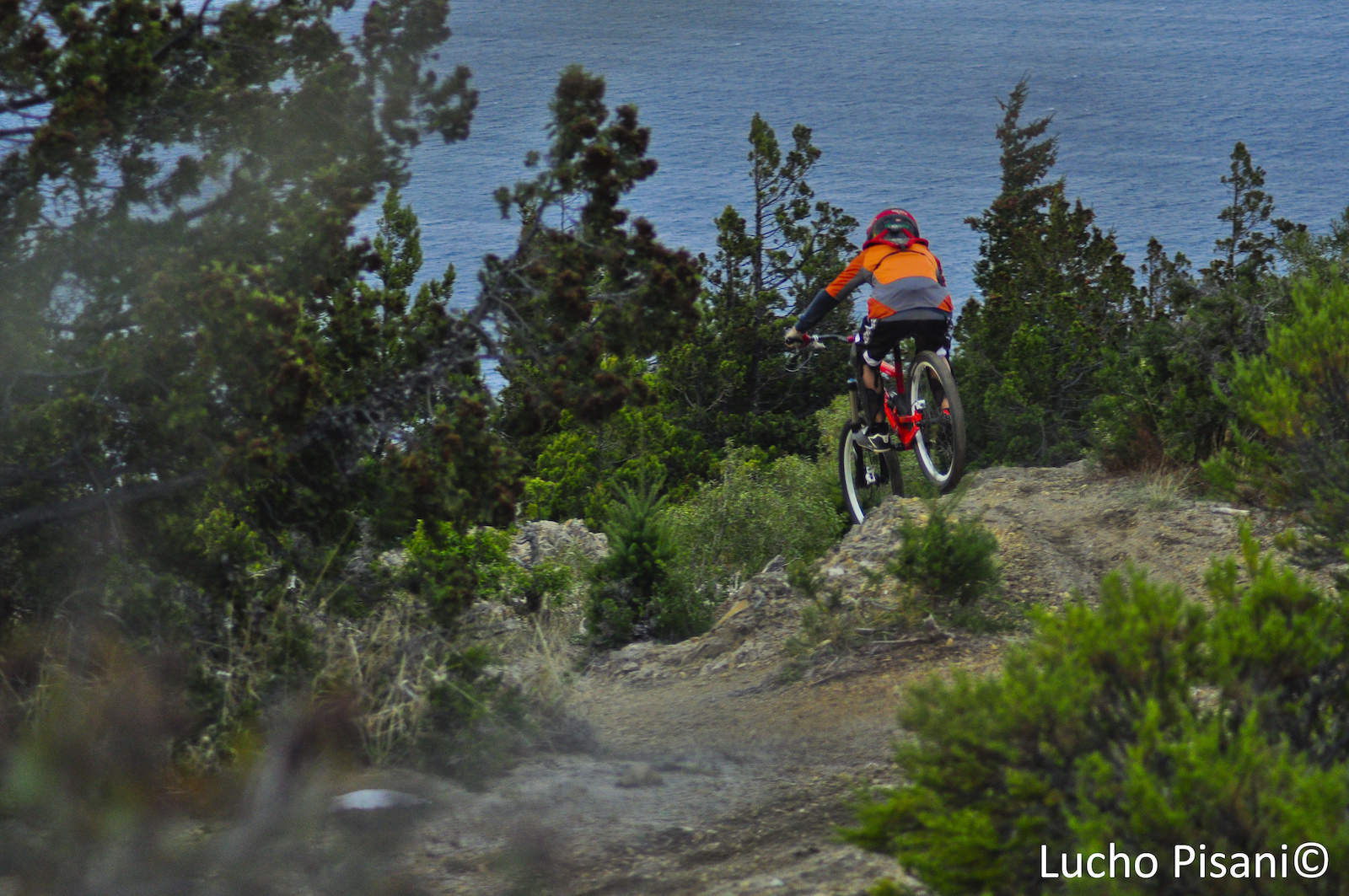 Lucho Pisani photo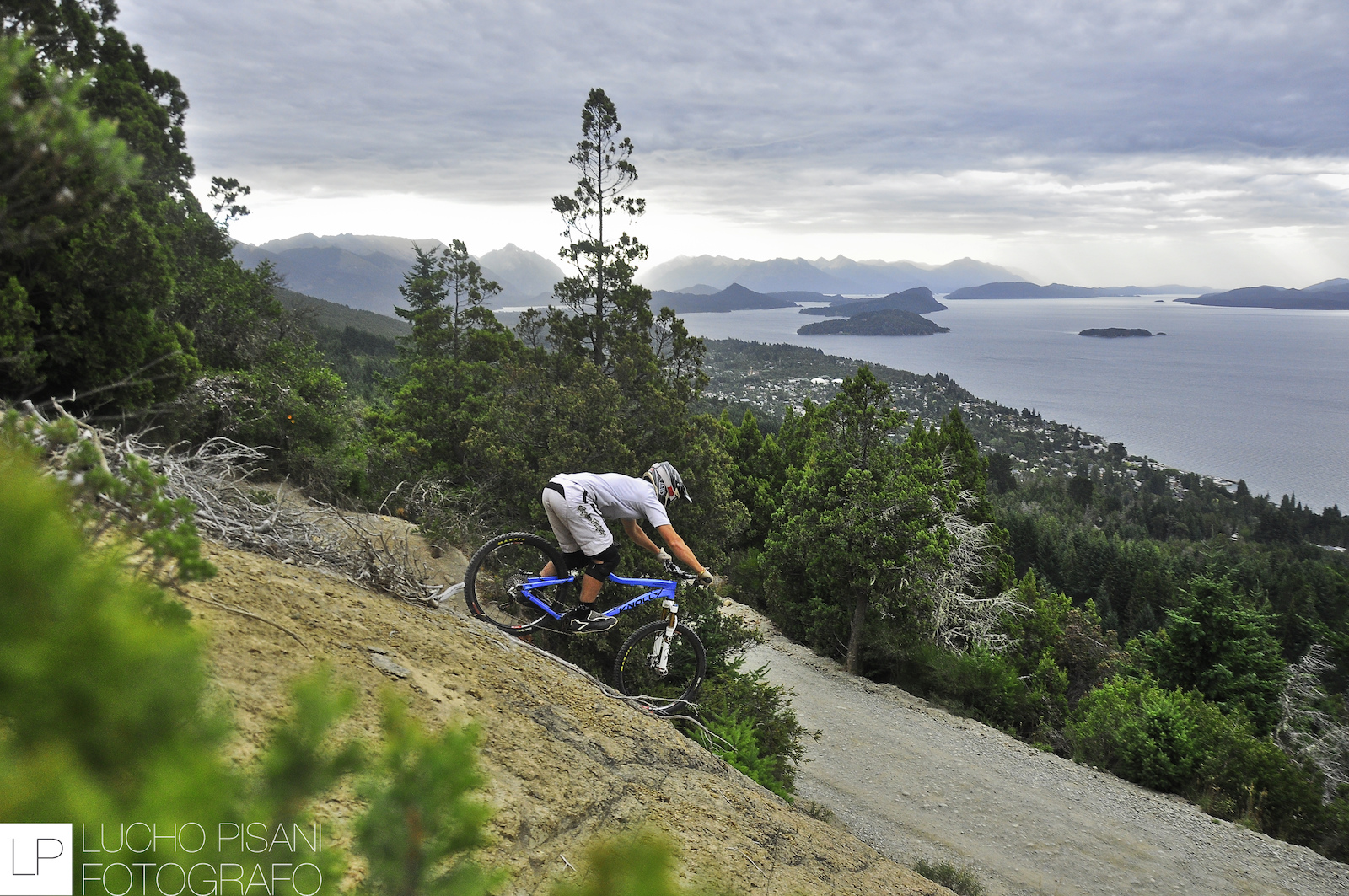 There is no shortage of beautifull sights. Rider: Fede Provervio. Lucho Pisani photo
There are also some pumptracks and a few dirt jumping spots all around the place. Or if you are looking for longer rides there are plenty of options too, from long xc loops to enduro trails. There are several mountains here that have "Refugios", mountain huts that have food and bed services. One of the best experiences you can have in Bariloche with your bike is ride up some mountain, spend the night on a Refugio and go back the next day. There are some of this rides that are around 2 hours long, an others over 4 hours, so you can have really epic days on the saddle. Anyway you should keep in mind that these trails are shared with hikers so you have to be carefull.
Other of the unique things about Bariloche is that although it is situated in an area full of forests and lakes, travelling only 20 km east you will find yourselves in a completely different location, a steppe that is much dryer and with less vegetation. There are some natural trails here that were opened mainly by cattle, and long rural roads too if that's what you like.
There are some great riding places near Bariloche too, like San Martin de los Andes (300km north) that also has a bikepark during summer and lots of free access trails, El Bolson (120 km), among many others.