For the past twenty-six and a half months, I've been homeless and fighting addiction. The homeless part was a conscious choice. The addiction part has been with me nearly my entire life. It's an addiction to the sensation of sliding on snow. For me, it doesn't matter whether I'm on one board or two, sliding through life is the accomplishment that defines me. My family, my friends, my community, we are all built on a foundation of snow. Sliding has gone beyond the realm of entertainment and into that of identity.
THIS IS WHERE I COME FROM
My obsession with snow extended into academics, and was the focal point of my studies at Quest University Canada in Squamish, BC. I became very interested in climate change, noticing the threat that it posed to my way of life. At school I dug into the roots of the climate change problem, and developed a strong desire to help do something about it.
Working for a heliskiing company, ripping around on snowmachines, riding chairlifts, I was consuming incredible amounts of resources just to get my fix of pow. I couldn't help but draw connections between my own lifestyle and the "worst-case scenario" predictions I was studying. But I still had an insatiable appetite for powder and a need to experientially learn how to navigate big mountains safely. Trying to sort out these seemingly contradicting intentions, I decided to take a break from the routine for some time to think.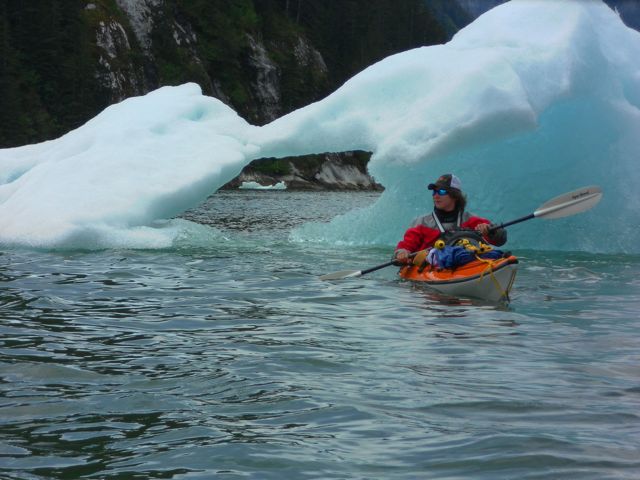 LEAVING THE LAND OF ICE AND SNOW
So I borrowed a kayak and paddled south for three months. When we ran out of islands to hide behind, my friends and I loaded up our bicycles and continued moving south, through the United States and Mexico, Central America, and South America. Along the way we documented localized lifestyles, searching for good ideas that might provide micro solutions to macro problems. The film project is now half finished, with the editing process in its initial steps.
Traveling for two years down the west side of the Americas was an experimental lifestyle that ended up depriving me of two Northern Hemisphere winters. I cut myself off cold turkey on my addiction, and experienced a new form of suffering. The self-questioning in the back of my mind was (and still is) persistently in limbo. The uncertainty was fueled by a deep and subtle sorrow, longing for what I knew I was missing, but determined to see the journey through to the end. On the other hand I was motivated daily by the magic of adventure and encouragement from supporters. By suppressing my addiction, I built a tremendous capacity for patience and self-observation. And I learned how to enjoy life without snow.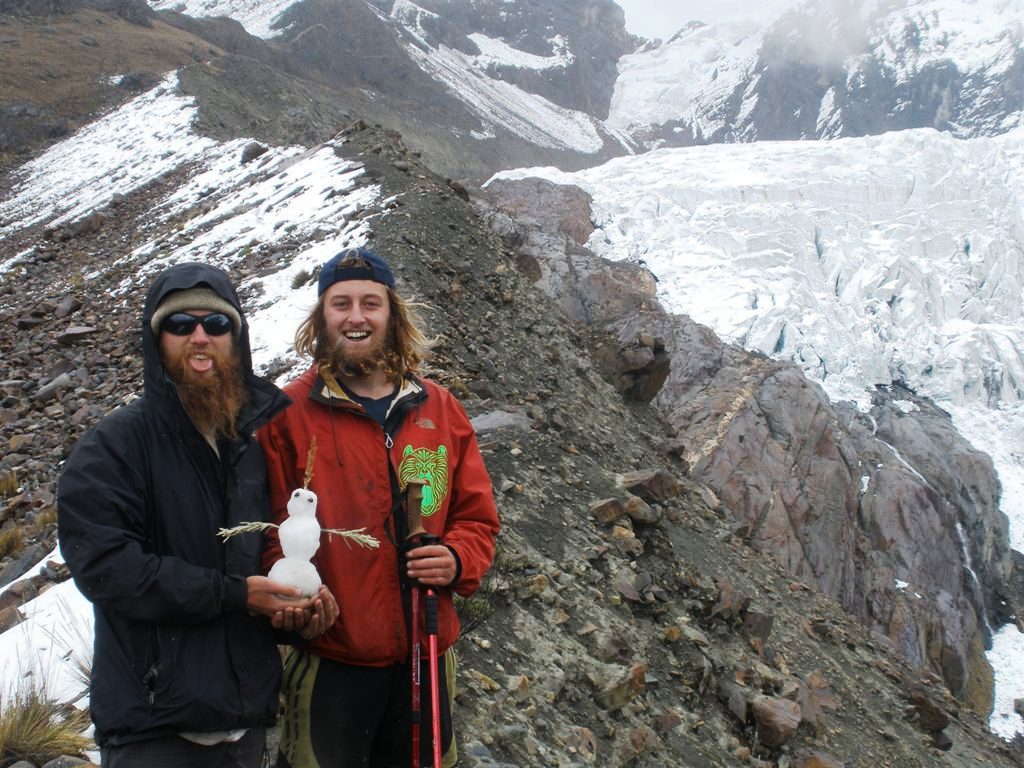 HAPPY BOYS WITH THEIR FIRST SNOW IN 16 MONTHS AT 5000 METERS NEAR HUARAZ, PERU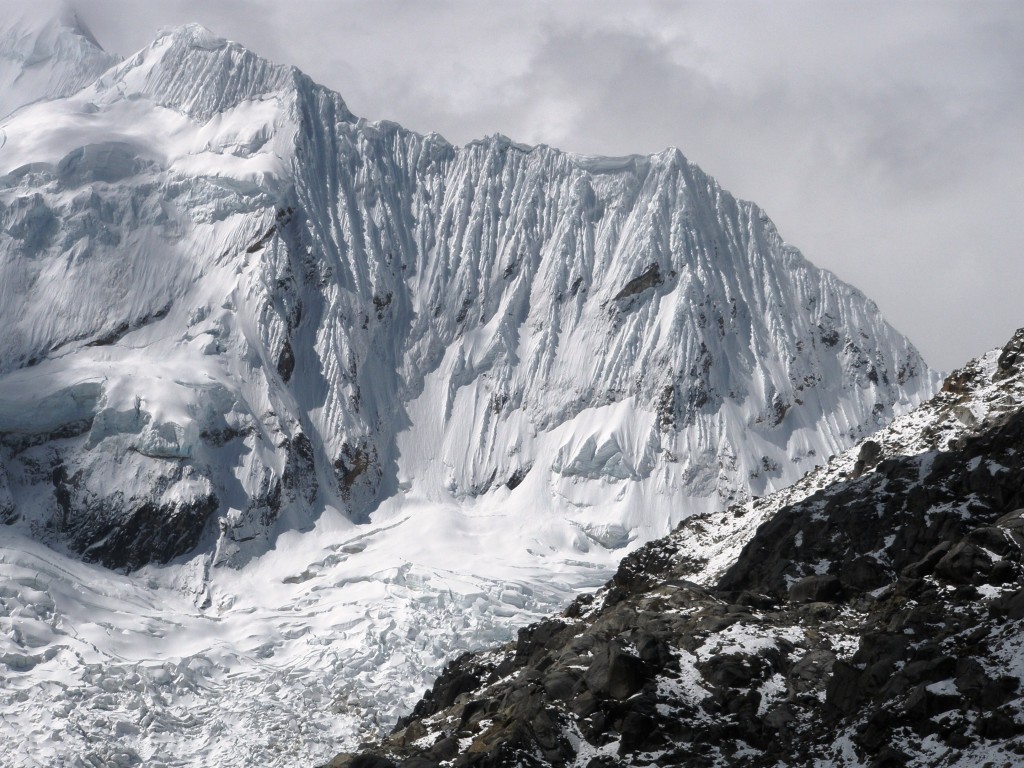 I WAS HALF TEMPTED TO RENT SOME GEAR AND GO EXPLORE THIS ZONE BEFORE TWEAKING MY KNEE ON A FIVE DAY TREK IN THE HUASCARAN RANGE
Finally, in May of 2014, as autumn was fading into winter, I arrived at the end of the South American continent. In the deep south of Patagonia, I decided that enough was enough, and it was finally time to give myself another winter. The region is famous for epic storms of wind and water, and I chose the Island of Tierra del Fuego as my base camp, seeing good potential for that sweet, deep, coastal snow that I had been aching for.
With anticipation and excitement, I bought a pair of nearly new Ride snowboard boots at the ski swap in Ushuaia and volunteered to help out with the level 1 and level 3 avalanche courses. New friends let me borrow their boards for the field sessions, and with my first turns in years, I was once again hooked on snow. Upon tasting the first blood, the craving grew exponentially. The impossible search for perfect satisfaction commenced.
My good buddy Alex Turner brought down a fleet of the Sky Pilot Custom Skis he's been building, and provisioned me with my long lost winter gear. With all the necessary equipment and a solid compadre, Karlos and Nacho were ready to explore the mountains of Tierra del Fuego. But Pachamama had other plans, as global warming hit Ushuaia harder than any of the local old timers had ever seen. For over a month we searched for the softest snow on the island, each session just barely finding enough to keep us coming back. It was like two shipwrecked crackheads splitting a single pack of cigarettes.
WE MADE THIS CAMBIOS EDIT FROM OUR STRUGGLES IN USHUAIA
Eventually we got tired of waiting for winter to come and decided to chase a storm up to El Chalten. There, we scored a few days of decent pow, but the conditions were highly variable due to the low snow year. The mountains of El Chalten are gigantic, and the approaches demand a test of patience. Though any time in the mountains is better than none, I found that I can only walk so far for marginal snow. At one point I felt that I was approaching the limit of my holistic endurance, mentally, physically, and spiritually exhausted.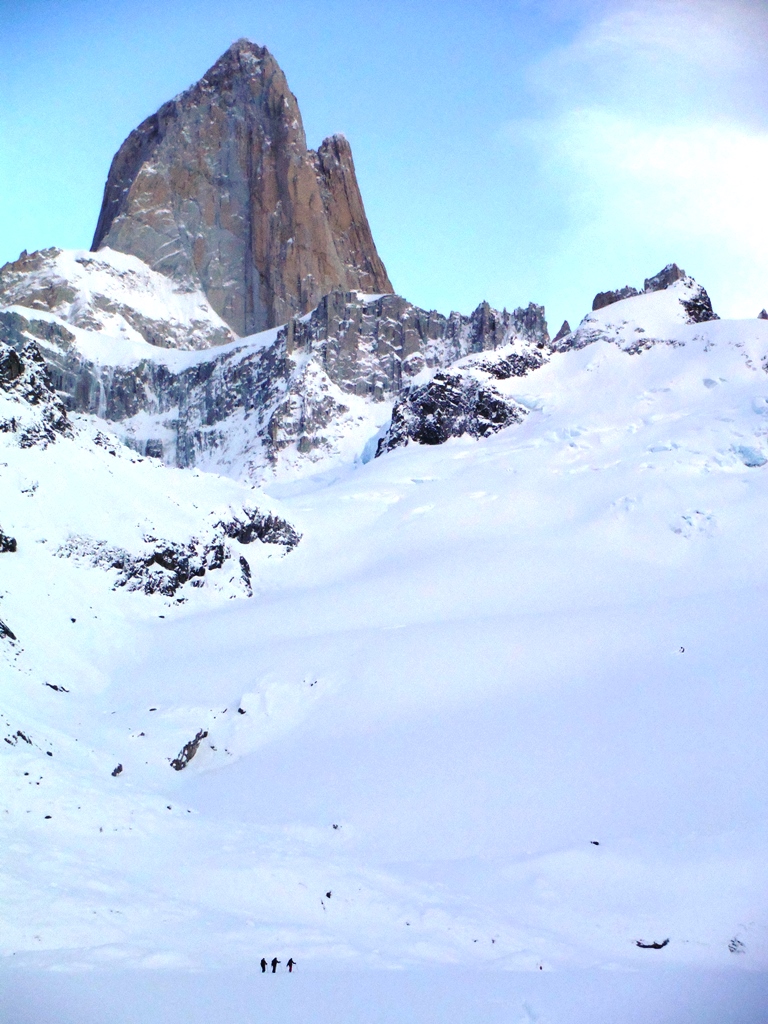 ITS PRETTY HARD TO NOT ENJOY A DAY UNDER FITZROY. EVEN WITH A BREAKABLE RAIN CRUST ON TOP OF 40 CM OF FRESH...
My odyssey for the South American winter has expanded my capacity for appreciation. I'm still as hooked on snow as ever; I can't say that I've gotten "Higher" than my addiction. But it now exists in an altered form. I was stoked out of my mind when 20 centimeters of soggy hot pow fell while I was visiting friends in Punta Arenas after El Chalten. My addiction is less of a spoiled little brat now, which will definitely be helpful in the coming years as the planet continues to heat up. One thing I know for sure is that I never want to miss another winter.