When it comes to boys and their toys, pro-snowboarder Mike Basich stands out from the crowd. He's built his own mountain playground in California, Area 241, on Donner Summit complete with a full-scale groomer. He's designed the ultimate snow-chasing vehicle, and continues to expand his mecca with new inventions.

It all began when Mike Basich bought the land near Donner Summit in North Lake Tahoe. Located three miles from the closest plowed road, he built his home in an area known for deep snow that requires more than a four wheel drive vehicle to get home. With an assortment of vehicles from a full-scale resort groomer to snowmobiles, it looks like Basich won't be joining the Donner party anytime soon.


Get outta Dodge: Mikey Basich transformed his Dodge truck into a snowboarder's dream rig.

When it came time to search for a vehicle to take Basich to his next travel destination, he knew he was looking for a truck that could be converted into much more.

"I needed a vehicle that gave me the freedom of moving with weather and snow patterns," Basich said. His checklist of diesel, horsepower, miles per gallon, stock parts and design were met with a Dodge truck. Instead of going the typical trailer route to haul his sled, he opted to design his own custom rig that combined sleep quarters with a sled carrier to handle the snowy roads from California to Alaska.

"It happened really fast," he said. "I went from the tradeshow to meet with sponsors to help raise money for the truck. GoPro was first on board from the beginning to make it happen. By the time I left the tradeshow, I had three weeks 'til Alaska. It was built in 17 days, roughly 12-14 hours a day."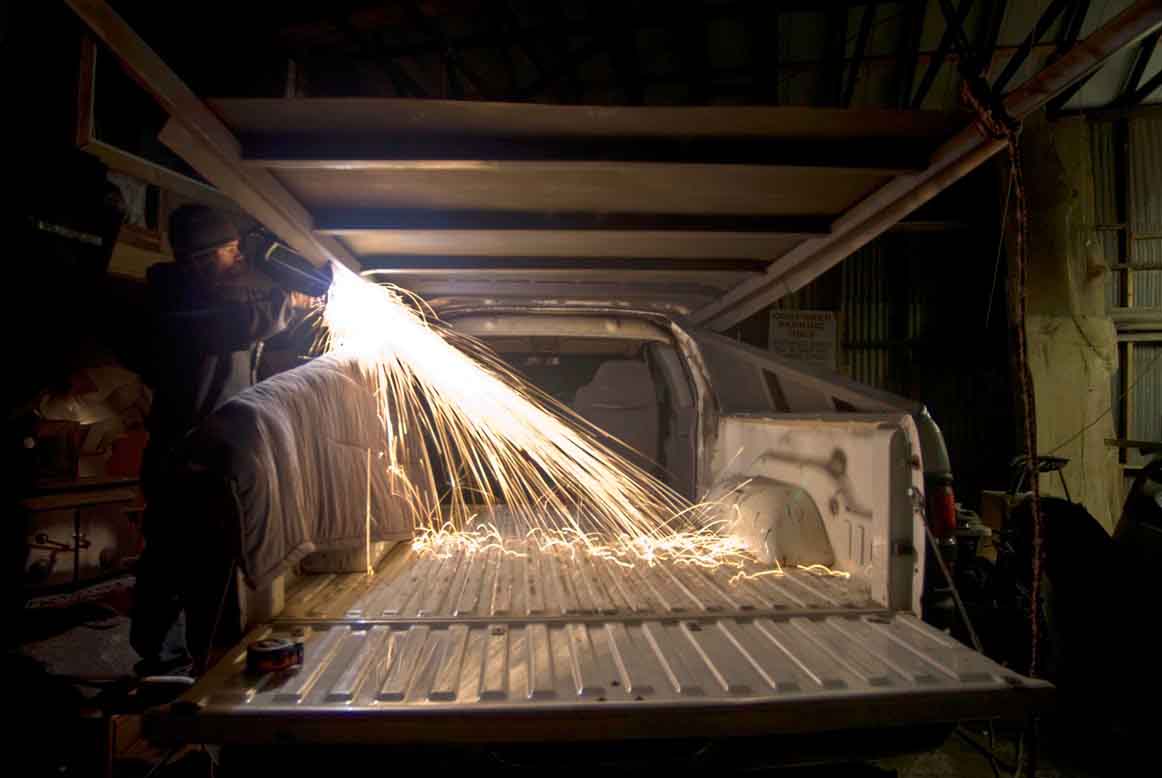 From design to welding, here Basich transforms his truck into the ultimate mountain rig.

The finished product is a completely redesigned Dodge truck with an insulated, carpeted, rear sleeping area complete with lighting. On the roof is the snowmobile ramp with a hydraulic backend that lifts up for more room in the sleeping quarters. The front seats spin around so you can sit comfortably facing the rear of the vehicle. It's not just for winter, either. In the summer, you can take the canvas off to enjoy the cool summer breeze.

When you live three miles from the nearest plowed road in Tahoe, you need a different kind of vehicle to access your mountain home. Four years ago, he replaced his first snowcat with a full resort groomer that he calls the "best thing he's ever bought in his life." With the amount of torque and power, now he can build roads, access new terrain and build his own features worthy of a backcountry freestyle contest.


"I haven't touched a shovel since I bought it." Neither would we.

"I needed something to get up and down with," said Mike Basich. "Now I'm using it for a lot of different things. In the spring when there's still snow, I use it go get dead standing trees, haul them down and mill the wood in my sawmill to help build my cabin and other projects."

In the winter, the snowcat allows for him to build challenging and rewarding freestyle riding to his backcountry playground. In the beginning JP Martin taught him park building techniques of how to push and pack snow to make it last longer. Now he can hop in, build a 16-foot wide corduroy takeoff into bottomless powder and session it for hours.

"It's not like you spend half a day building a kicker that gets tracked out and it's done," said Mike Basich. "It doesn't end there. My snowcat lets you keep going with the freedom of fresh lines, building stuff and waiting for it to snow."


Transforming backcountry access from sleds to SUV's.

Despite not having much of a sled selection, Basich makes use of what he's got at Area 241. His mid-1990s air-cooled 380 Ski Doo has been something he really values for handling a variety of conditions from mud to snow throughout the seasons. He's even snowmobiled over to Sugarbowl Ski Resort in the middle of winter. On the property are two other sleds that are newer that belong to friends and family who frequent the property.

When his mom decided to get rid of her old SUV, it wasn't put to waste just yet. Mike created his own homemade, true snowmobile lug tracks that could be driven in mud, snow, and pavement with the SUV. It lasted a year as a passenger vehicle for the drive to Area 241. In its final days it powered a towrope on the property before heading to the junkyard.

With a fair share of challenges and inventions, Basich continues to build on his endeavors with toys that can handle the snow. It won't be long before he's riding the steepest lines in AK with his truck parked at the bottom awaiting him.

For more, visit www.241-usa.com