When I got the invite to head out to Nelson BC and visit Baldface Lodge with The North Face team and the TGR crew I could not have been more excited! I flew in on the tiniest little plane into the smallest airport ever (Trail BC)... I swear thats how travel should be; there wasn't even a security screen to get on the plane!
After a quick stop at Mickey D's to fuel up we headed straight to the airstrip in Nelson... the crew so far was Ross Baker, Todd, Dustin and myself and we jumped in the heli (first time ever! Whoot Whoot!!) and made our way up to the lodge. It was literally like 7 or 8 minutes and we went from full-on summer golfing weather to like 15 feet of snow on the roofs... which was causing havoc for some of the structures up there.
The first day we went and checked out the features... the 100ft jump was in the sickest location on a ridge at the peak with the most picturesque backdrop you've ever seen but it was a little sketchy in that you couldn't get the speed without a snowmobile tow-in so we made the decision to re-push it and make it a lil safer. The it was on to the quarter pipe (QP) which was looking epic but needed a lil hand shaping... the first day was all about dialing in the features anyway. After a long day of shaping we gave er' a go and it was determined that we would need to build some tombstones in order to increase the vert in order to boost so that became the goal for the next day. We then retired to the lodge to enjoy some of the best food ever! We were living like kings!
The next day we perfected the QP with a lot of hard work from "The Homies" and all learned the value of sunscreen even though it was full-on greybird. When we got back to the lodge it was late afternoon and Wallisch had arrived and we were all developing cabin fever so we decided to hit the Hip-jump in front of the lodge. I took it super mellow because the next day was looking like a big day on the QP but Wally and Ross got down for a quick session and got some shots!
The next day was gorgeous out and after another 6 am breakfast (earliest morning May Park-shoot ever haha) we were out at the QP by just after 7 and after some final shaping it was game on! The newly arrived Phantom cam (which shoots up to 1000 frames per second and is valued at around $150000) was set-up and the crew was filtering in (I believe DCP and Lucas had arrived the night before) and it was game-time! After hitting it a few times I realized this was not going to be a walk-in-the-park... QP's are definitely different from halfpipes and I hadn't hit one in at least 2 years... needless to say it took some getting used to. Everyone ended up having a blast and we had a long session and went about as big as was possible on it... also messed around with some handplants which actually ended up being some of the coolest shots - the Phantom makes even the simplest stuff look sooooo cool!
Unfortunately, on his last hit of the night Ross sent it a little too big and decked out hard... tweaking his ankle and taking him out for the rest of the trip... props to him for sending it tho! That night pretty much the rest of the crew arrived... Kaitlyn, Blake, Sage, Dylan, Carter... we had a sick crew of athletes and the best film/photo crew as well! We kept playing the waiting game on the "XL Jump" as it had to be rebuilt and decided to do another session on the QP for all the athletes that had just shown up... I decided to help build a interesting little tree jib instead of hitting the QP again and from the other side of the mountain we could hear the heli spinning laps shooting the QP with DCP, Carter, Kaitlyn, Blake, Dylan and Lucas; I got a lil jelous haha.
Over the next couple days we had to deal with inclement weather putting us on hold and had to make use of whatever windows we could... sessions went down on the hip jump and fun little jib features were built, pool tables were seshed, darts were thrown (I think Wallisch and I had a combined 50+ games of darts/pool over a couple days), beer flowed like wine, and beautiful girls flocked like the salmon of capistrano. We went out and hit the tree jibs that had been built and got some shots there, we had two side by side jibs built and i think the stars of that session were definitely Wallisch, Blake and Sage.
Then on the day I had to leave, we were blessed with several inches of new snow... pow day on May 17th?!?! I think so!! We packed up the Phantom cam and made some pow slashes, pillow bonks, tree taps, and all around cool looking stuff! Using that camera in the BC on snow days is quite the production but I am more than confident that it will be worth it in the end! On my very last hit on my last feature I had a scary moment... I did a lil 360 and got punched forward on landing into some trees... I hit the back of my neck/top of my back on the stump and heard a crack (looking back it was probably just a branch) but ended up being ok... just a couple days of being real sore, I got lucky!
Overall it was an awesome trip and I'm really glad I got to go. Big shout-outs to The North Face and TGR for making it happen, all the staff at Baldface for being some of the raddest people out there and all the other athletes that were there! I had a blast, and can't wait to do it again!!
** Sunset view from the top of Baldface on the first day of the trip**
**Nothin like a 100 footer to add to the beautiful British Columbia landscape**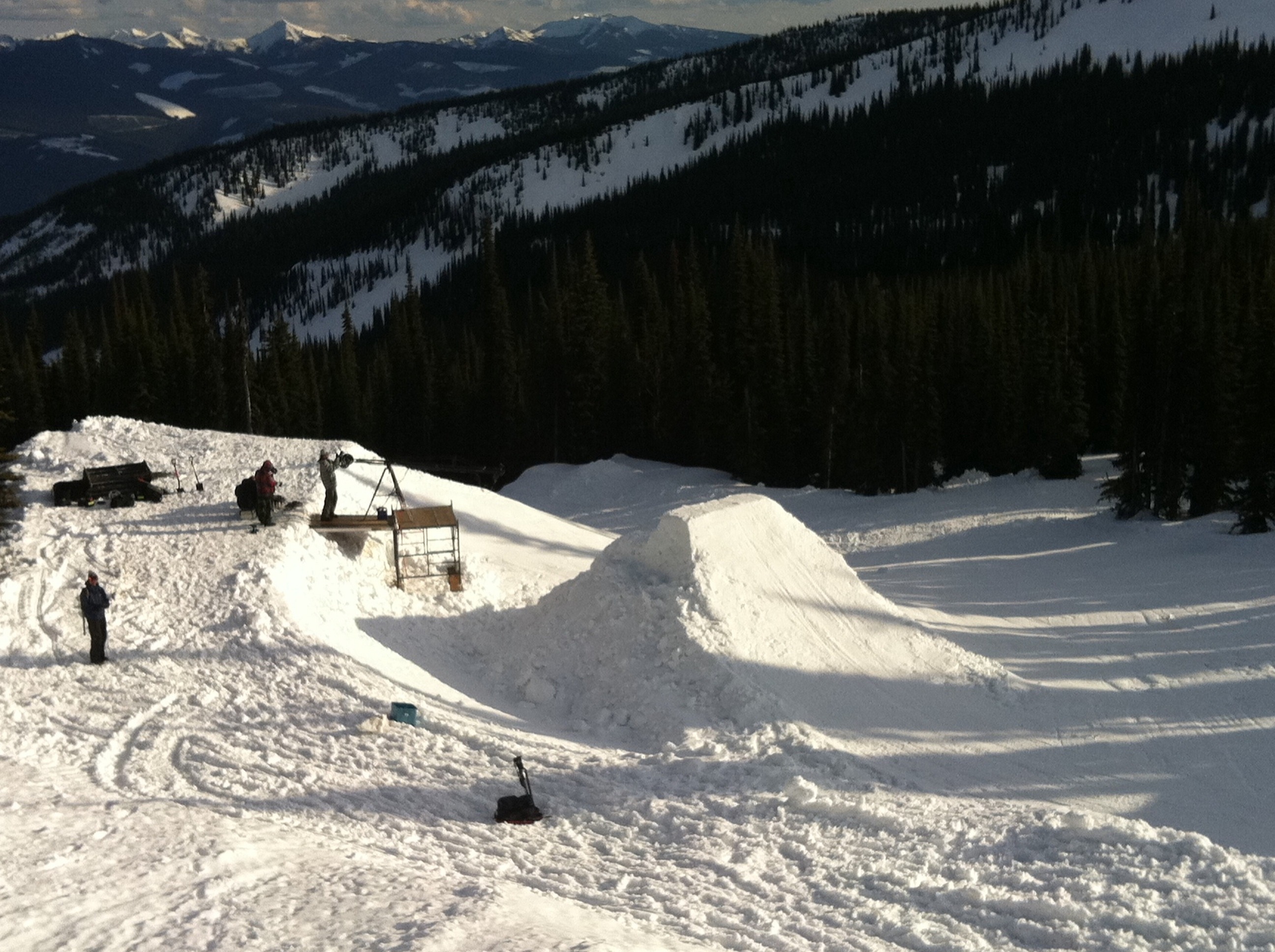 **Filming a hip session while waiting for the 100 footer to be finished**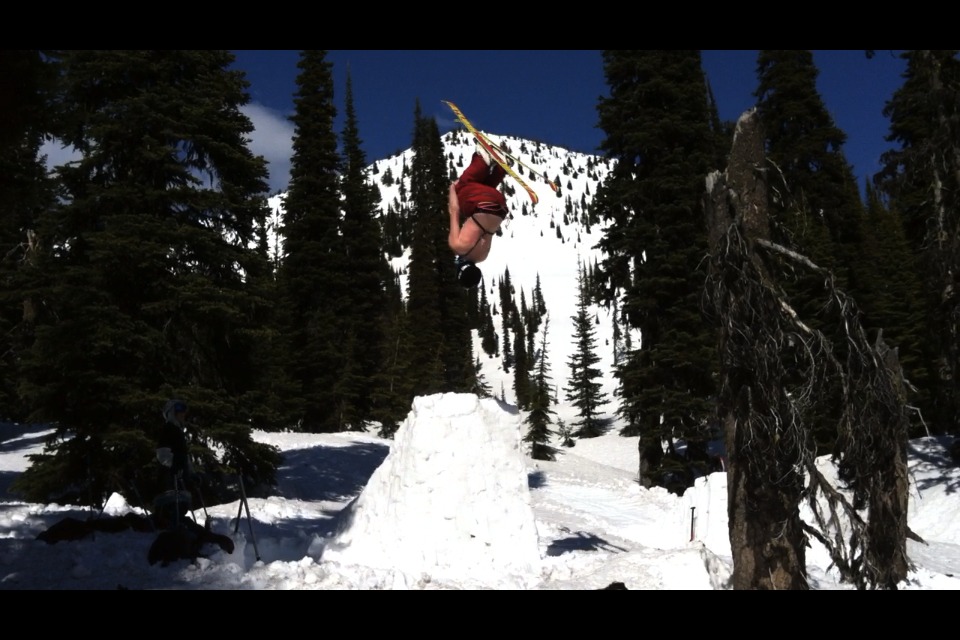 **Sessioning some hand built jumps in the woods **
**Can't complain about a mid-May powder day **