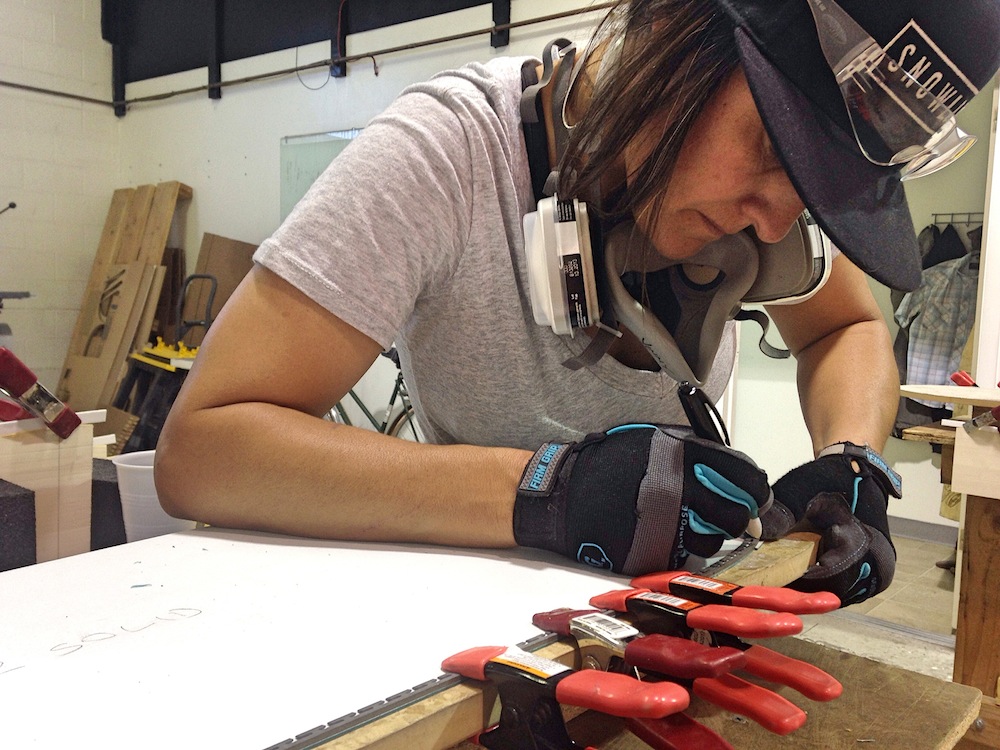 "Measure once, cut twice." Palace Snowboards photo.
Palace Snowboards, the industry's first female-specific powder board and splitboard company, breaks ground this season. Founder Stephanie Nitsch designs and hand-builds every board in a Salt Lake City shop shared with Palace's sister company, Chimera.
Like most gear innovations, Palace developed out of necessity.
"Selfishly speaking, a lot of the design elements we incorporate are based on my frustrations with womens' boards and, informally, conversations with my girlfriends who ride aggressively," Nitsch explains.
"There are plenty of of great snowboards for women to ride," she says, "but for high-intermediate to expert riders, there's very few board options out there."
"I don't think we should have to compromise, and ride a men's board if we don't need to," Nitsch adds. "That's what we have to choose from when we want to ride aggressively on variable terrain, because only a few women's boards respond on that kind of terrain."
Size Matters, And So Does Shape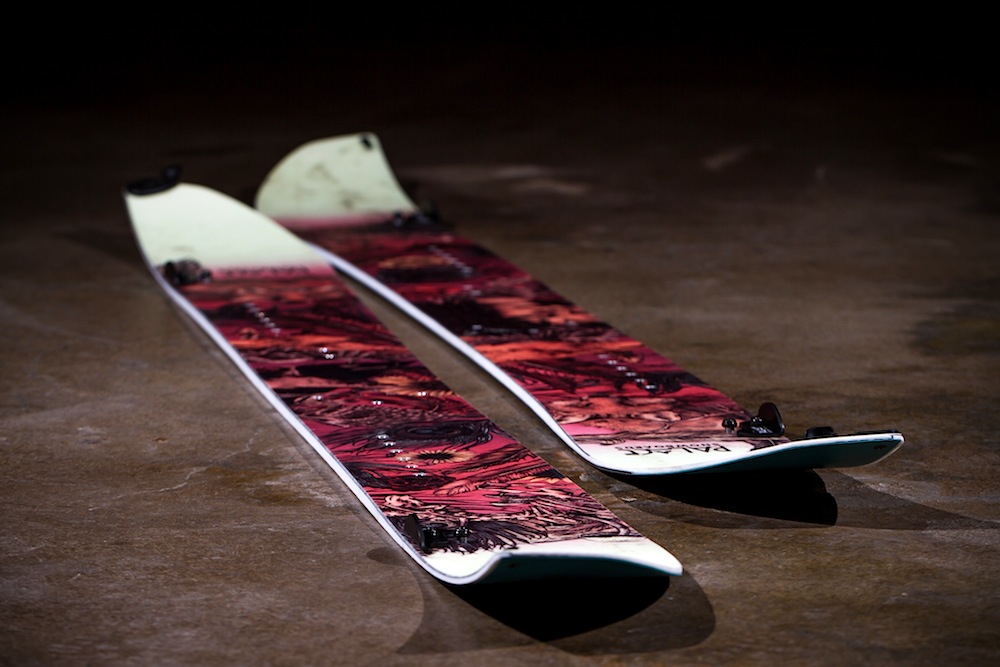 This directional, pintail splitboard–the Zeitgeist–comes in relatively larger sizes at 152 and 158 cm. Lindsay Daniels photo.
Palace's unique design elements include early rise and more flex in the nose of their powder boards, which help female riders shift their center of gravity towards the board's tail and make riding powder more efficient.
Nitsch also experiments with different nose and tail shapes. For example, Palace's all-mountain deck, the Zeitgeist, features a spoon nose with a tapered, pintail-shaped tail. The company's more freestyle-focused board, the twin-tipped Hedonist, has a blunt tip and tail, which effectively provides more surface area.
Going against the grain, Nitsch's design philosophy focuses on producing larger boards. The smallest models of the Hedonist and Zeitgeist are 151 cm and 152 cm, respectively.
"We have been taught to ride shorter boards, and therefore, women haven't been sized properly," Nitsch explains.
Steph Nitsch demonstrates how a powder deck should float during a prototype test in Selkirks, BC. Abby Dell photo.
"With backcountry boards and splitboards, you want to ride something a little bigger," she says. "When you are out there skinning, you need more surface area. With extra weight of backcountry gear, you need a bigger board to making floating more efficient."
For Women, By Women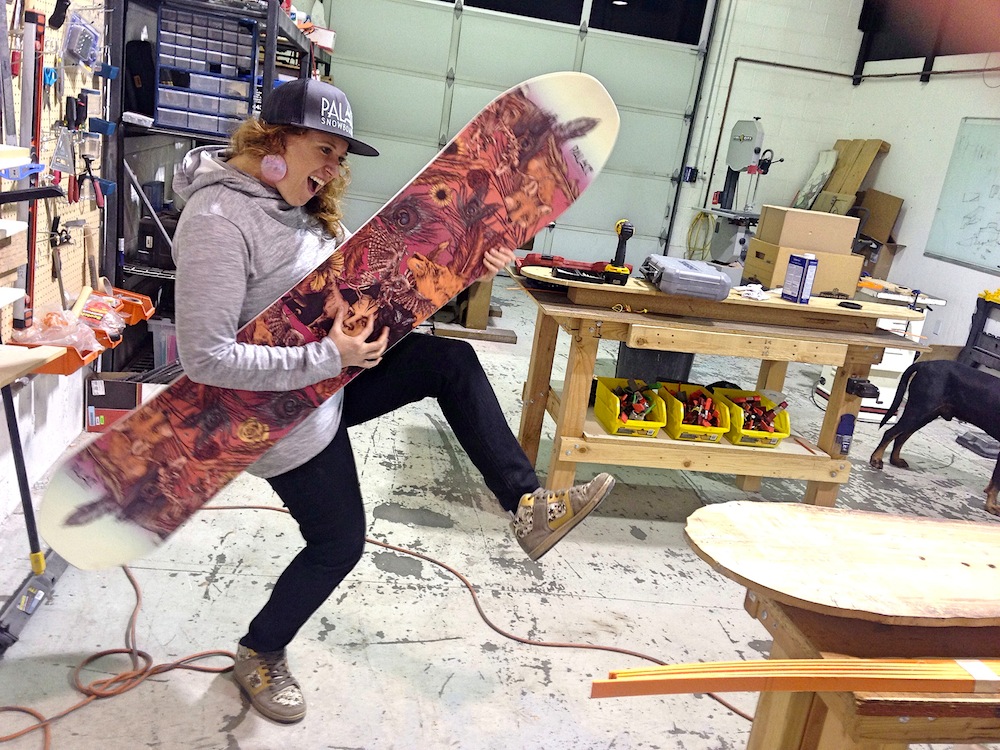 Founder Stephanie Nitsch on a solo shred. Palace Snowboards photo.
"We're giving women a platform to express their creativity and talents, literally and metaphorically platform," says Nitsch, adding, "It just so happens to be a snowboard."
The goal with Palace is to make a company sustained and supported by women, from the board-building to marketing to graphic design. Hand-building boards is a cool way to give attention to women in male-dominated industries, Nitsch points out, the same way a distiller in whiskey industry or car mechanic might.
The Palace (wo)man cave. Palace Snowboards photo.
"Every board we touch is produced to the best standards we can make, and that quality control applies to every damn detail we put towards Palace," Nitsch says. She adds, "I want those details to be thoughtful, and a lot of topsheets I see don't have meaning."
Not a big proponent of pink, girly graphics, Nitsch explains that she sought to blend feminine and masculine qualities on her boards' topsheets.
"Lo and behold, my favorite graphic had some pink, flowers, deers, and peacock feathers, but it's juxtaposed with bones, mushrooms, and a big ol' elk on the topsheet," she says.
More Backcountry Knowledge, Less Intimidation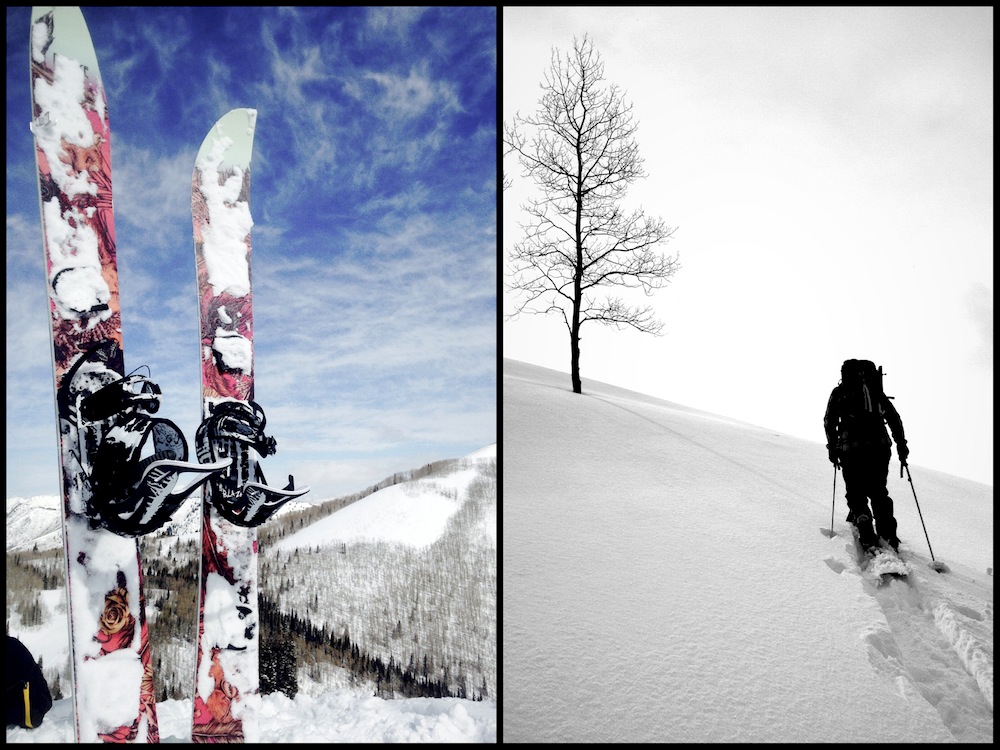 Nitsch tests the Zeitgeist splitboard in the Wasatch backcountry. Palace Snowboards photo.
In addition to building boards, Palace seeks to facilitate backcountry education and splitboard skill improvement through strategic brand alliances.
Palace will collaborate with the Splitboard Education Collective this season, and offer women's splitboarding lessons that teach riders how to set skin tracks, dress for backcountry travel, assess risk tolerance, and examine avalanche terrain. Nitsch explains that she's also interested in working with SheJumps.org. The outdoor education non-profit aims to break down intimidation factors for women in the backcountry.
Currently Palace Snowboards aren't available in retail stores. Instead, the Salt Lake City company has a direct-to-consumer sales program, which includes a creative demo program. Interested riders can contact the company and test boards, and then make an informed decision about the size and model they'd like to buy.
Nitsch calls Palace a labor of love--and experimentation. Palace Snowboards photo.
Nitsch hopes this consumer involvement will gain the company exposure, and feedback. She says that having potential customers actually ride a board is a more comprehensible experience than referring customers to a web page with board specs and reviews. For the average snowboarder, she says, explaining running length and sidecut doesn't mean much.
"Our demo program offers a more personal interaction between women and snowboards," Nitsch explains. "There's a lot of value in being real with another women and not alienating her with techy gear-speak, or alienating her with really aggressive objectives in the mountains. We're about really about being approachable, welcoming and friendly."
---
Check out Palace Snowboards' website and be sure to follow founder Stephanie Nitsch's profile in the TGR Stash–she's a regular contributor for both winter and mountain bike content.