The Mountain Collective/TGR #Crowdtrip is a crowd-sourced road trip with four average guys checking off all 6 Mountain Collective Pass destinations - Jackson Hole, Aspen/Snowmass, Alta/Snowbird, Mammoth Mountain, Squaw Valley/Alpine Meadows, and Whistler/Blackcomb - in one non-stop crowd-sourced swoop. Check out all the stop recaps at tetongravity.com/crowdtrip.
Words by Theo Birkner, photos by Caleb Del Begi & others
The Big Mountain Bunny down and out! There's nothing like a failed truck-tire jib to ruin your day through a distal type 2B clavicle fracture that requires surgery.
Otherwise, Mammoth was brilliant. Sure, the snow wasn't pouring out of the sky (at least not until the day we were leaving), but the terrain that was open was fun, and the terrain park quality is simply second to none.
In fact, do yourself a favour: if you fancy yourself a park rat, or even like to think of yourself as partly competent through a jump line or along a rail, get yourself to Mammoth. Even as long-time skiers at Whistler-Blackcomb, a place not entirely dissociable with quality park design, we were inspired and impressed by the Unbound Terrain Park.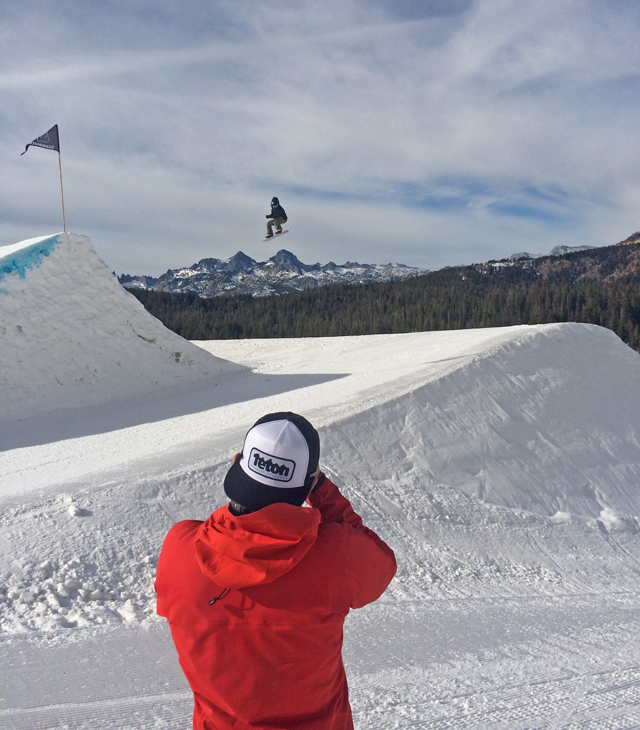 The #Crowdtrip took full advantage and organized a little impromptu big air comp. We crowned a King and Queen of Unbound, both of them snowboarders (because oddly, that's what most people do there).
Wooley the Mammoth seems to like the park too, and showed us around his jibbing grounds; the dude can ski, that's for sure, but he takes care to avoid the big jumps – something about his head catching too much wind.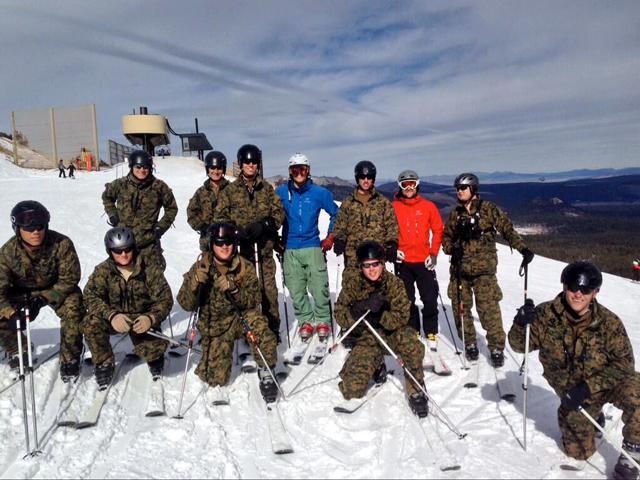 Outside the park, there was a lot of action to behold as well, not least the US Marine Corps, training up a storm on white, unmarked G3 telemark skis, many of them on downhill setups for the first time in their lives. Big props go out to the mountain division of the US Armed Forces, but we also have to ask, wouldn't it be slightly less conspicuous to dress them up in regular ski clothes rather than having beginner skiers falling all over the place in their uniforms?
Naturally, we also had to maintain our streak of utilizing the Mountain Collective's NASTAR courses for bragging rights and accumulation of those little NASTAR pins you get in the gift shop. Unfortunately, Alex didn't have a beret to mount his celebratory pin to after smoking Theo down the GS course.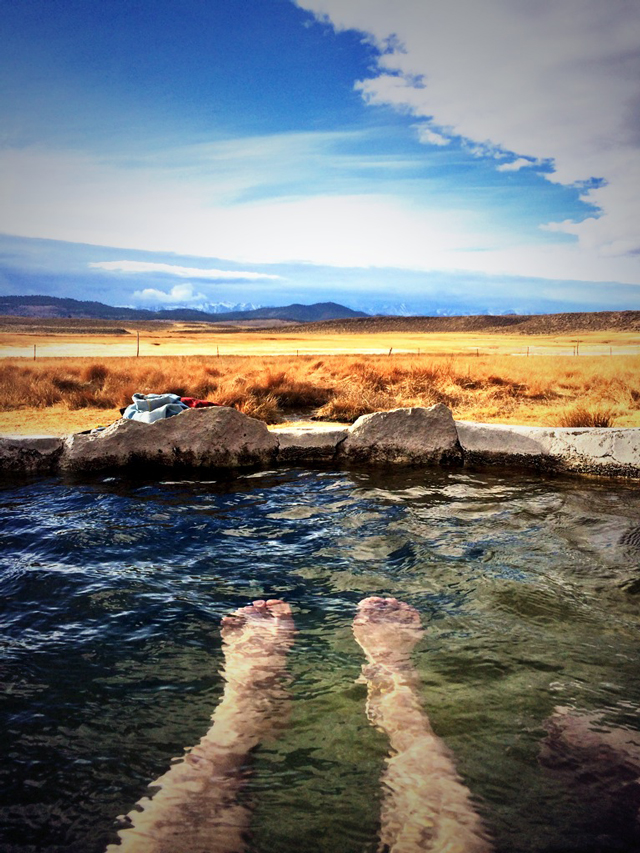 Mammoth Lakes isn't all about the hill, of course. We cruised out to Pulky's Pool and enjoyed the natural hot springs.
And we even managed to take in the Hahnenkamm DH race in the presence of the Jaded Local, the infamous Powder Magazine correspondent, firmly ensconced in his natural habitat at the Clocktower Bar.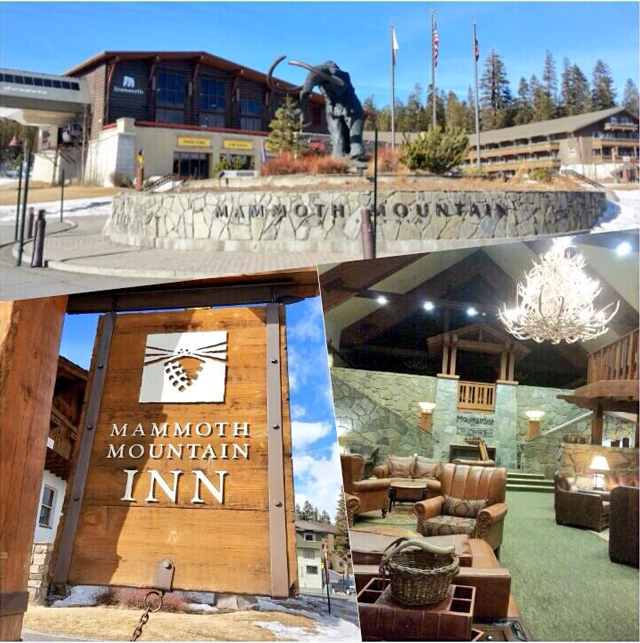 Evening bevvies included Mammoth's 60th Anniversary Ale (more on this in another post), and morning – and afternoon – delight came in the form of the #crowdtrip's best coffee, found at Mammoth Lake's Black Velvet Coffee Company, purveyors of fine espresso and other caffeinated concoctions.They did a fine job of stirring us from our slumber over at the very comfy Mammoth Mountain Inn.
And so, now we're off to Squaw, unfortunately with Theo on the sidelines for the remaining ski portion, generally feeling like crap in post-op recovery mode.
Spirits are high though, and the Crowdtrip keeps rolling. Next stop, Lake Tahoe.
Check out more #Crowdtrip content at tetongravity.com/crowdtrip.