THE "Wood"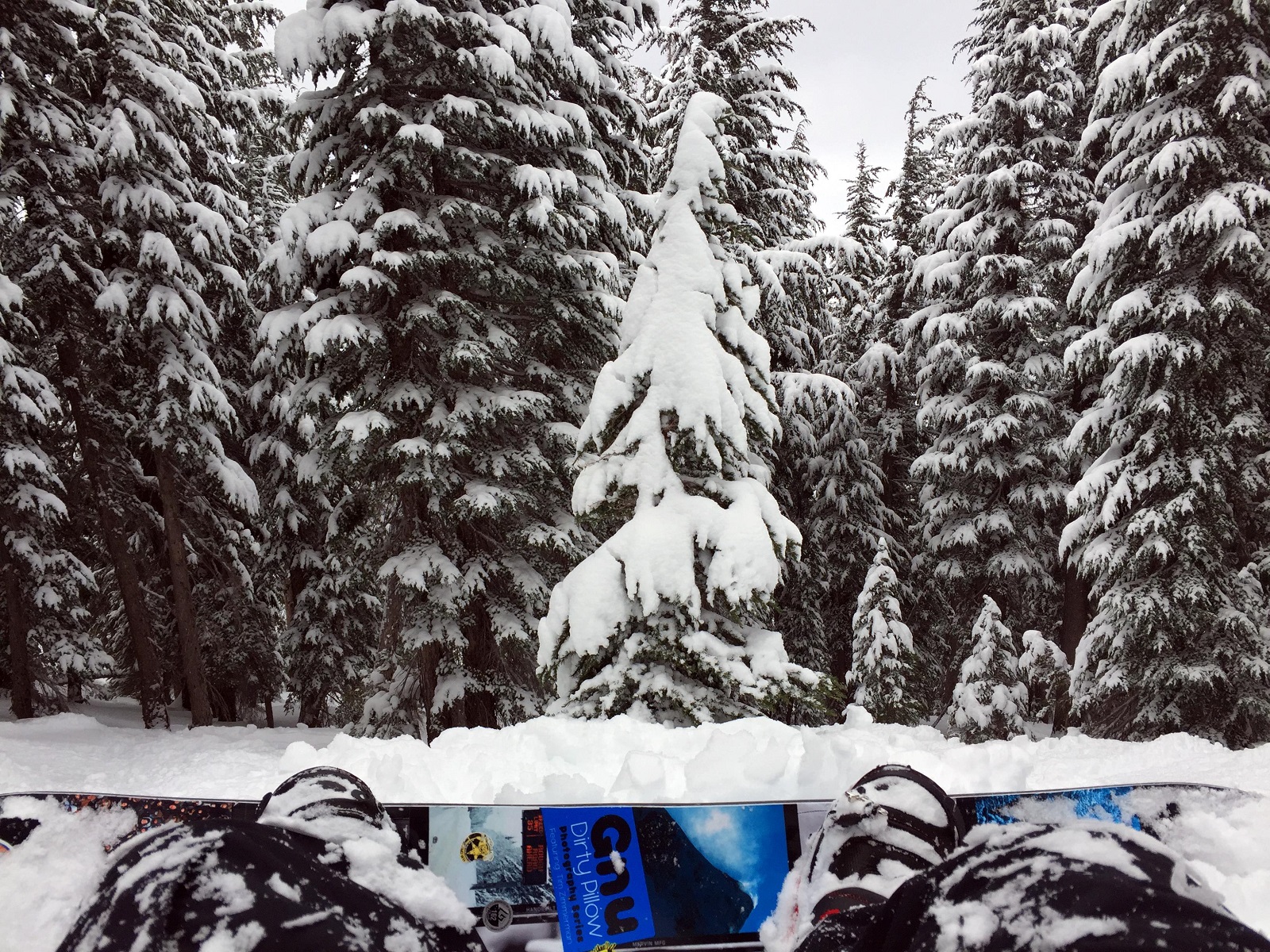 First impressions leave lasting effects on how you envision and experience people and places alike. This holds true both now and in the future.While sitting on a velvet couch in a friend's home in Chicago, he begins to describe one of his trips to Lake Tahoe. Not having made too many trips out West, I was listening to every detail. With the TV buzzing in the background, he gets up to change the channel. I focus more deeply on each word. The sound of the television begins to fade. The screen goes from glossy black to transporting you to a place surrounded by deep blue skies, the sound of chains clanking on the road and massive walls of snow.I could picture the car making its final turn towards the meadow. Endless landscape of steep terrain was now visible...Also, as sign came into view. It read "Kirkwood." The place sounded pure, untouched by mega-tourism, and most of all massive amounts of snow.As his vivid memories seem to skip like an old VHS tape,the picture flashes to the backside. This time standing atop a large cornice, called "The Wave."Animatedly recounting the descent off of it, he recollects how it felt like a dream. Dropping massive air into deep soft velvety snow, exploding around you turn after turn, which seemed to last forever.
The beginning...

This was my first introduction to Kirkwood. Thankfully, my friends memory was enough.I was hooked. Now I had to experience this magical place for myself. Reality was better than any story or anything my own imagination could dream of. It's hard to grasp as you drive up California State Rte. 88, battling a famous Sierra Nevada snowstorm. This was the same journey wagon trains embarked on in the late 1800's, trying to cash in on the great California Gold Rush . As weary travelers passed this horse-shoe canyon on their way to claim their share, little did they know that in 1971 "white gold" would be found on the land named Kirkwood.Being the most remote and arguably one of the most rugged resorts in the Lake Tahoe region, it makes sense that the start of this resort followed the same path. Bud Klein saw the opportunity that lay in front of him and thanks to a dream and hard work of being a bean broker in Stockton, Bud was able to overcome every obstacle put in front of him. He was methodical, and first things first...he needed to gain approval and build momentum of his vision to start a ski resort.
This all came together and was founded in 1968. After this there was another problem. Snow...Lots of snow. This is a good problem for a ski resort, but Bud needed State Rte. 88 plowed during the winter so snow enthusiasts could reach this legend in the making. Utilizing his business savvy, in 1971, Bud gained cooperation from the State of California and winter plowing began.The last piece to the puzzle was chairlifts. Again, Bud found a way. The first chairs installed were Snowkirk (Chair #1), Caples Crest (Chair #2), Iron Horse (Chair #3) and Sunrise (Chair #4). It's fitting that one of the chairlifts "The Reut" (Chair #11) is named after the man that almost single handedly built it, Dick Reuter. He was similar to the men that discovered the Carson Pass.He was described as a rugged explorer, a mountain man. Some would even say he stood as tall the Sierra Nevada's themselves.
The men that built this mountain were hearty, resilient, and most of all visionaries. Overlooking Kirkwood from the summit, it's easy to understand why these men put their heart and soul into opening this resort. There are cliff bands, chutes, trees, gullies, bowls, and even a well groomed beginner area separated from the rest of the mountain. The trail map may state that it's 2,300 acres, but it skis much, much larger due to the fact that every inch of the mountain is fair game.

Image above taken by Erikas Vizinas
Kirkwood's layout divides the area naturally by skill level:
Experts - Head to the top, the slopes get steeper the higher you go
Intermediates – Hit the backside or take any of the lifts that go halfway up
Beginners – Keep towards the bottom
To help gauge your skill level and find the perfect terrain, start with Reut (Chair #11). This chairlift accesses everything from gladed trees to groomed runs such as Wagon Trail, and even one of Kirkwood's trademark gullies. If you find this is too steep, give Solitude (Chair #5) a try; it offers lots of groomed runs with a lesser pitch.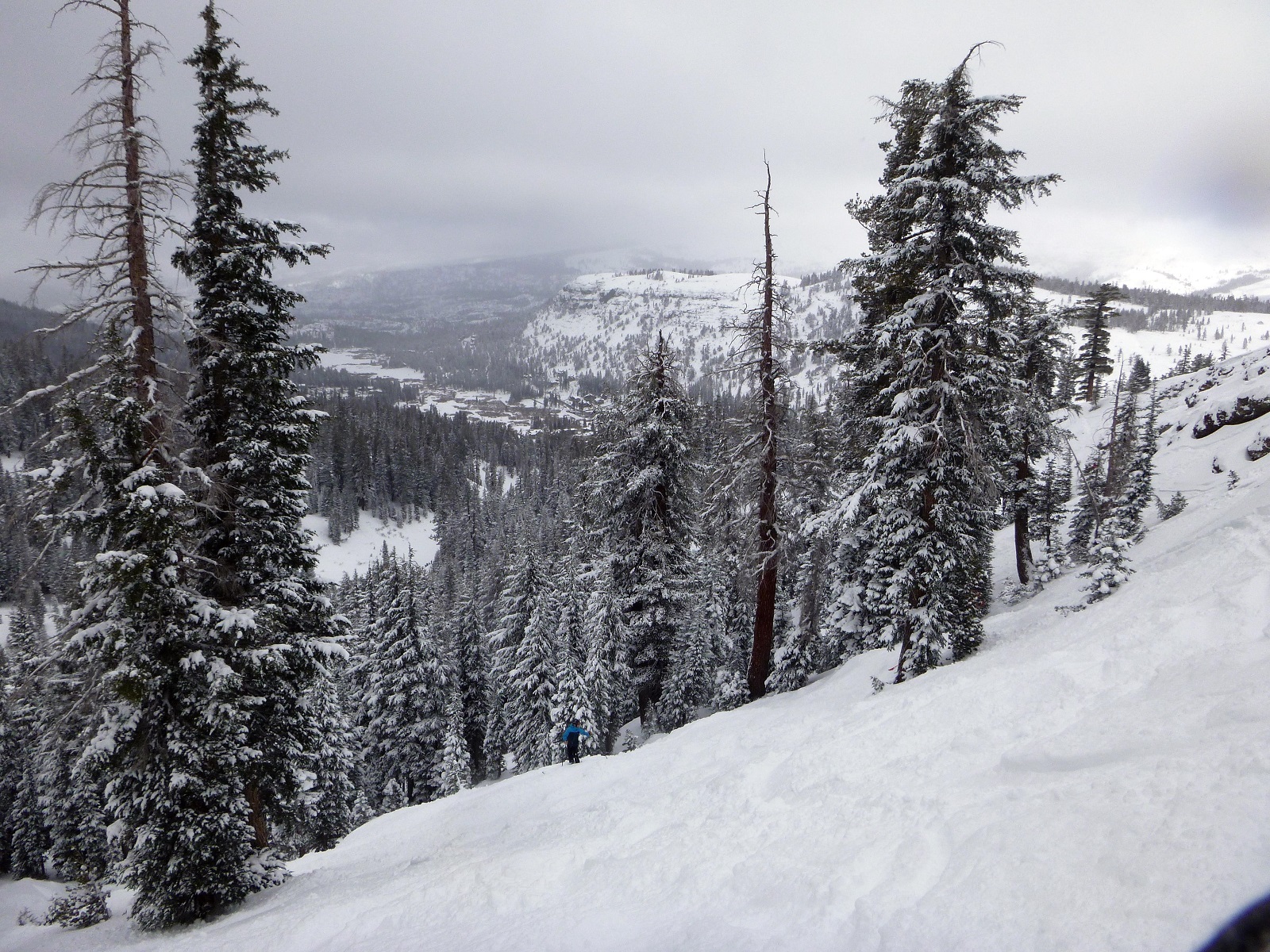 Image taken by Erikas Vizinas - Some of the gladed terrain available just to the left of the famous "Wall."
There is a decent amount of terrain for intermediates and beginners, but Kirkwood is built for experts, with 68% of its terrain in this category. Everything off of Cornice (Chair #6) is serious business with access to some of the steeper groomed runs such as Zachary. The magnitude of this slope requires winches on the snowcats for grooming, otherwise they would just slide down the mountain! For more technical lines that aren't groomed check out Olympic which has bumps, cliffs, and chutes. If you still need a bit more adrenaline, its time to head over to the Wall (Chair #10).
The Wall – Intimidation at its best
The intimidation factor begins at the entrance of the lift with a skull and cross bones stating 'Expert' terrain. As the slow, fixed-grip triple chair lumbers its way towards the top of the mountain, like the ascent of a roller coaster, you begin to think twice about taking this lift. As you leave the forested corridor, the chair opens up into the bowl where a fierce wind begins to howl making you ask "Did I make the right decision?" Finally arriving at the summit, the wind greets you with a torrential gust trying to shove you back down the mountain. As quickly as you try to unload and prepare for your descent, the ferocious wind aggressively yells at you to hurry up. Your nerves are now frayed, but it's time to trust your judgment and drop into the famous Wall. Turn after turn you gain confidence and begin to notice how amazing the snow is. Halfway down the Wall you begin to feel a sense of accomplishment and a grin begins to form. At the bottom of the bowl, you will smile and look up. For a split second you even think, "I conquered the Wall." That is until you see someone huck a 20 ft. cliff. Then you realize, nobody conquers the wall...
Intermediates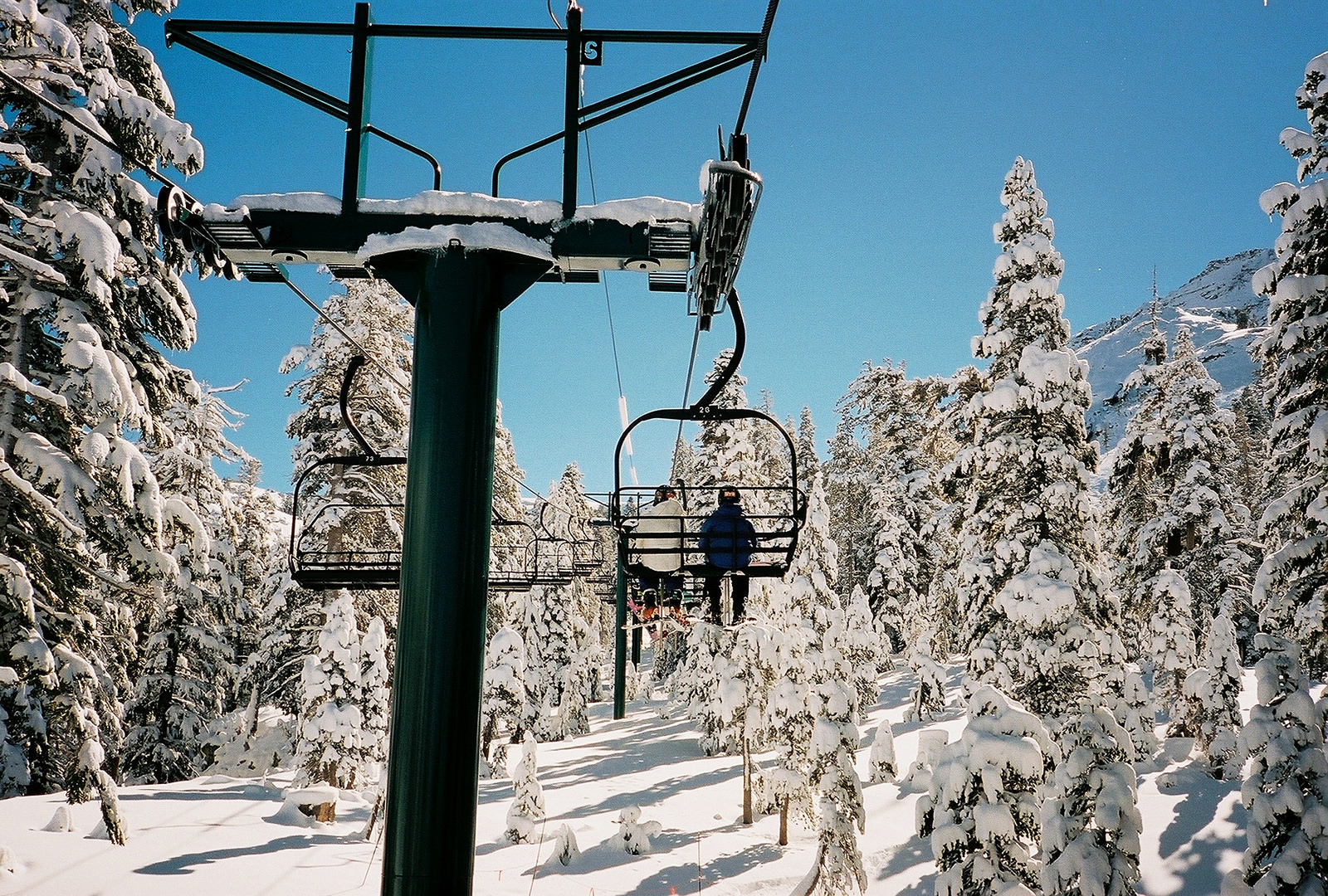 Image taken by Matvey
For intermediates the backside is the place to go once Ski Patrol opens it up. The easiest way to get there is to take Snowkirk (Chair #1) followed by Caples Crest (Chair #2). From the top of this chair, drop down any of the trails which will lead you to the back side. One thing to note…be sure to keep up your speed to allow you to fly past the base of Iron Horse (Chair #3) ending up at Sunrise (Chair #4). Once you reach this part of the mountain you'll notice this valley is a little different than the original part of Kirkwood. Tucked away from all the parking lots and lodging, this is truly a winter haven surrounded by wilderness. As Sunrise (Chair #4) whisks you up the mountain, initially the lift will be enclosed by a canopy of tall pine trees. In a flash, the forest recedes and suddenly you are exposed to a wide open bowl. Your mouth will drop at the options in front of you. As far as the eye can see are bowls, gullies, widely spaced clumps of pine trees and tons of white snow. You begin to salivate at your newly found opportunities. From the top of Sunrise (Chair #4) you will see nothing but purity and nature and then on rider's right is the famous 'Wave'. If you're lucky you'll see people jumping off of it, hooting and hollering all the way to the bottom. The runs straight down the center of the bowl like Happiness Is or Elevator Shaft hold a good intermediate pitch that lets you open up and make giant turns down the entire mountain. After you've lapped the Backside a few times most likely you will want to enjoy this "Rare Earth" as long as possible. Luckily, a lone structure sits at the bottom of Sunrise (Chair #4) called the Outback Grill. It's a great place to lunge in an Adirondack chair, have a snack and enjoy the sunshine and remoteness of its location.
Beginners
The intermediates may have the backside but the beginners at Kirkwood have two sections all to themselves. My suggestion would be to stay in the Timber Creek area which has nice wide open groomed runs to learn how to ride. Squirrel Ridge off of Timber Creek Express (Chair #7) is a run that every kid or beginner would want to play on. It's a 'gentle' gully that snakes, winds and rolls its way through widely spaced giant Ponderosa pines all the way to the bottom. It will make any child…or adult giggle with joy. The other beginner area is based around Snowkirk (Chair #1) near the main lodge. Both beginner areas have separate bases so to get from Timber Creek to the Main base area you must take Jane's Jaunt, a cat track, or via a free shuttle that runs between the two base areas.
Insider tips
First thing to know is locals call the lifts by number instead of name. So, if someone says head over to #6 they will mean Cornice Express. If you are lucky enough to be at Kirkwood on a powder day, ski patrol will "roll" the openings of the lifts so keep your ears peaked while waiting around the lifts to find out what part of the mountain they will open up next. Normally, they start with Cornice (Chair #6) and then incrementally open up everything that is on the Front Side. Finally, if you are really lucky they will open up Sunrise (Chair #4) and the back side bowl will be untracked. Like everything at Kirkwood, patience and knowledge is the name of the game.
BEWARE: Ask the front side lift operators first if Sunrise (Chair #4) is open before you start your trek to the back side, since even days after a storm Ski Patrol could still be digging out this chairlift.
After the day is done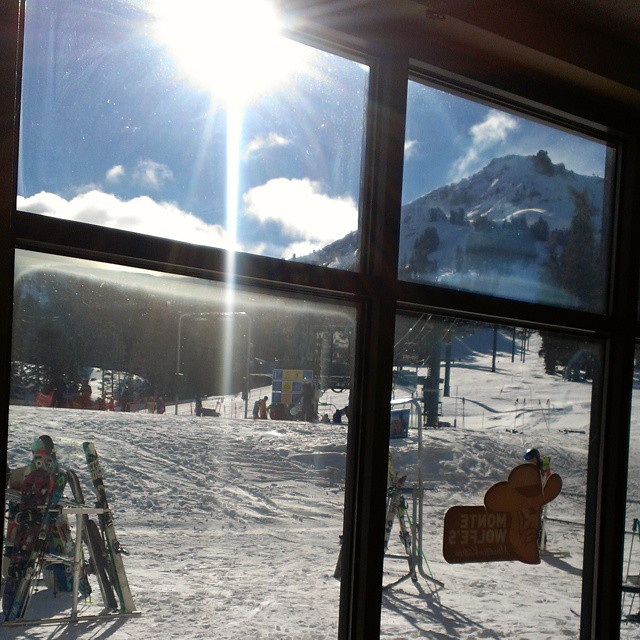 Looking from the lodge out to Kirkwood on a beautiful day. Image taken by Alex Silgalis

A nice way to finish your day at Kirkwood is to go back in time. How does 1864 sound? As you leave, take a right at the exit and head down the road about a quarter mile and there lies the Kirkwood Inn. When Bud Klein was looking for a place to build a ski resort this is the place he stayed. In fact, that year there was so much snow they had to dig DOWN to find the Kirkwood Inn. This place is like a time capsule with stories of great ski days and even rowdier times when folks passed through California for the Gold Rush. One of these stories relates to the fact that the Kirkwood Inn sits in three counties. During the prohibition era when a county inspector would come to the Inn, they would 'roll' the bar from one side of the building to the other so that it wouldn't be in that particular county. Along with its legendary past, this historic bar and restaurant offers great food and fantastic bartenders. The food is so good in fact that several of the locals don't even ski, but call the Kirkwood Inn their 'watering hole.' The award-winning chili and jalapeno cornbread are great on a cold winter's day. Be sure to ask the bartender about the stories from it's past. You never know what you'll learn.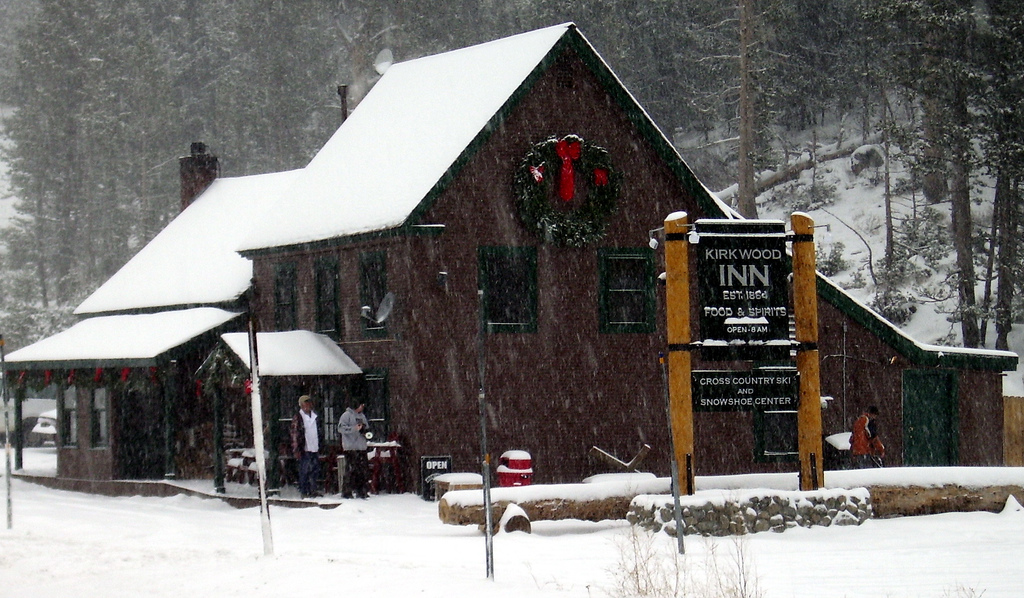 Image taken by Dean. Looking for a place to say near Kirkwood? Check out his cabin here
A little bit further down the road lies Sorenson's, a great place to stay if you truly want to leave the modern world and connect with people again. The lodging consists small one-of-a-kind cabins that don't have any televisions but contain small kitchens, cozy beds and even some fireplaces. The main lodge has a great restaurant that serves food family style and their mixed fruit cobbler is one of the best cobblers you will ever have.
This is just a couple of hidden gems around Kirkwood. Sign up for the Local Freshies newsletter so you don't miss out on our next edition of what Kirkwood's neighborhood has to offer here.