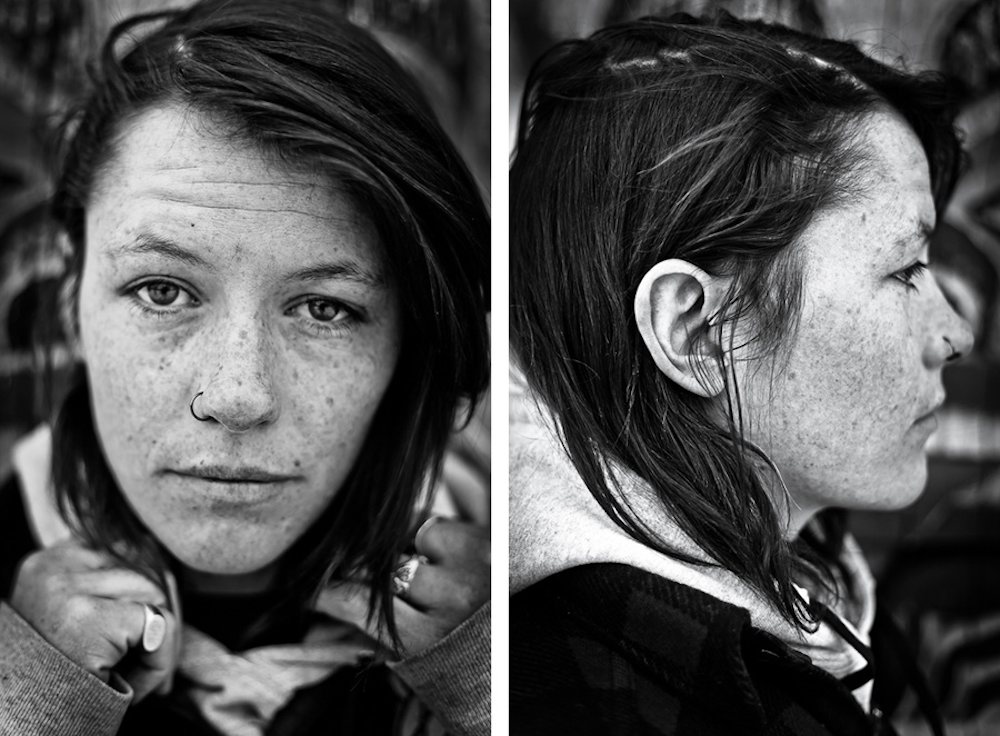 Urban-turned-big-mountain rider Laura Hadar announced her retirement. Andrew Miller photo.
Veteran professional snowboarder Laura Hadar released her full part this December. With the release, she also announced the end of her pro snowboard career. She explained why she chose to call it quits and what's next.
Why are you retiring?
It's mostly because I don't have sponsors right now. I knew I wasn't going to get paid forever, and I knew this day would come. More recently, I've seen it happen to multiple people. They were pros with pictures in the magazines and video parts. Then sooner or later, you're like, "What happened to that guy?" Maybe now he's working construction or something.
Knowing that this day might come, I think I've always questioned what pros do when they're done. Some of the bigger pros–like if you went to the Olympics, and you're Sage Kotsenburg–don't have to worry about it. But for the little guys like us, we had our time, but we were never on Oprah or anything.
I don't want to just disappear. I could see myself doing that–getting burnt out. I've already noticed that with my relationship with snowboarding. Part of what I loved about it was scaring the shit out of myself. Now it's hard to get to that level of motivation for me. But it's also very basically about making a living, having a job.
I want to take my retirement in my own hands. If people think I'm a pro snowboarder, they won't think I'm ready to do something else.
I love snowboarding so freaking much. It's the truest love of my life. It's a like a lover, "I hate you! I love you! I'll never see you again!" We'll grow together in different ways. But I won't be front of the camera. Maybe I'll be the person on the sideline helping to set up the shot.
Hadar earned a name for herself riding big technical lines like this one in Alaska. Andrew Miller photo.
You filmed prolifically and got so many magazine spreads during your career. Can you talk about why you were so committed to having photographers shoot the lines you rode?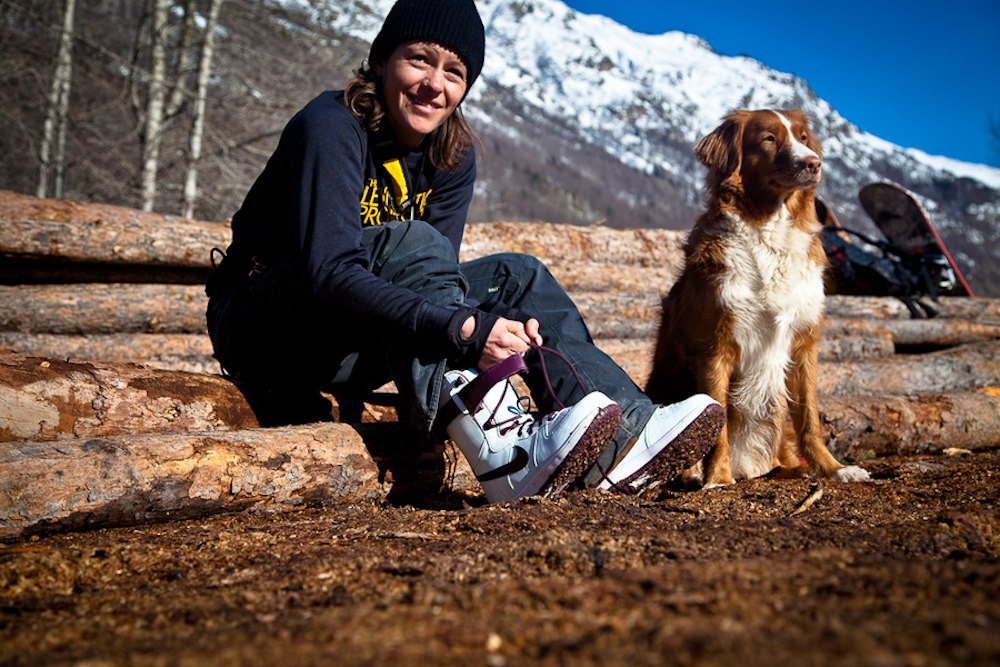 After a long day riding in Haines. Andrew Miller photo.
That's part of the job. In fact, that is the job: to make sure when you're snowboarding, you're documenting it. And you're doing something that's progressing the sport, yourself and the environment. You need to giving your consumers something to grasp onto.
You can do that while having the best time of your life, and it often happens organically. You can still have that while you're in the zone.
I would hate for people to think I just fell off. If I were getting paid to snowboard, I would still be progressing my riding and putting myself in situations I wouldn't be in if it weren't my job. If you can't do that, you're out of a job.
What was your experience like competing on the Freeride World Tour last year?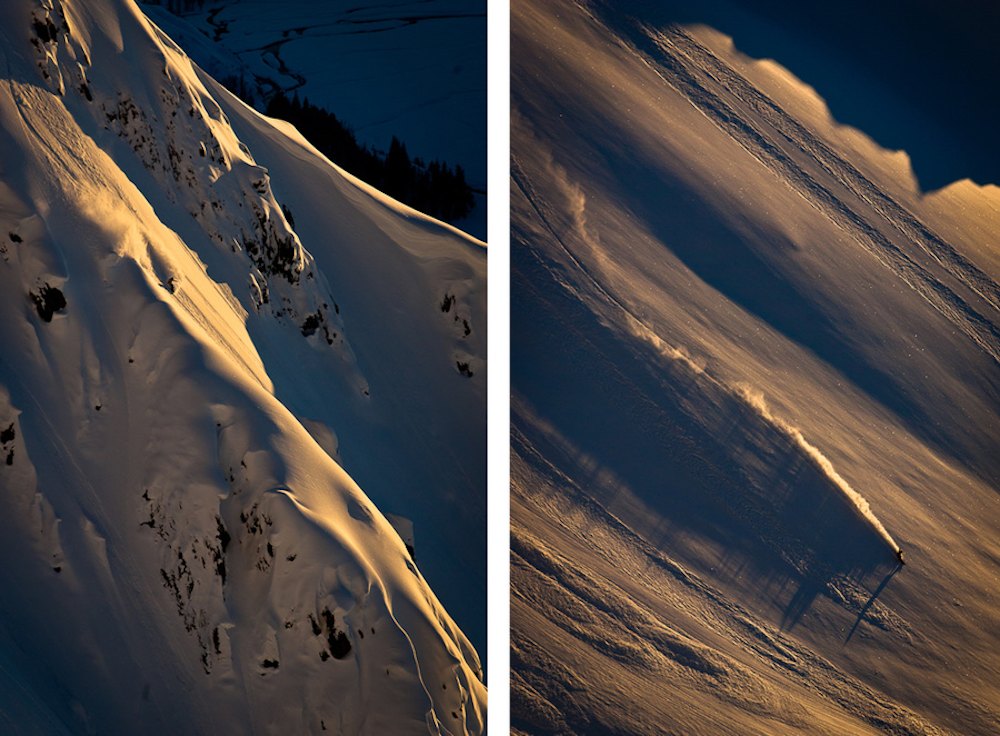 Sunset heli lap. Andrew Miller photo.
It was so different from what I had been used to doing, which was filming for the past 10 years. It's all about one run. I used to do the X Games and slopestyle and other comps, but you'd always have a practice day and qualifiers. With big mountain comps, you wait around for weather, and then maybe you drop 60th, and then you drop something that you think, "Why would someone even ride this line?" It does show which rider excels in whatever conditions. I didn't do well under pressure.
If you're filming, it's different. If you mess up your first run, you don't suck, you just needed a run to get your nerves out.
I don't think much of the snowboard industry knows or cares about the Freeride World Tour. I had to explain to almost every pro snowboarder I talked to what the FWT was. In Europe, it's more popular. And it's more popular with skiers. That was one of the fun things about it. I love skiers.
So, what's the next step for you?
Laura Hadar's farewell part.
I don't have a clear picture of it right now. I think it might take a couple years for me to find the next thing. I'm interested in exploring what's out there. I've spent 15 years in the industry. Also I've have owned a clothing and sneaker store called Fice for seven years this April. The past four years I've been working there from May to January full-time, then I check in infrequently during the winter. Now I'm full-time.
I have a lot of buying experience and a solid skills background in a niche market. That's why I want people to know I'm retiring, because if there's a company with a place for something I can fill, I'm ready to try that out. I'm thinking of getting a job in the industry, but in a different role, like as a team manager or marketer.
I want to get involved with a company that bridges the gap. like street riding in the women's market. I would be a fun person to be a liaison with companies breaking into the women's market.