On the fringe of conventional ski holidays can be found the odd ski resort with a special reputation - here's what La Grave.com has to say about skiing la grave:
"By exploring the domain of La Grave-La Meije, you are not in a typical ski resort.
This is a real mountain environment as you head down in an unmarked, and non-patrolled area at your own risk.
You must be aware of all mountain hazards including rocks, avalanches, crevasses, and be ready for the possibility of drastic weather changes.
In 30 minutes, the cable-car (téléphérique) takes you to 3200m, where you can create your own itinerary for the descent. You can choose from vast glacial escapes to steep chutes, a world away from the marked trails, the ropes, and the signs of a ski resort. Let your skill level and your inspirations guide you.
This freedom requires a certain technical level, but more importantly humility, responsibility, and respect for Mother Nature.
For yours and everyone's well-being and piece of mind, you need to take certain precautions before heading out."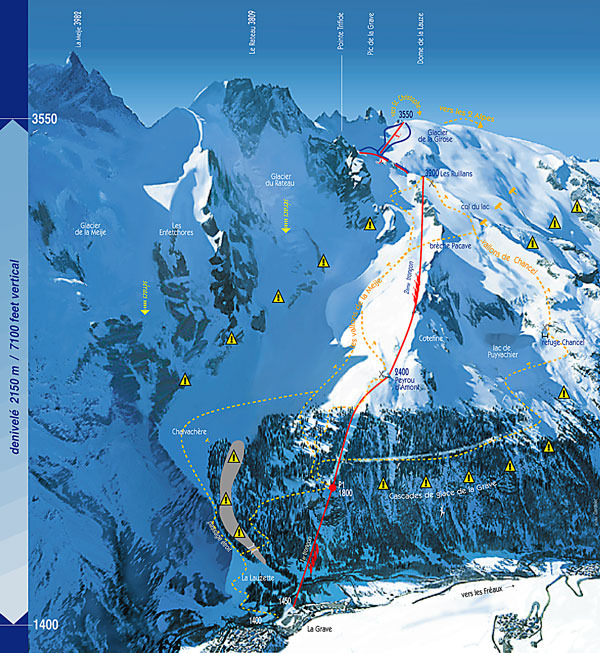 Unlike pretty much any other ski area in the world, on the la grave piste map the "restaurant" symbol is heavily outnumbered by the "severe danger" symbol.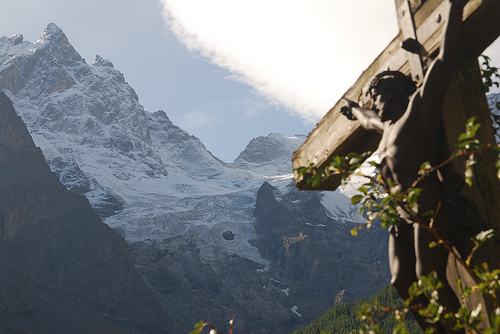 There's no doubt that La Grave is something special… and perhaps your skiing needs a little magic too, to fully appreciate what it has to offer.
But you don't need to be Doug Coombs to ski la grave – you can enjoy spectacular off-piste heaven in comparative safety if you (1) hire a local guide and (2) are very honest about your skiing or snowboarding ability.
There are, in truth, very few places left in the mountains that maintain the style, charm and authenticity of the Cortina or Saint Moritz of old…
… staying and skiing in la grave is the closest you can get (in 2010) to being in a 60's Bond movie.
La grave is beautiful, unspoiled and, as is given away by the cars parked in its streets, that perfectly vintage-glam mix of old local familes and old-money ski-tourist.
No doubt there's more than the odd parvenu here, but you can kid yourself that you're rubbing shoulders with discreet European minor royalty and David Niven types.
It creates the perfect foil for La Grave, to visit Alpe d'Huez and Les Deux Alpes (just around the mountain) first.
The latter two ski resorts provide everything that the modern package ski holiday maker has come to expect from their ski holidays – massive and modern lift infrastructure, huge variety of accommodation, eateries and nightlife, well organised on piste safety.
La Grave is everything that the modern ski resort is not – un-pisted (if not entirely un-patrolled), beautifully aged mountain village, small apres ski scene, higher cost of guided skiing.
La Grave might not fit most peoples idea of a ski resort, but that's precisely its charm – the authenticity of a proper, old fashioned mountain village, coupled with proper all-mountain skiing and snowboarding.
Un-pisted, un-tamed… un-safe? possibly.
Un-dimned, un-blunted, un-spoiled? Definitely!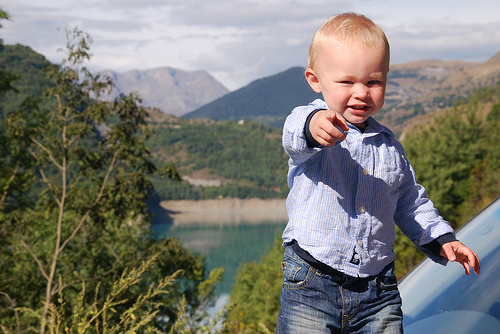 (our Jimmy says "get your piste-softened, lift-cossetted, choc-chaud-pampered arse out on a real mountain")