Words and Photos by Wade Dunstan.
I hitched a ride to Park City, Utah, to meet some friends and to push chairlift season a little further into the spring. When I arrived, I heard the results of The North Face Masters qualifying day: Jackson Hole was dominating the Top 10. So I decided to go give our hometown heroes Mikey Mahron, Blake Paul, Alex Yoder, John Rodosky, Kyle Clancy and Mark Carter the sort of moral support they probably didn't need. Hoping only to see a break in the forecast of rain on the trip, I hadn't really considered the chance that I'd run into full on winter again this season. As luck would have it, the days leading up to the event had brought ideal conditions to the venue.

The morning saw the women smoothly through their runs. Shannon Yates, of Utah, the 2010 overall champion, reclaimed her title with a confident and solid run. She was followed in second by fellow local Beth Wiessman. In third and fourth place were Cindi Lou Grant and Casey Lucas, respectively.
A.Y. the young jedi. Alex Yoder, of Jackson, Wyoming, sends it last Saturday at The North Face Masters at Snowbird. Yoder was in second on Day 1, but ended up placing sixth overall.

The men's runs were plagued by intermittent weather and poor visibility. When we finally reached the top of the venue, we were dizzy with vertigo and uneasy from the long unfamiliar traverse over uncertain terrain. The smiling face of Alex Yoder greeted us with surprise and brought us back to reality. For the first hour we were up there, not a single competitor was able to drop. We passed the time catching up with old friends, making new ones and familiarizing ourselves with those surroundings near enough to make out through the dense fog. Eventually, the athletes were told to take a warm-up lap and we were obliged to join our friends on a lap through untracked "Closed for Event" terrain, next to the venue. Arriving at the top again, the weather began to break and athletes were allowed to drop periodically when the dim forms of the finish line and judges tent blurred into view.
Blake Paul, of Jackson, Wyoming, won the Young Gun award. Paul was in first on Day one, but tied with Yoder for sixth overall.

Nine hours after the event began, all 35 competitors were able to get in their runs. A lot of hard charging, fast runs were put down. Creative lines were made through hairy zones, the weeks of sunny weather had condensed the snowpack and beneath the new snow lay hidden bits of Mother Earth ready to take riders down and ruin otherwise great runs. After a lofty backside 360 and some technical airs, Mikey Mahron was caught by a shrub and thrown into tomahawks down a double cliff line. It was terrifying.
The North Face Masters women's podium at Snowbird: 1st) Shannan Yates 2nd) Beth Weissman 3rd) Cindi Lou Grant.

Alex Yoder and Blake Paul both put together smooth and creative runs, landing them together in sixth place. John Rodosky rode out of one of the most exposed landings I've seen and put himself in fifth. Jacob Levine took fourth place, and third was given to Brian Bozack, of Sugar Bowl, CA. whose line was smooth and included several ninja airs. Jamie Rizzuto, of Fernie, B.C., took 2nd, sealing the deal with a backflip mid-course. Sammy Luebke was the standout rider of the day, blasting a clean method in the middle of a run filled with high-speed lines and sizable drops, he took home a Katana for the day and a Howitzer shell for the overall tour title. Blake Paul, who qualified first, was given the Young Gun award for being the most impressive rider under 21.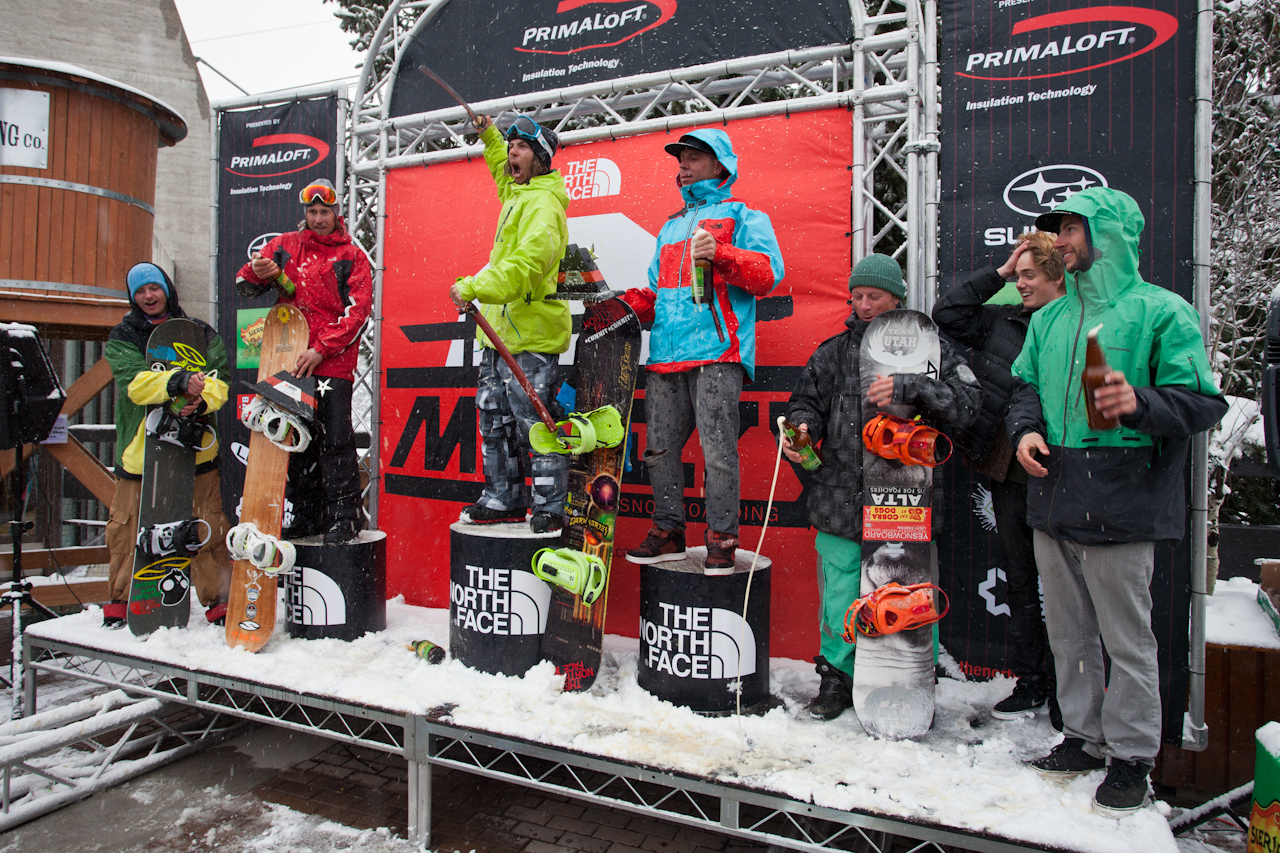 The North Face Masters men's podium: 1st) Sammy Leubke 2nd) Jamie Rizzuto 3rd) Brian Bozack.

Overall, it was a good show, and a great time at the The North Face Masters at Snowbird.