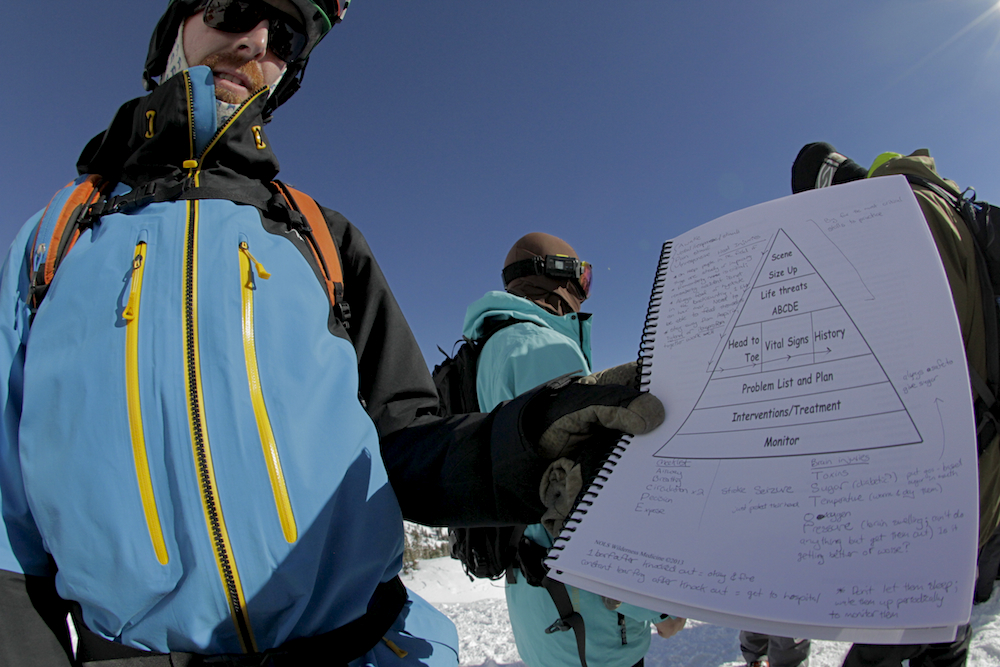 TGR's International Pro Rider Workshop presented by Icedot.org is going down this week at Snowbird. The three-day workshop trains TGR's film athletes and cinematographers in critical ropework, wilderness first aid and rescue, and avalanche awareness skills so they can be on point for the winter ahead. Day I, instructured by Exum Mountain Guides' Zahan Billimoria, brought the crew up to speed on rope skills for accessing steep and dangerous terrain. Yesterday's class, taught by Denali medic Dave Weber, focused on how to properly assess, stabilize, and rescue an injured rider in the backcountry. Above, Ian McIntosh displays one of the primary checklists for assessing a patient. Ryan Dunfee photo.
With so many more people entering the backcountry these days, a lot of emphasis is being placed these days on snow and avalanche safety and understanding how to mitigate risk in avalanche terrain and find and uncover a victim in the case of a slide. But for the most part, the knowledge base ends once that victim is out of the snow. Do you know how to assess the state of that victim, stabilize their injuries, and get them in a better place to be rescued by helicopter or a local search and rescue crew?
The all-too-common response - "no" - was the impetus behind the second day of the IPRW workshop. Denali, Alaska wilderness medic Dave Weber taught the crew of TGR film athletes and cinematographers how to assess a victim of a fall or an avalanche, how to tell if they're in critical or stable condition, how to stabilize an injury limb or torso, and how to extract a victim to a place where they'll be in a quicker position for a full rescue from a professional crew. Last winter, Way Of Life stars Todd Ligarre, Griffin Post, John Spriggs, and cinematographer Dan Gibeau put these very same skills to use in the backcountry surrounding Cooke City, Montana when they were summoned to the scene of a snowmobile accident in which a rider's sled had rolled on top of him during a high mark and his vest had choked him, leaving him unconcious. The TGR crew was ultimately able to save the victim's life by assessing and stabilizing him and sending Griffin miles away to call in a rescue helicopter. This shit ain't for show!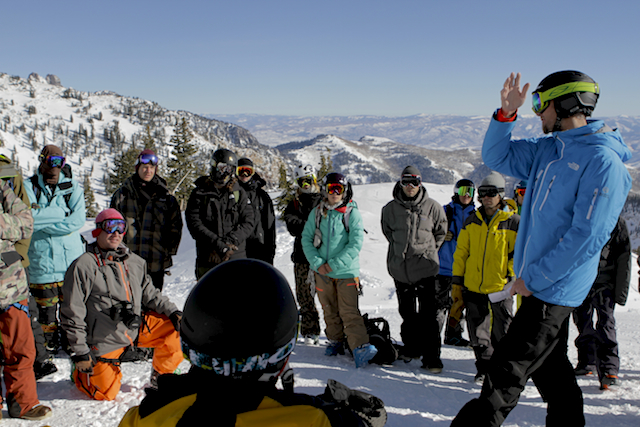 Denali medic Dave Weber lecturing the crew on patient assessment. Ryan Dunfee photo.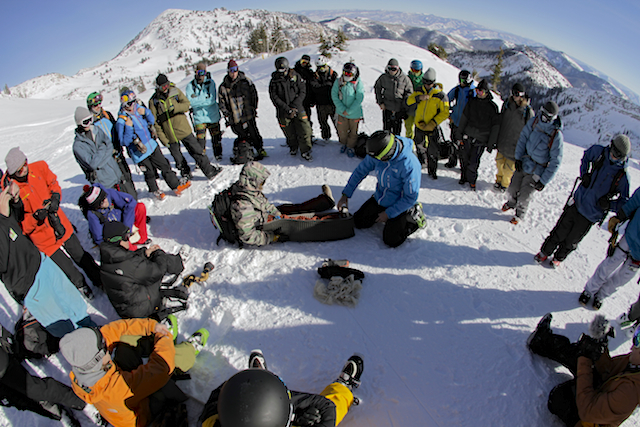 With limited space available in your pack, effective backcountry rescue requires improvising with your existing equipment sometimes. Here, Weber shows how to make a full-leg splint with only a sleeping pad and a few strips of fabric. Ryan Dunfee photo.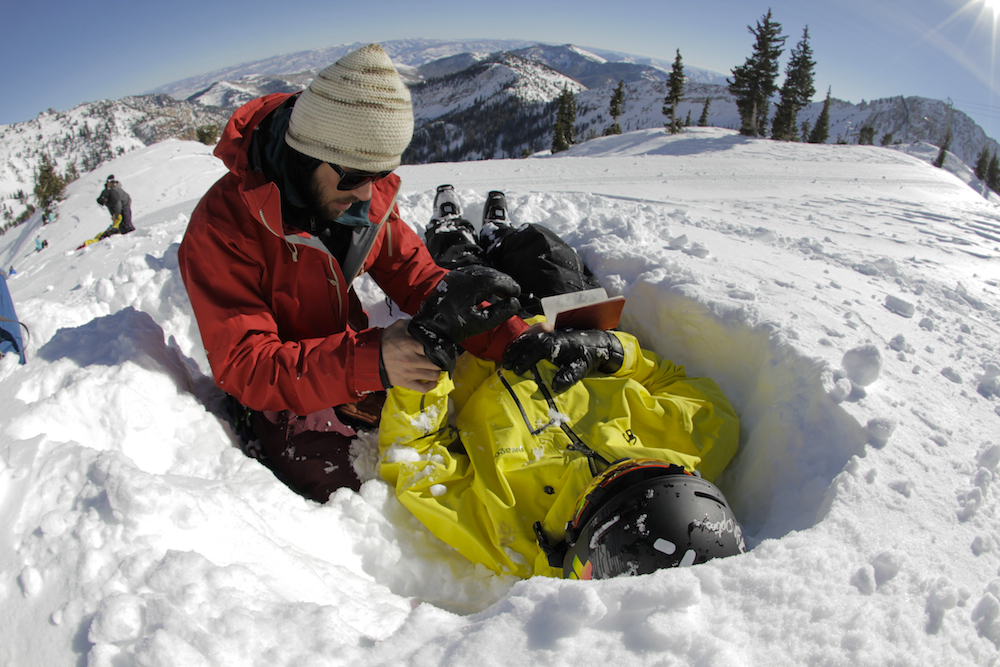 Newly arrived on the scene of a practice rescue scenario, Max Hammer checks Daniel Tisi's pulse, part of establishing a baseline of the victim's condition. Thankfully the Jackson Hole High School freshman was okay, and will return to school on Monday for his over-due locker stuffing. Ryan Dunfee photo.
Having learned how to assess a patient upon arriving at the scene, the crew moved on to practicing extraction. Here a "sked" sled is loaded with blankets and jackets to create a warm and comfortable platform for the victim to be transported in. With any patient, comfort is key; in a winter rescue environment, keeping them warm is doubly so. Ryan Dunfee photo.
The skillset that was taught yesterday assumed that TGR's crews (like pretty much any skier or rider) wouldn't be walking around with the equipment of a full-on search and rescue crew. So the techniques taught were oriented not towards dragging a patient 14 miles out of the woods to safety, but rather towards getting the patient to a better location where a helicopter could land or ground crews could get to. Still, hauling Forrest Shearer through knee-deep powder for any distance is a daunting task. Ryan Dunfee photo.
Here the crew, including Higher athlete Ryland Bell in the foreground, prep the sked for its second challenge - a rope-assisted vertical ascent up a steep slope in untracked snow. Ryan Dunfee photo.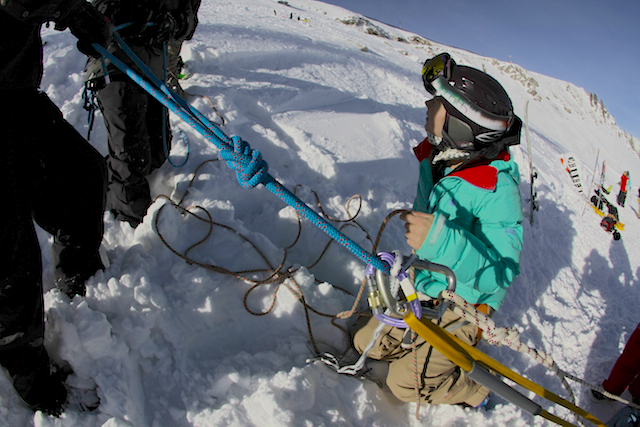 As we learned during Zahan's ropes clinic the day before, nearly every challenge in the snow requires a different rope system. Here Angel Collinson communicates with the belay crew up top about the rope plan to get Forrest up to safety. Ryan Dunfee photo.
In an emergency scenario, confusion and panic are facts of life that must be managed. The practice scenarios demonstrated how quickly a seemingly simple plan can get complicated real quick. After some back and forth and consultation with Zahan, Ryland and his team ultimately decided on a pulley-based belay system that would use the gravity of several team members descending with one end of the rope to pull Forrest up. Ryan Dunfee photo.
Johnny Collinson follows the belay team down as Forrest, in the skeg on the other end of the line, ascends to safety. Ryan Dunfee photo.
Next the teams practiced a full assessment, stabilization, and extraction scenario with a victim assumed to have been caught in an avalanche. Here Shane Treat, having unbuckled Lead Editor Blake Campbell's ski boot, feels along the shin within the boot to check for normal circulation in the extremities of the body - part of the process of understanding a victim's full physical state. Ryan Dunfee photo.
With the neck stabilized in case of a possible spinal injury, the rescue team wraps Blake's injured arm in the flipped-up bottom half of his jacket, whose drawstring is then pulled tight to create a simple yet effective sling for an arm or shoulder injury. Ryan Dunfee photo.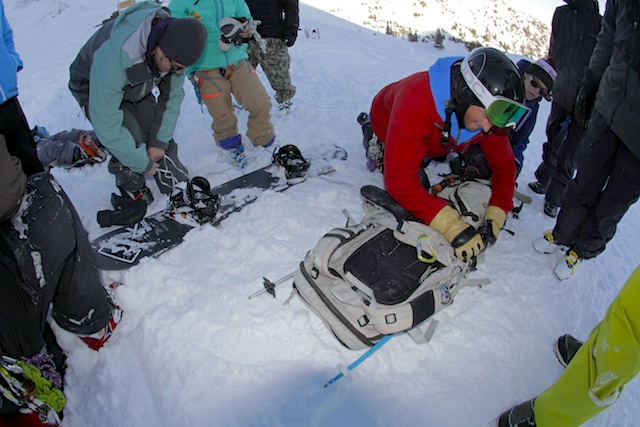 Meanwhile, a snowboard is readied to act as an improvised sled to get the victim down to a safer spot for a full rescue. On the right, Forrest Shearer secures a series of ski poles to three backpacks in order to make a secure and comfortable back brace to strap on top of the snowboard for the victim.
Stay tuned for tomorrow's final live update from IPRW, where we'll be focusing on avalanche safety. In the meantime, catch up on the first day of the workshop, "IPRW Day I: The Qi of Skiing With Ropes." And stay safe out there!