Live the Dream. Share the Dream. Connect, discover, and get noticed. Drop into the TGR Stash—your collection, your voice, and your place to connect, discover and share all the outdoor adventures you live, live for, or dream about.
Login or create your Stash profile now to access all these new features by going here.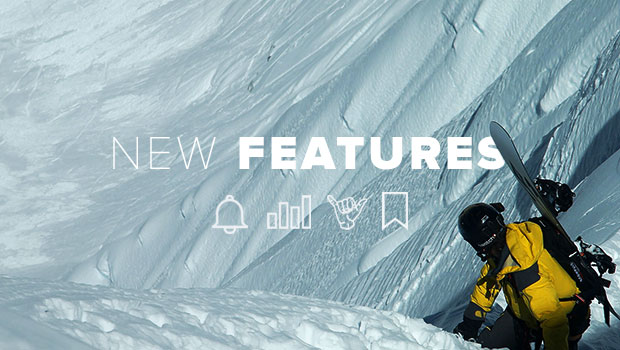 The Stash has a bevy of new features that we've built that will make it a more interactive and current experience compared to the initial TGR Community. These include the ability to follow other TGR members and create a custom content feed and tag yourself and your friends in posts. You can "stoke" content that you're pumped on and bookmark stories, videos, and photos that you like. And you can be kept up to date with alerts and e-mail notifications that let you know when we've picked your story or video to be featured on our homepage, or when you've gotten a new follower, a bunch of views, or a new comment on your stuff.
Follow Other TGR Members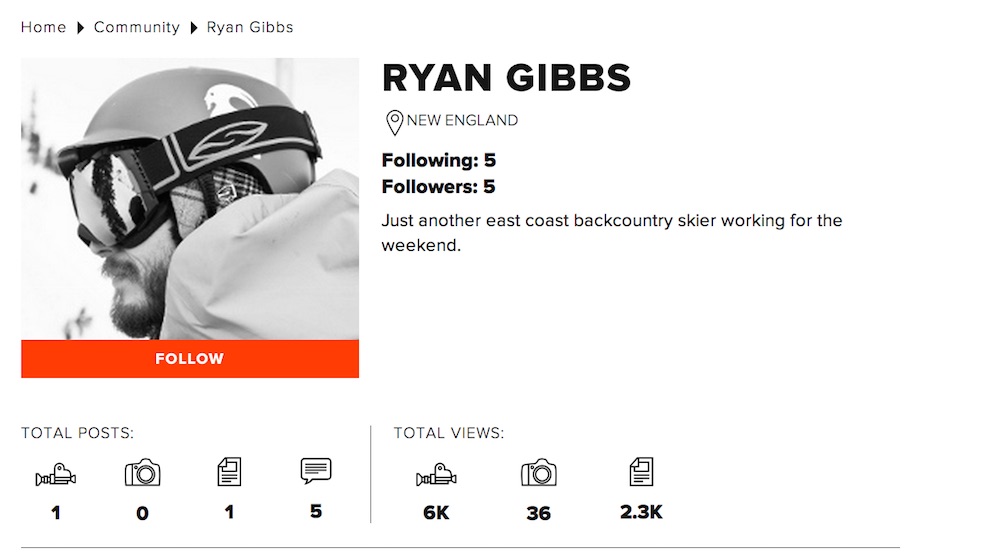 Build a Stash Feed of custom content by following other TGR members (like Ryan Gibbs above)–this way you only see the kind of outdoor stories, videos, and photos you want, whether it's from TGR's editorial staff or TGR members from your home hill. Anytime someone you follow posts a new story, photo, or video, it'll pop up in your Stash Feed.
You can find members to follow by searching in the search bar in the top right corner of the site or by going to our Find Members page here. There will be prominent follow buttons on each member profile and on every content post by the author byline.
Tag Yourself and other TGR Members in your posts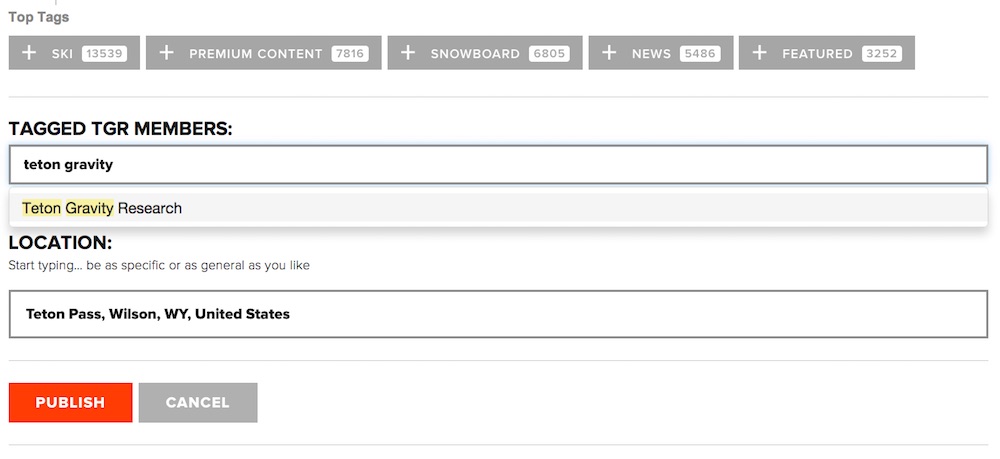 Tagging TGR members is a great way to build your presence in The Stash. To tag members, edit or create a post and go down to the Tagged TGR Members field and start typing a member's username. You will see a list of TGR members pop up and you can select the member you want to tag. If you are tagged in a post it will be displayed on your Stash profile under the Tagged In section.
Are you Stoked?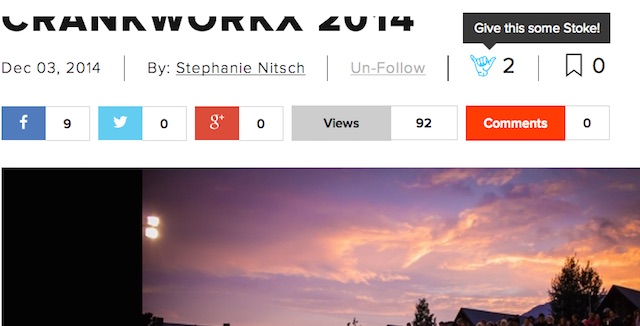 Tell other TGR Members how stoked you are on their photos, videos and stories by clicking the shaka, bra! The Stoke Shaka appears on the title and at the top and bottom of every story, video, and photo post, and you can have some fun by giving content you like some stoke!
Bookmark Content You Like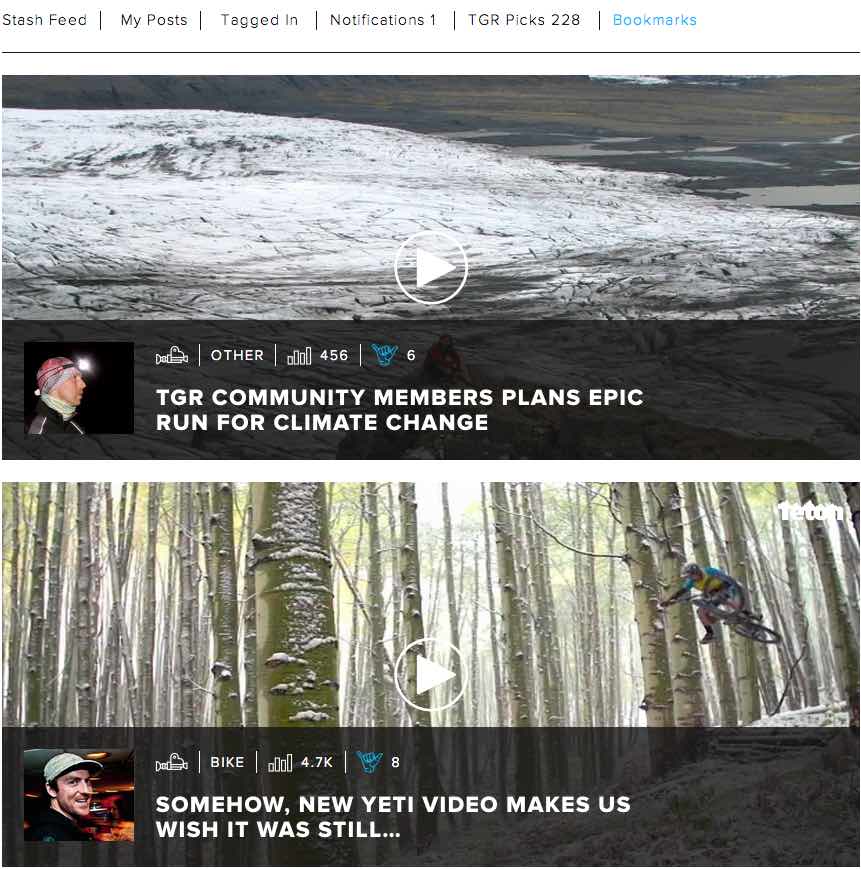 Remember that story or video you loved a month ago but just spent an hour on Google trying to find again to show to your friend? Bookmarking content allows you to save posts you like on your Stash profile under the Bookmarks section. There's a bookmark icon just to the right of the Stoke Shaka on every piece of content on the site.
Stay Updated With Alerts & Notifications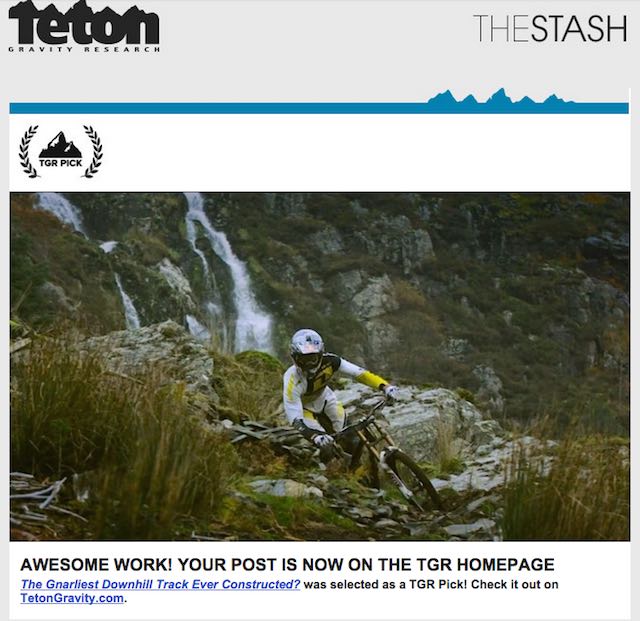 The alerts & notification system we've built into The Stash will keep you posted when a story or video you've posted starts blowing up and getting engagement, or when one of TGR's editorial staff hand-pick your post to be featured on TGR's homepage.
You will receive a notification when: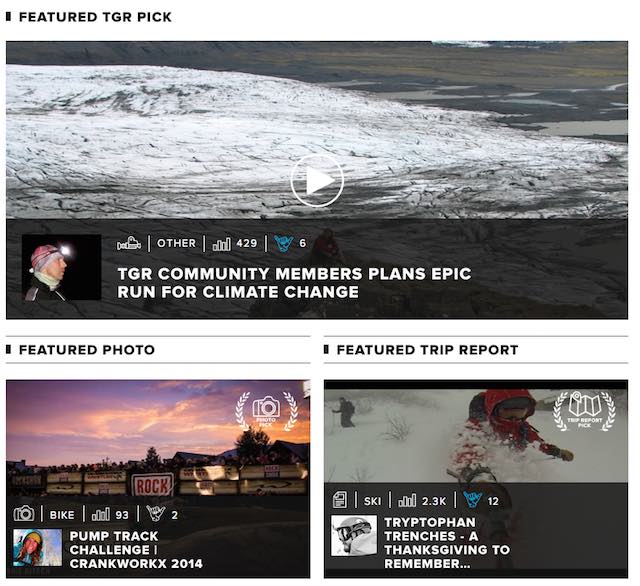 #1. Your content has been chosen as a TGR Pick (site alert & email notification).
#2: You have a new follower (site alert & email notification).
#3: You have been tagged in a content post (site alert & email notification).
#4: A comment is made on one of your posts (site alert & email notification).
#5: A reply is made to one of your comments (site alert).
#6: A TGR member bookmarks one of your posts (site alert).
#7: You content has reached over 500 views (site alert).
#8: Weekly Stash Re-cap (email notification).
You can manage your email notification preferences by visiting tetongravity.com/community/preferences.
We hope you enjoy The Stash and the more current technology we've introduced to make it easier to customize the content you see, connect with other skiers, snowboarders, surfers, or adventurers in your area, save content you like, and stay up to date as you gain followers, views, and recognition within the community.