December 1, 2011
— Ryan Dunfee
Line Skis' "Traveling Circus" webisode series — which follows Will Wesson, Andy Parry and a host of other misfit jibbers — has been remarkably successful, winning Best Webisode at IF3 the past two years. Behind all the follow-cams, skate-style editing and corny intros is Shane McFalls, the Traveling Circus filmer from day one. In this interview, Shane explains how he met Will and Andy, how the Traveling Circus came to fruition and all the weird and wonderful things that happen when you've been on the road filming skiing since 2004.
After the interview, watch five edits Shane put together back in the day.
Teton Gravity Research: How did you meet Will and Andy?
Shane McFalls: I meet Erik [Olson] when I was still in high school and he was skiing at my home mountain in Central New York. He introduced me to Will and Andy. Once in college, Erik and I transferred to the same school, where we lived in an attic, so we could be closer to skiing in Vermont. Erik was the bridge from the crew at my mountain to the Bristol Mountain crew of Ahmet, Will, Andy and everyone else. New York mountains seemed to build these tiny groups of people, and meeting outsiders from other mountains was always some kind of a big deal. So if my parents brought me to the other mountain near our house, who knows what I would be doing now.
We all went to different colleges but met at Andy's place in Killington to film for [the 2005 ski movie] Bogart one weekend. We filmed Bogart and a bunch of stuff for the Meatheads all over the East Coast during college. It ruined my car but we had some amazing trips to Loon, Sunday River, the Chic Chocs, Newfoundland.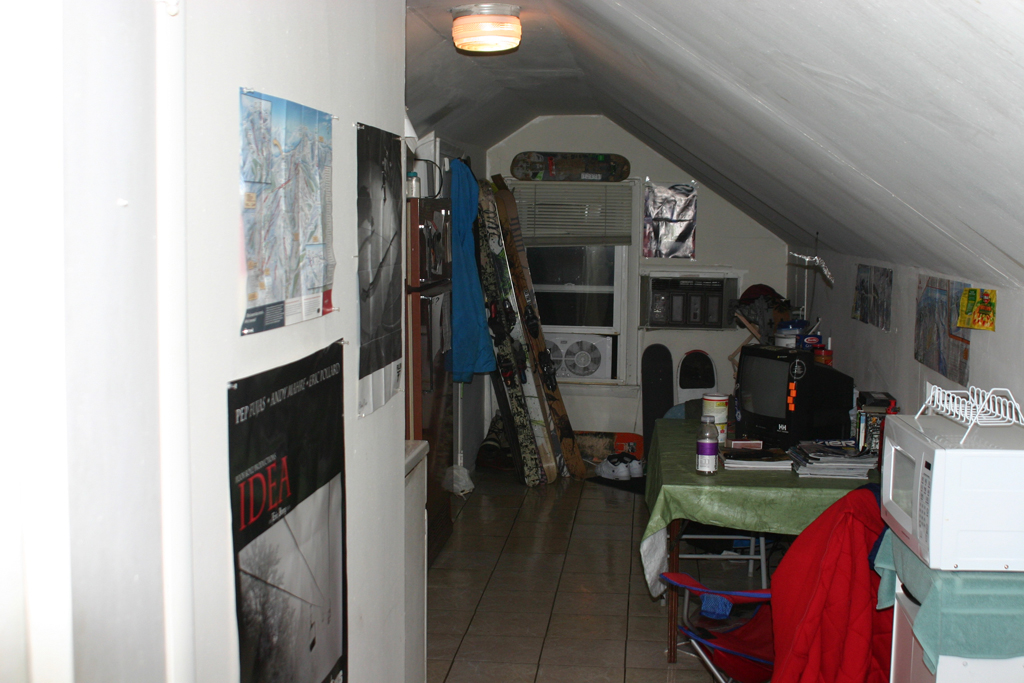 Shane McFalls and Erik Olson's attic apartment in upstate New York.
Shane and Erik's bathroom.
TGR: How did the Line Traveling Circus series start?
SM: The TC series started after we graduated from college and we all paid our way to spend some time in Mount Hood that summer filming a "pilot" to show to Jason [Levinthal of Line Skis]. Will proposed the idea to Levinthal, and the first episode of season one was the unofficial pilot to see if it would work. Line has always been supportive of the series since day one, and even more so since I returned full time in season two. But, that all came after spending three years in college filming for free and being totally cool with it. The stoke factor of having my videos featured on Line's website was more than enough at that time for me. Now that I am sort of an adult, you have to work for more than good vibes — and Line has been totally receptive of that. I'm super pumped on it. I was always a Line kid, though; I have my first 1260 on my bedroom wall at home, and I have my first free ski from them that I got in college here in my office. They sent me one pair of skis in college that had been mounted about eight times and I was super bummed but since then things have definitely improved [laughing].
An early road trip to New Hampshire.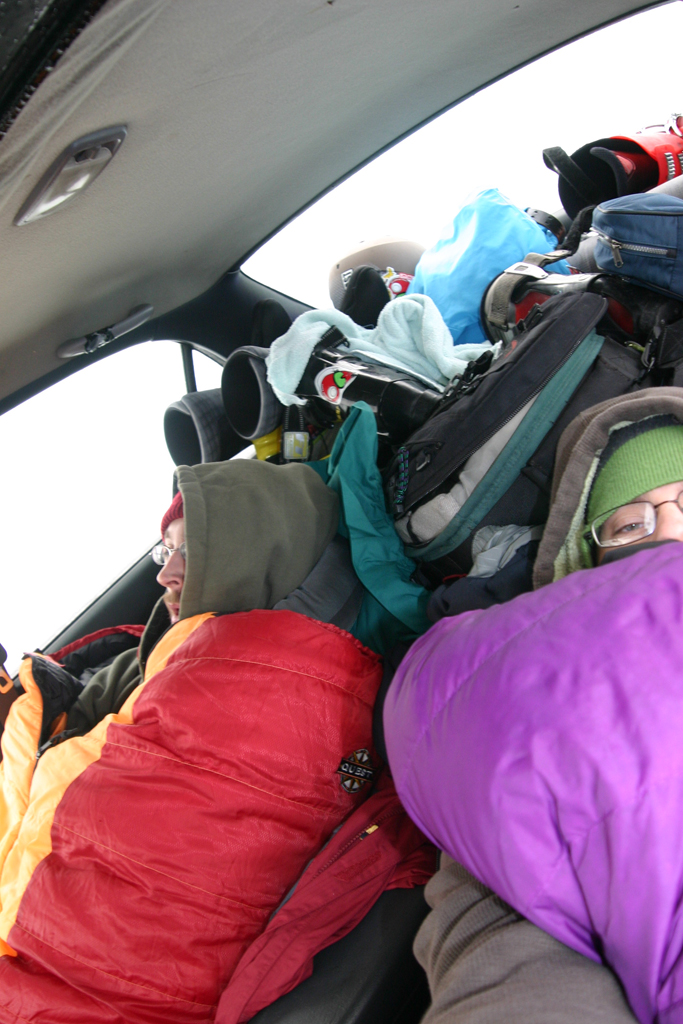 Sleeping in the car.
TGR: What is the dynamic like between you three?
SM: Andy talks a lot and Will never does. There's lots of bickering after a week of eating, sleeping, and driving in a van. It's an interesting dynamic and you have to be able to forget about stupid little things, otherwise you can drive yourself crazy and get super pissed. It would piss me off when we all had our little van corners for our stuff and Andy's shit would be everywhere, or we'd be waiting at gas stations for people, or this past trip there was a lot of farting. The working episode title is "Artsy Fartsy."
TGR: Has anyone snapped on the road?
SM: Ian Compton did once — he said it's because he's weak and gets real grumpy when he doesn't eat or sleep enough. He freaked out on tape once and I accidentally deleted it; he freaked in a Dunkin Donuts parking lot one morning, and just left. We were in the Midwest and it was super cold and there was a warning on TV about the temps, so he just snapped and left for Utah and we stayed to finish filming the episode.
Another time a "free" hotel accidently charged Andy's card for a three-bedroom condo and it drained his account — he flipped out. We resolved it, but it was still pretty hilarious. I also kicked a hole in the van wall once because I was pissed at the weather or something.
On the road with the Meatheads crew.
Inside a motel room with the Meatheads crew back in the day.
TGR: Which is the best route to take east to west across the US?
SM: 70 is scenic. Kansas has dope rest stops that you can set up tents at and everything. 80 blows. Andy's car broke down once on 80. We had to leave it some parking lot and get on a bus, and Andy sold it to some guy for 100 bucks over the phone. We got on the bus at Laramie, Wyoming, and drove eight or nine hours to Denver, then from Denver overnight to Salt Lake, which was probably 10 or 11 hours. And everyone on the bus to Denver looked like they had just gotten out of prison or something. At any rate, I don't think I'm phased by driving anymore; eight or nine hours in the car is pretty easy for me now.
TGR: What's been the best trip you guys have been on?
SM: That California trip was my favorite trip and episode for sure. We went to Mammoth, Tahoe, and Big Bear and the weather was good, it was the end of the season, and everyone was there. We also had good places to stay – that's always a big one. Crashing couches at places where we only know one of the roommates or something is always so awkward, and it definitely wears on everyone if we don't know where we're staying after skiing. It's always like, "Shit, what do we do now?" We go to the store, sit in the van, wait for someone to text us back.
This time we had a house we rented in Big Bear, a condo in Mammoth and a chill friend in Tahoe — it just went smoothly. That was also the first time any of us other than Will and Andy had met Max Hill or Cole Drexler, and everyone clicked real fast. It's funny because everyone has their own lives and way different interests — they think I'm a big hipster, Andy loves video games, Cole is really into sports, and Max was prom king in high school. We're all over the place but we all got along really well on that trip.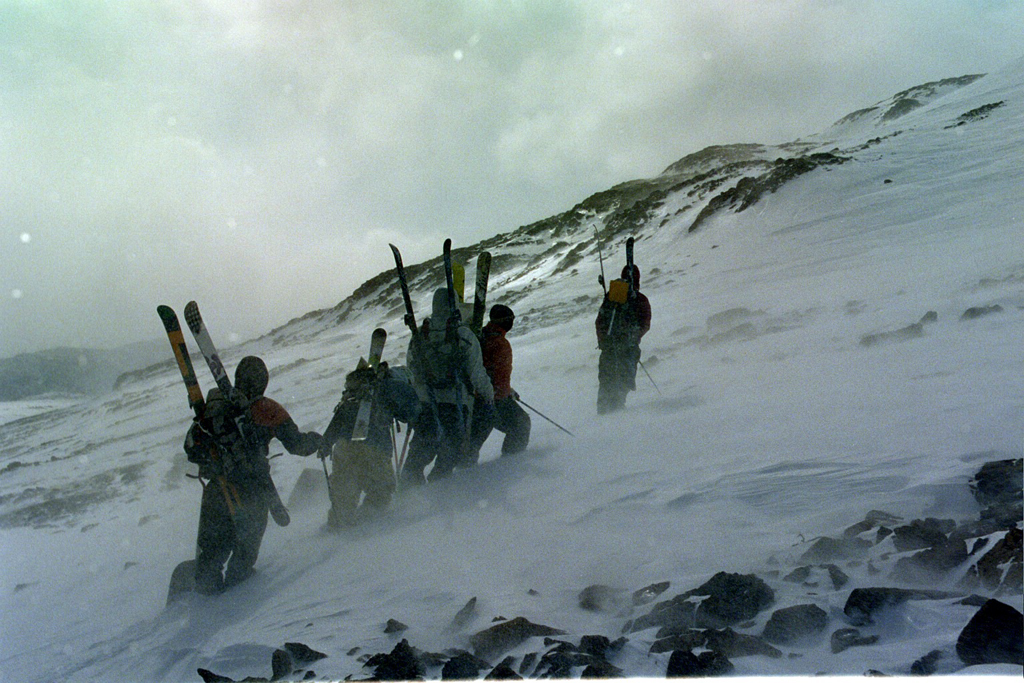 Hiking to ski in Newfoundland.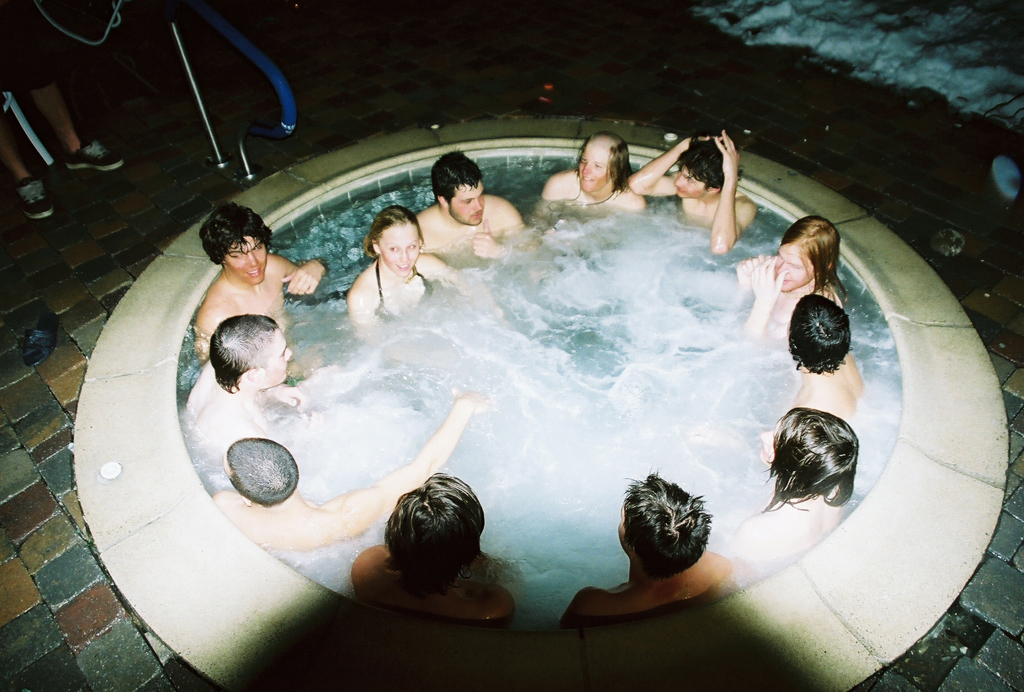 Hot tubbing at the 2007 Vermont Open.
TGR: What are the plans for this season?
SM: We're going back to Europe in January, and we want to drive to B.C. at some point. Also, we want to go to the northern Midwest and Max wants to go back to Big Bear, so maybe we'll do that, too. Andy, Erik and I are also launching a small clothing line this week called the Yoke Collection, hopefully Friday, that's just an outlet for us outside of the Circus. A lot of ski companies take themselves way too seriously but we're trying to keep it pretty ridiculous. We don't see any sense in taking ourselves seriously.
The following five videos are old Shane McFalls edits from the days before the Traveling Circus:

2007 Vermont Open edit by Shane McFalls.
Road tripping with the Traveling Circus crew back in the day, Shane McFalls edit.
One of Shane McFalls' old edits from a pre-season trip to Stowe to build tiny jumps.
A Shane McFalls edit from the college years shot at Mt. Snow during the early season.
An old Shane McFalls edit with Santa Claus shredding Stratton.