Congratulations to Micah Evangelista, TGR's June Grom Contest Winner. Micah took the time to answer a few of our questions before going out and testing out his new Go Pro camera.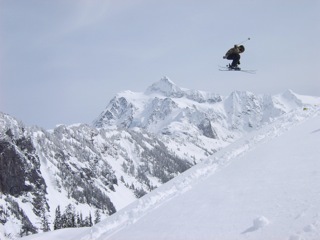 How long have you been skiing?
I have been skiing pretty much my whole life. My first time on the mountain was when I was 6 days old, being hauled around in my dad's snugly. My first memory was riding in front of my dad on a leash.
Why do you enjoy skiing?
I enjoy skiing because the feeling you get from it is unreal. Whether I'm filming and I get a good shot, landing a new trick, or skiing a gnarly line, the feeling of accomplishing something is the best feeling in the world. It is just so fun.
Who are your ski heros?
My ski heroes are, Pep Fujas, Eric Pollard, Blake Nyman, Andy Mahre, Chris Benchetler, Sammy Carlson, and Dane Tudor. There are many, many more, but the style of those riders is really a big influence on my riding.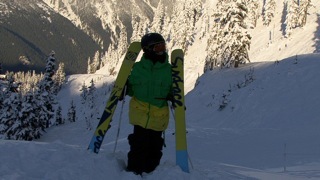 Who are your favorite people to ride with?
My favorite person to ride with is my brother Mattias. He skis the exact same stuff as me, and it is super fun to progress with someone on the same level. I also enjoy riding with the guys at Log Mahal Productions. (Patrick Erwin and Corey Bixler)
How do you balance school and skiing?
School and skiing are easily balanced for me. I get good grades so my parents usually let me skip whenever the snow is good in the mountains.
What does it mean to you to have your video selected by TGR?
Being chosen by TGR means a lot to me. It is definitely humbling to see all the talented kids, and it feels good to know that my video was recognized.
What are your plans for the rest of the season? Are you working on more edits since you get one a month?
My plans for the rest of the season are going to Mt. Hood. It's only about a 6 hour drive from my house. We just went last weekend and are planning to go again in two weeks. Other than that, we plan to finish our ski movie, and try to keep putting out more edits.
Micah's winning June edit: