Ingrid Backstrom hikes to her line in Chamonix, France. Photo by Adam Clark.

If you're a skier then you've probably heard of Ingrid Backstrom. The big-mountain skiing phenomenon cut her teeth on the slopes of Crystal Mountain, Wash., and honed her skills on the steeps at Squaw Valley, Calif. For the past eight years Ingrid has filmed with Matchstick Productions, 5 of those years she's taken home the Powder Video Award for Best Female Performance.

As one of the premier big-mountain skiers in the world, she is often on the road for photo shoots, expeditions, and movie premieres. TetonGravity.com caught up with Ingrid while she was skiing at Points North Heli in Cordova, Alaska.

Teton Gravity Research: How was your winter?

Ingrid Backstrom: My winter was really fun. Of course there is always stuff I wish I could have done or could have been more productive or gotten more sunny days and all that, but overall I had a great time, got to ski a lot of days, and went to some amazing places. So I am really stoked on my winter. And finishing up healthy is always the goal. So it's OK to have left some stuff on the table. That's more important to me these days.

TGR: Where are you now?

Backstrom: I'm in Cordova, Alaska! I got to come here for a Volkl Fantasy Camp, where Dash Longe and I are skiing with the contest winners. Although, I'm pretty sure both Dash and I feel like we won at this point. It's certainly been a fantasy week.

TGR: Where'd you spend your time this season?

Backstrom: I got to hang out in Squaw Valley at home for a few weeks, which is always great. Also in Chamonix, Crystal Mountain, Whistler, and Alyeska in Girdwood, Alaska.

TGR: In January you took your first trip to Chamonix, did it live up to your expectations?

Backstrom: I can safely say it blew my expectations out of the water. I was expecting it to be cool, but for some reason I just only had pictured all of the scary gnar and was prepared to be on guard the whole time. Instead, we skied pow runs to the valley in really safe conditions, with chamois and ibex sightings. I only wore a harness one time!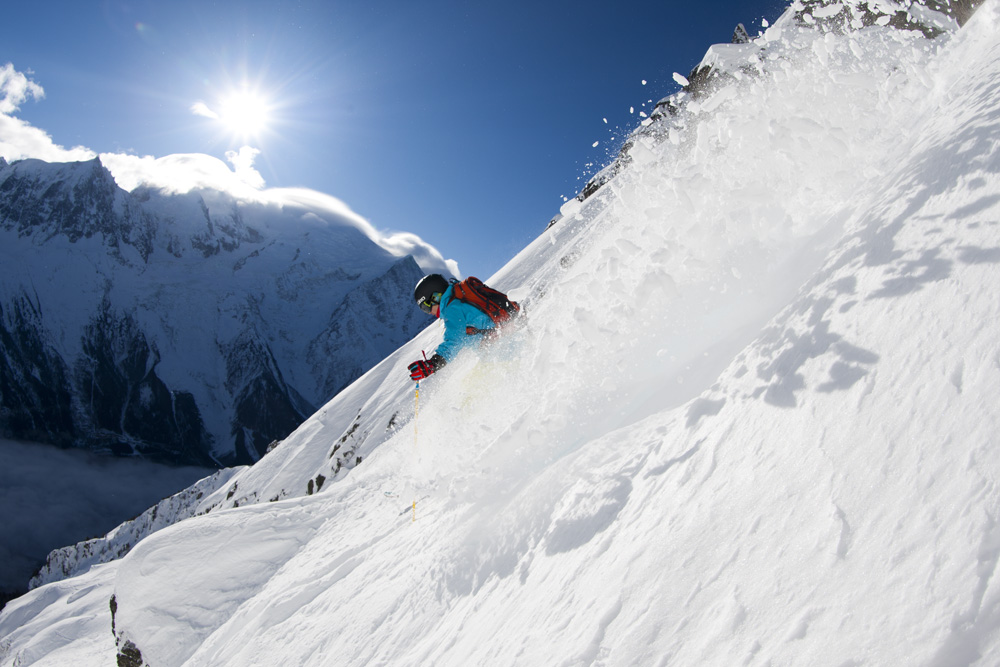 Ingrid rips it up in Chamonix. Photo by Adam Clark.

TGR: After months on the road, do you look forward to some down time, not traveling for a bit?

Backstrom: Yes, for sure! I absolutely love being in Squaw Valley, seeing my friends and enjoying Tahoe. Being at home takes on a whole new meaning when you live out of a bag so much — that's great, too, but I start really missing my friends and my bed.

TGR: Last year you were featured in MSP's the Sherpa's movie, who'd you film with this year?

Backstrom: I filmed with Matchstick on two trips. I don't know where the winter went, it seemed like it started late and ended early this year! But I'm honored that they wanted to still film with me, I love skiing with all those guys.

TGR: Any plans for the summer, skiing, etc?

Backstrom: I am really excited to be going to Chile for a few things at the end of July. I get to be a judge at thewomen's ski camp in La Parva. It will be a small group and it's the perfect place to ski, relax, and enjoy the culture. We still have spots open also if you know any women who love to ski!

TGR: Your brother Ralph crushed it on the Freeride World Tour this year and has been filming with TGR, is it genetics or something in the water that made you and your brothers such incredible athletes?

Backstrom: Ralph is amazing — of course I have always known that he is the best snowboarder out there but it's so great to see all of his hard work pay off with such a great year. I'm simultaneously proud of him and in awe of him. I have to give most of the credit to my parents. They are so amazing.

TGR: In addition to being an athlete, what other types of things do you do for your sponsors?

Backstrom: I try to get involved with product feedback and R&D whenever possible — The North Face is really amazing about involving the athletes at every step of the process and it's so fun to learn more about what goes into making good products. I've had some awesome opportunities — really fun product testing trips, speaking engagements, and other stuff that I never thought I would be doing when I wanted to be a skier.

TGR: Where do you see yourself and what do you plan to be doing five to 10 years down the road?

Backstrom: That's a hard one — hopefully still skiing, involved in the ski and outdoor industry in some way, perhaps in a different capacity, and maybe traveling a bit less.