We recently caught up with Dave Marlaire, a Salt Lake City-based painter and splitboard enthusiast. Here's our interview and a few of his pieces. To check out more of his work, visit Dave's website: http://MarlaireFineArt.com.
TGR: What's your background in art? When did you start doing split-focused pieces and what was your inspiration?
Dave: As far as I can remember I was always able to draw. My dad is an artist, so I must have inherited it from him. His creativity and work ethic has been a huge influence in my life. He has a great art studio and growing up as a kid I always watched him work on illustrations. In the art studio were books of different artists like Frank Frazetta. I drew a lot of comics growing up, took art classes in high school and then went to the American Academy of Art in Chicago were I studied oil painting and illustration.
After graduating college I got an office job as a creative designer of toys. It was a really fun job, but after ten years of that I really needed to get out west. I had some money saved and decided on Salt Lake because of the easy access to the Wasatch mountains and because they get stupid amounts of snow.
When I moved out here I took a full year off from working and rode almost everyday. I met some splitboard and tele friends who showed me around the backcountry and I learned a lot about snowpack, terrain management and avalanche safety. I just fell in love with splitboarding, every time you go out it's an adventure. I've been painting split-focused pieces for about two years now.
TGR: It's evident you've combined two passions--painting and splitboarding--in this work. What came first and how did they merge?
Dave: I've always wanted to paint landscapes, but not of your typical plein air subject matter. I would take pictures of all the tours we would go on and started painting them. I guess I'm just more passionate about split-boarding and mountain biking than an old barn or a bowl of fruit.
TGR: What's your favorite painting and why?
Dave: I like the Big Cottonwood Sunset because of the bold colors and the memories associated with the painting. I was on a late afternoon tour or "dusk patrol" and there was no one else out. It was peaceful, the air was cold and crisp, a foot of fresh, the sun was setting and the colors were going off. I was standing at the top of my line, snapped a couple pics and then made some turns.
TGR: Describe your ideal Wasatch day, from sunup to sundown.
Dave: Wake up, read a couple minutes, coffee, check email, paint 4-8 hours, coffee, mountain bike, rock climb, or snowboard depending on the season, barbecue, check email again, read, sleep. Or if its a pow day scratch all that and go ride!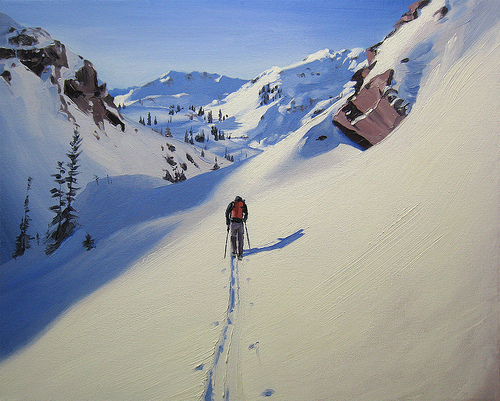 TGR: Are your paintings based on photos, experiences or a mix of both?
Dave: I'd say a mix of both. When I'm in the backcountry, I try to identify subtle colors to incorporate into paintings back at the studio. There are a lot of hidden colors in the snow that you normally wouldn't think are there. Whenever I'm splitboarding and think that a specific scene would make a nice painting I take a photo and make some mental notes.
TGR: Where do you see your art going in the future?
Dave: Painting some spring/summer touring, mountain biking, or rock climbing pieces and to do more art festivals, gallery shows and commission work would be cool. I'm also working with a gallery to do a show in August, we'll see. I would be stoked to make a living from painting and to paint what I love.