A skier drops in to Terminal Cancer Couloir in Nevada, one of the lines featured in the book 50 Classic Ski Descents of North America.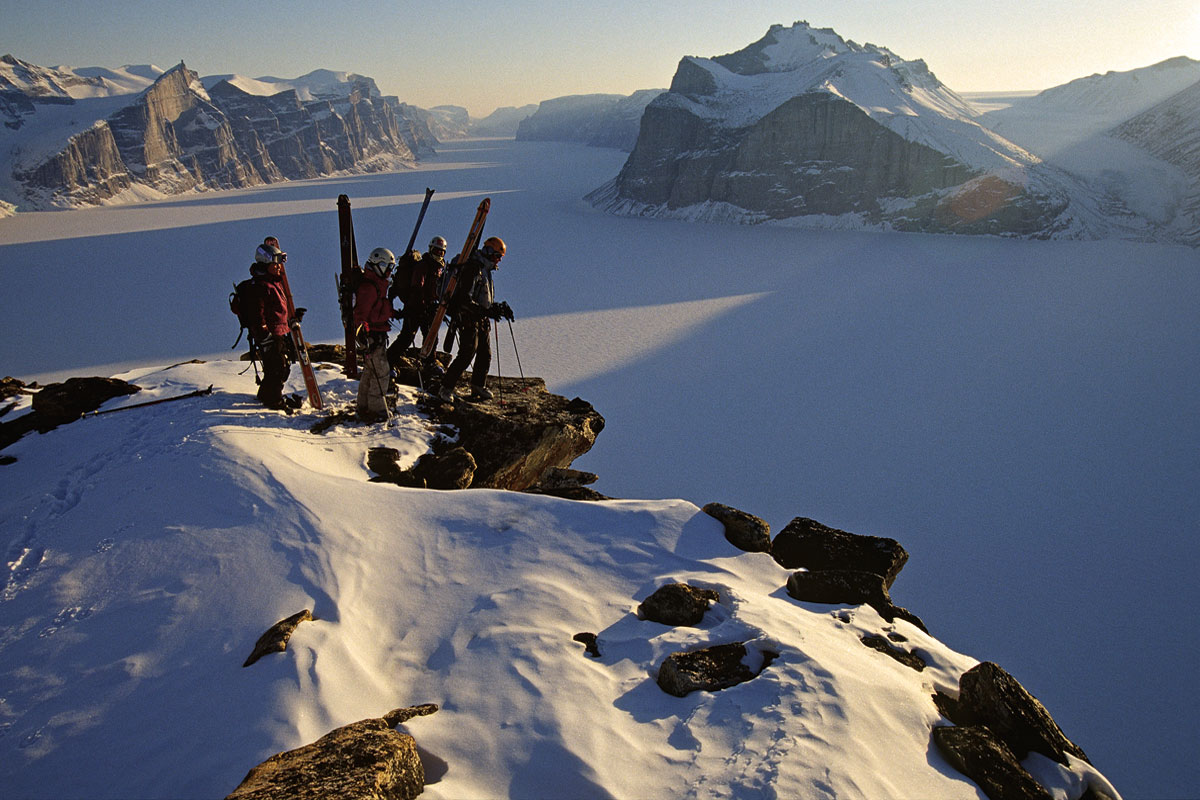 A crew stands on top of Polar Star Couloir on Baffin Island and gets ready for a classic descent.

Sam Petri: Tell me about how this book came together.

Chris Davenport: Penn Newhard, myself and Art Burrows, we were talking about it for a couple of years, but we really started working on it in January of 2010 - getting the framework, building the list of the 50 classics. You know, what were the mountains going to be? Who were we going to get images from? Who were we going to talk to? We really wanted to have a lot of contributors.

Nobody has skied all of these mountains. There is not one person who has skied all 50 of these. So we really need to rely on the expertise of some of North America's most well known skiers. These people right here. They represent not only a huge amount of history in the sport of skiing and ski mountaineering, but they also represent all the different regions, so we kind of started building this list. Like, who were the people we want to include in the book? Who has great stories to tell? Who has got great images we can use? So we went through building that list, talking to people, doing the legwork, and then by April or May we really had everything we needed to sit down and start building the book.

It's sort of like running a marathon, the first mile you are like, "Oh my god am I ever going to finish this? This is already hard." So the first 10 pages it was like, "holy shit, are we ever going to get through this thing?" We bit off a lot and the more conversations we had with people, the more we realized how much was really out there. Certainly, I pride myself on knowing a lot about great places to ski. That's what I do, but you know, for instance, the Polar Star couloir in Baffin Island, I didn't really known much about that and we started talking to people like Andrew McClain and Hilary O'Neill and they were just like, "This is just the most incredible line on the east coast."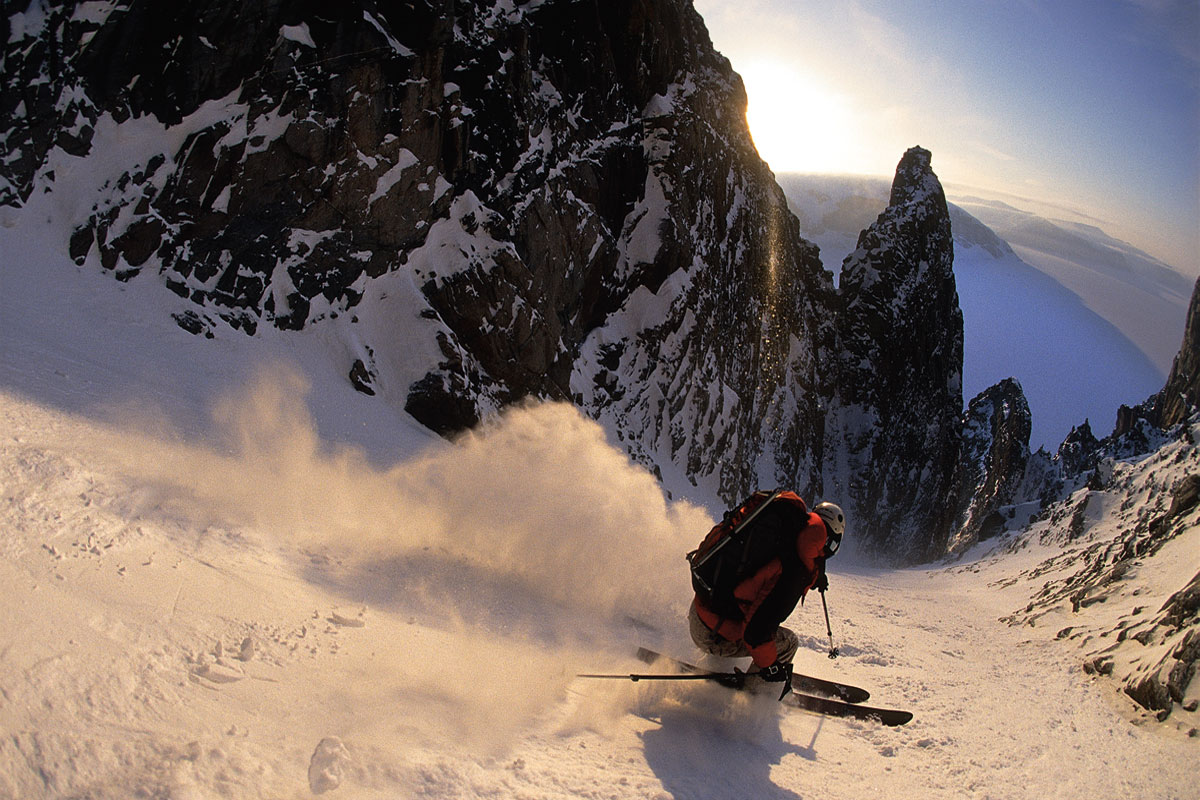 Skiing Polar Star Couloir.

SP: What were the criteria for a classic? What defines a classic?

CD: Yeah, that's a good question. I think the main thing that defines it is it has got to just grab your eye. You have to look at this and just go, "Wow, oh my gosh, look at that line." It really has to jump off the page at you.

I think there has to be history to it. I think it's got to be aesthetic. You know, most importantly for me was the aesthetics. Take Tuckerman's Ravine, for example. I mean, it's a super aesthetic glacial cirque with an incredible amount of history and it's really popular. A lot of people go up there. Huntington Ravine as well. But then there are other ones like Baffin Island. This couloir has only been skied like half a dozen times, but it's just in a super striking part of the world. We wanted things that were going to be inspirational or aspirational, where people would go, "Wow, I wonder if I could ever do that?" And things like Tuckerman's, where people are up there every week in the spring. It was a nice blend of things. We didn't want it to be super exclusive, you know like, "The Gnarliest 50 Descents On The Continent." We wanted it to be a good collection – a variety, I guess you'd say. So we got the east, and then we get to right outside Aspen. I wrote this story, "Breaking The Glass Ceiling." I wrote this one because we skied the second decent of the east face here on Pyramid, and this is probably the most classic line in all of Colorado.

SP: Daaaaamnnn.

CD: It had only been skied once and it was in 1978. It sat there for 28 years.

SP: Who skied it first?

CD: Chris Landry. We went up there and it hadn't been repeated. This line over here had been skied, but nobody had gone off the summit, down the Landry line. So we did the second decent and once we did it and word got out that we just did the second decent, people flocked and were like that's the glass ceiling. It broke and people came down and started doing it, so here is a story that I wrote about that experience and why this face is unique. It is pretty burley climbing.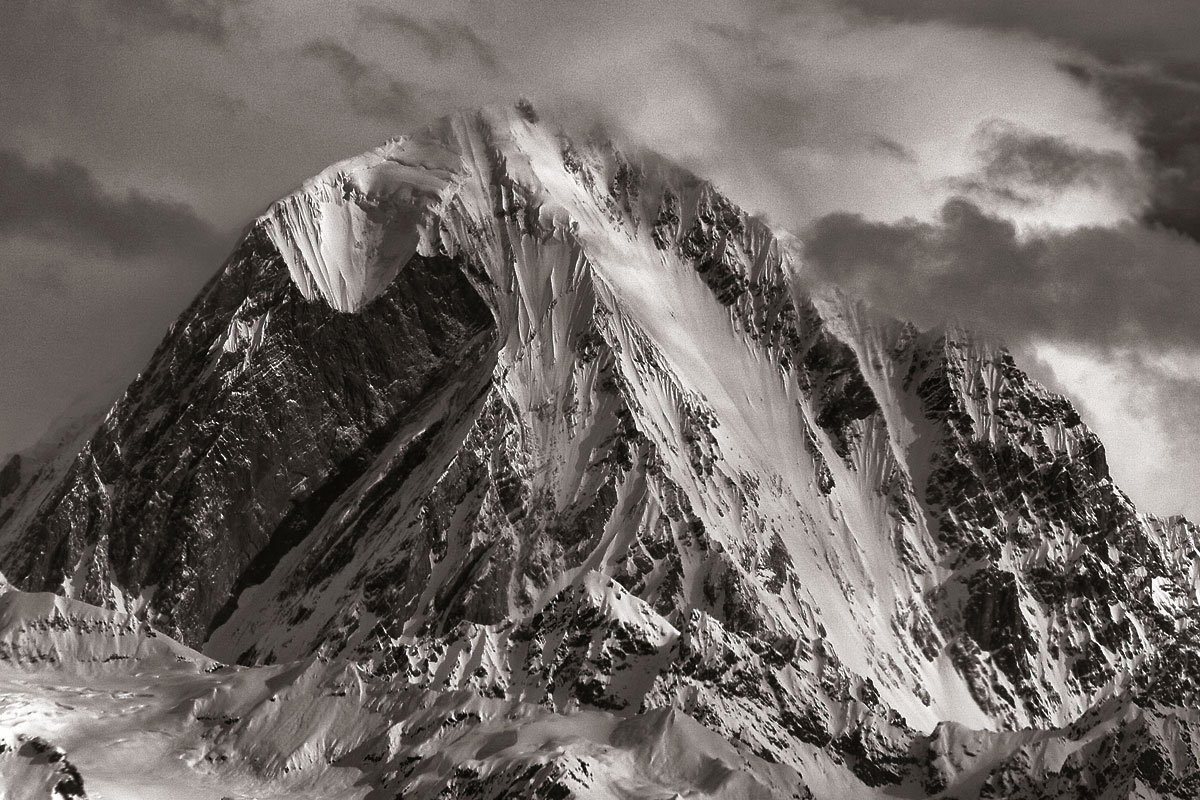 University Peak in Alaska, "probably the most burley peak in the whole book," Davenport says.


Climbing University Peak.

SP: Were there any lines that you guys argued about being a classic?

CD: I would say there wasn't any argument, but there was definitely deliberation about things like, "Do we put this in there?" We originally had like 70 mountains that we needed to chop the list down to 50. There was deliberation because there were ones we didn't have good photos of and there were ones we just didn't know that much about. This peak is super badass, University, probably the most burley peak in the whole book. It has only been skied twice. 7,000 vert. It's ones like this we were like, "We have to put this in there." Even if hardly anyone is ever going to get to do this, it is so rowdy and so awesome, we've got to put it in there. And some expeditionary kind of stuff in Alaska. Pontoon peak in the Valdez area is a super classic peak.


Pontoon Peak in Alaska's Chugach Range.

SP: I've been up there. Last year I camped up there, sort of near Pontoon. I just went and skinned around for 10 days, just outside of Point's North Heli's zone. Yeah, Kevin Quinn is the man.

CD: Yeah, he knows a ton of people.

SP: Pontoon is badass.

CD: You're right. And this is a super classic photo of Meteorite in Valdez. This is the first decent. This is a really good story. Eric Pehota writes about Trevor Peterson missing out on the first decent because he got wasted the night before. They couldn't find him and these guys Scott Markewitz, Eric Pehota and Kirk Jensen, they got it. Trevor was left behind.

SP: Ha, that's funny. So you put heli lines in here, too?

CD: Yeah, because, I mean, the mountains don't care how you access them. Like I said, the aesthetics and the beauty of it all is open to anybody. And yeah, there are some things that are accessed by helicopters and there are some things that certainly are only human powered access, and we felt like those were both valid ways of going skiing. We are not trying to say like, "Oh, heli-skiing is bad or you have to be a ski mountaineer to be able to do these things." There are plenty of classic lines out there that you can walk up, and there are some you can fly to. And yeah, we talked about that. Do we include things that have heli-skiing or not? That's just the way it is in Valdez. There is heli-skiing there. And you can't just say we're not going to put that in there just because it's mechanized. But that was definitely a discussion, for sure. Yeah, we wanted a good variety. We wanted this book to appeal not just a hardcore, but also the beginner, the guy that is just getting into it, and to have it be really inspirational. We wanted people to have this book and have it be their hit list.

SP: We'll, it's cool that no one has done all of them yet.

CD: Yeah, I've skied like 25 or 24 of them. That's a lot. Maybe someday somebody will be like, "You know what? We're going to do a project to ski the 50 classics that these guys wrote about."

Get Your Book And Get Out There
The Skillet on Mount Moran in Grand Teton National Park.